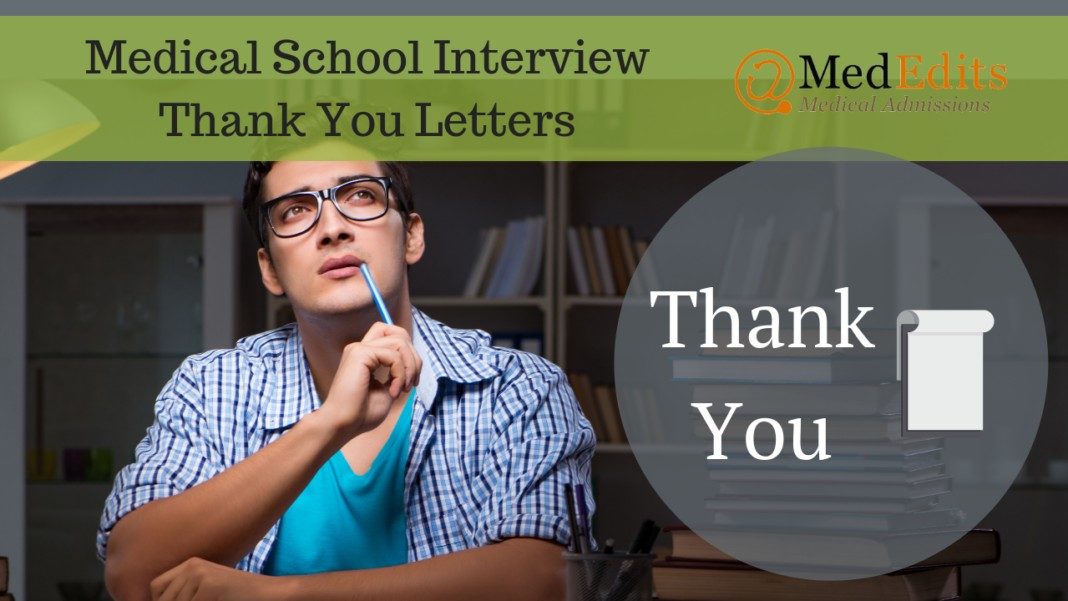 Medical School Interview Thank You Letters
Should you Send a Thank You Letter?
For all one-on-one traditional interviews we recommend sending a thank you letter. While your thank you note won't influence your overall candidacy or chances of acceptance, it is considered good manners and is an opportunity to connect with your interviewer after you leave.
Who Receives a Thank You Letter?
You should send thank you letters to any of your individual interviewers or anyone you feel you connected with during the interview day. For example, maybe you met a student with whom you had a good conversation, a secretary, or an admissions dean. For MMI interviews, it is not necessary to send thank you notes to each rater!
Anyone you feel you connected with during the interview day:
A student with whom you had a good conversation
A secretary
Admissions dean
An interviewer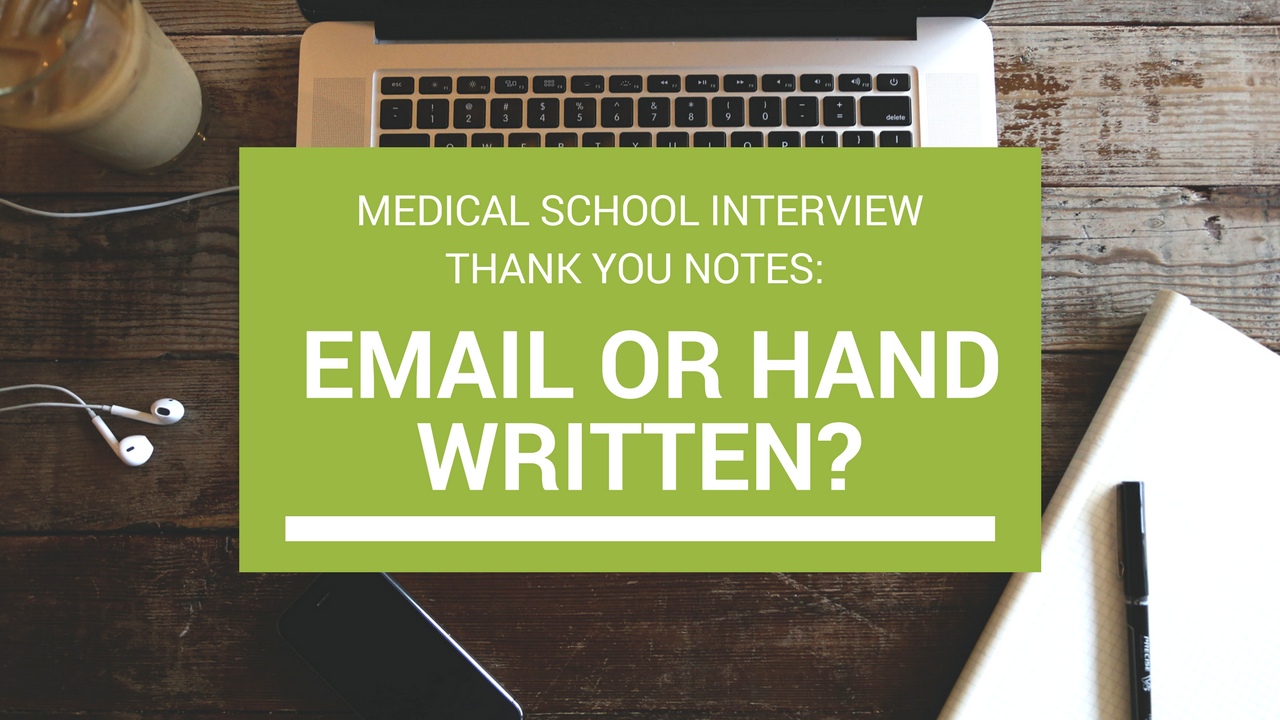 I recommend that applicants email thank you notes. Why? Everyone in academic medicine is now "connected" and checks email incessantly. Email communications also present the possibility of starting a dialogue between you and your interviewer. An email thank you note can also be saved and filed.
A written thank you note, on the other hand, could end up in your hard copy file at the school/program (if it prints out hard copies). But what's more likely? It could end up in the garbage.
The only time you should consider a handwritten note is if your interviewer seems "old school." For example: Do you think this person works in an office that uses paper charts and has not yet converted to an electronic medical record system?
MedEdits clients have had great luck with email thank you notes; interviewers sometimes hit the reply button, acknowledge receipt, and express something positive. But don't worry if you do not receive a reply to your email. This is no indication of your acceptance status at that school.
How to Write The Medical School Thank You Letter
In the subject of your email, I suggest writing the words "Thank You." Keep it simple!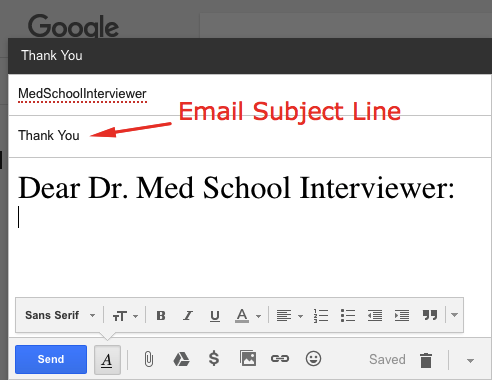 Ideally, your thank you note should be concise yet should touch on some aspect of your interview that was unique. You should also mention something you like about the school that relates to your interests and the topics discussed during your interview. Remember, just like other aspects of this process, your thank you note should reflect the tone of your interview.
For example, If you had a great connection with an interviewer, your note might be longer and more personal. But, if your interview was brief and superficial, you might only mention specific things you like about the school. Try your best to tailor your note to reflect what was discussed during your interview.
Sample Medical School Interview Thank You Letter
Dear Dr. XXX,
Thank you very much for taking the time to interview me on November 5th. I really enjoyed meeting you and learning about your school which I feel suits my learning style and interests. Everyone whom I met during interview day was engaging and kind and I believe I would be a good fit for the medical school and could also make contributions as a student. I am especially intrigued the student run clinic where I could work to continue helping the underserved as well as the public health student research opportunities. 
I enjoyed learning about your research and hope your lecture at the National Society of Esteemed Faculty went well. 
I would be honored to learn from you at Academic University. If there is anything else you need to further evaluate my candidacy, please let me know.
Best regards,
Prospective Student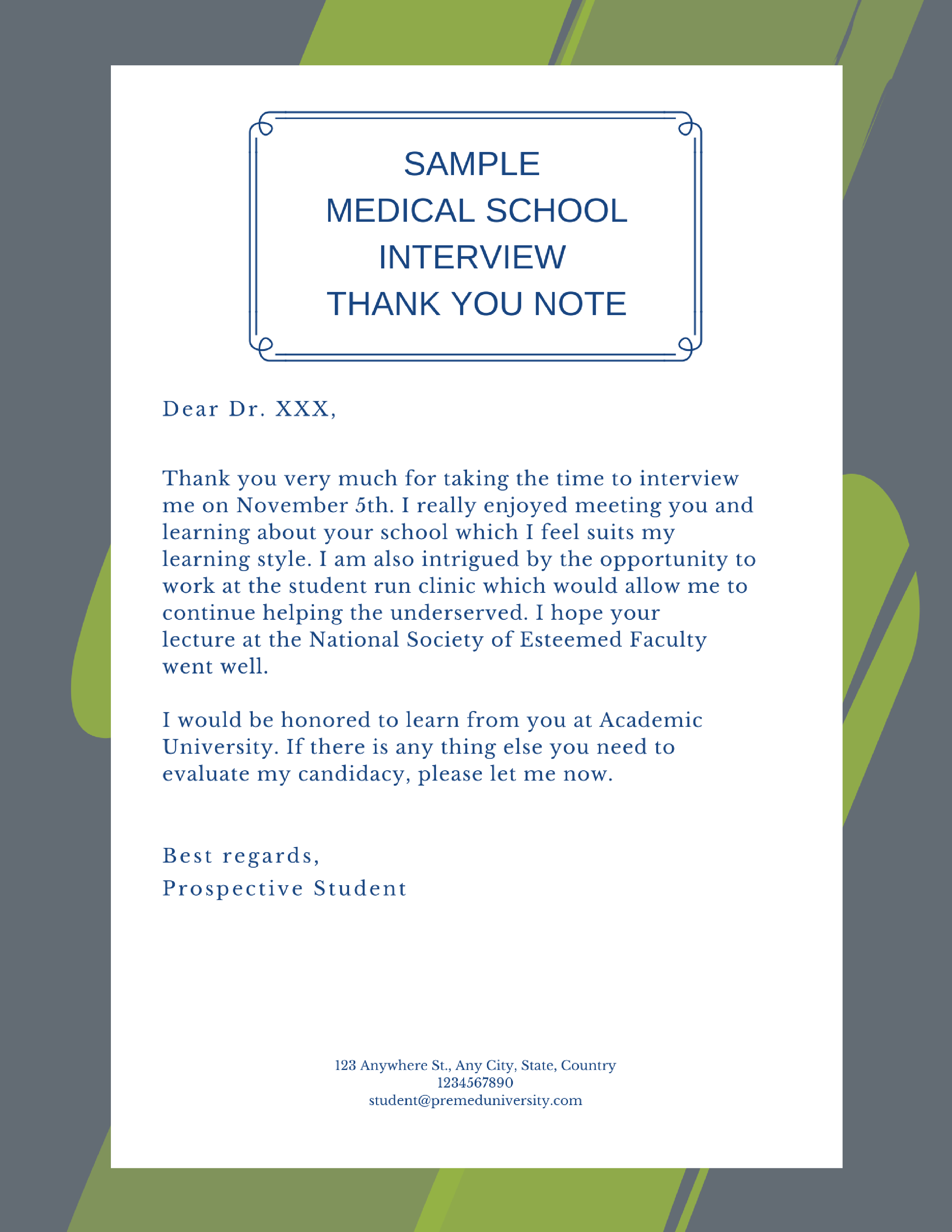 Let's Review: What does this student do?
Thanks the interviewer for his/her time
Mentions the new curriculum
Mentions interest in the underserved
Brings up something that was discussed at the interview
Offers to provide additional information
About MedEdits
MedEdits helps students get admitted to medical school and residency programs. Our consultants have years of experience serving on medical school admissions committees, and as faculty members at the top medical schools in the country.
Need Help With Your Thank You Letters?
Schedule a Free 15 Minute Consultation with a MedEdits expert.