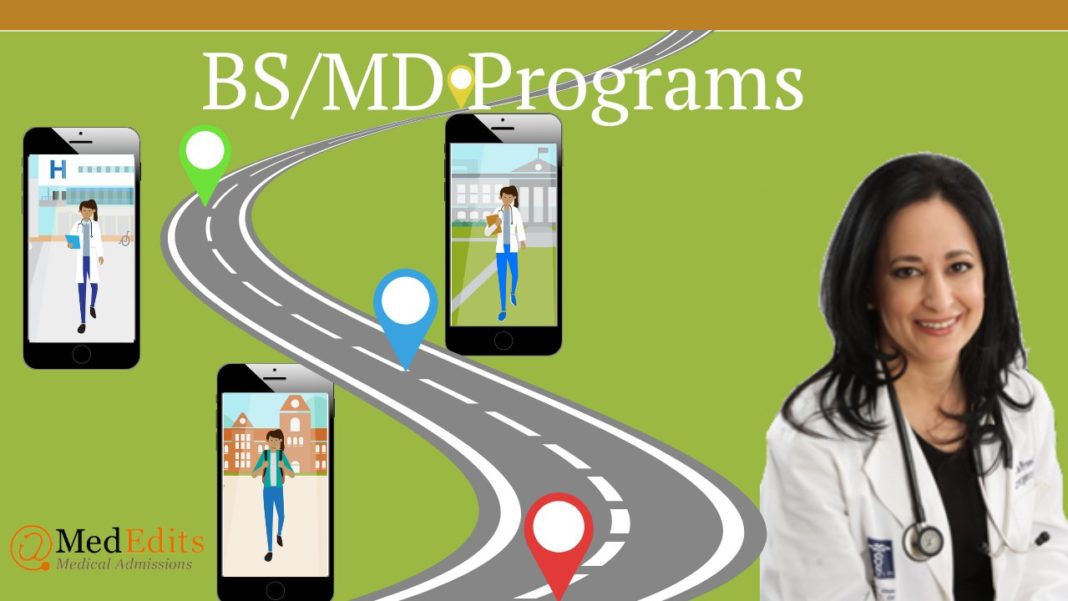 For students who are fully committed to careers in medicine, combined medical programs – those that grant you to earn both a bachelor of science and a medical degree – can be a great option. Students apply to BS/MD degree programs as high school senior. Students must be focused and organized during high school to accomplish everything necessary to be a viable candidate. As you read, keep in mind that many additional factors, including your personal experiences, written application, letters of reference, and interview performance, influence admissions decisions. As an update for 2023/2024, we are finding it may be "easier" to gain admissions to some BS/MD programs than elite colleges where acceptance rates have all dipped in to the single digits.
Elite College vs. BS/MD Program
For the vast majority of BS/MD programs, the undergraduate college associated with the program will not be as competitive or prestigious as the medical school. Therefore, a decision most students have to make is whether or not to apply to elite undergraduate programs in addition to BS/MD combined programs. 
If you choose to apply to selective undergraduate institutions as well, you should realize that undergraduate admissions and medical school admissions are two distinct processes that require very different strategies and approaches.
The undergraduate application process requires applicants to complete the Common App (most common) or Coalition Application. You will have to think carefully about the ten activities you choose to highlight in your activities list, in what order you list them (yes, this matters), and how to use the stringent character limit (150 characters) to your advantage. You then need to decide what prompt and topic you will choose for your personal statement. 
As admissions to elite colleges becomes more competitive every year with acceptance rates in the single digits, admission to some combined programs may actually be more attainable. In addition, more and more medical school applicants are taking gap years (at least one) to gain admission to medical school. Therefore, students who want a shorter path to medical school might decide BS/MD programs are the best option.
What is a BS/MD versus EAP Program?
Accelerated Medical Programs, also called BS-MD, BA-MD, BA-DO, BS-DO or Direct Medical Programs, allow students to apply and gain admission to undergraduate college and a partner medical school simultaneously in the 12th grade. The significant differences between programs are the length of time it takes to complete them (lengths vary from six to eight years in total) and whether the program is associated with a medical school that is part of the same university or a medical school that is at a completely different institution. The more abbreviated programs are especially rigorous since you complete your college degree in a shorter time. Students in these programs often are in school year round.
For example, at The Brown Program in Liberal Medical Education both the undergraduate degree and medical degree are earned from Brown.  In contrast, Albany Medical College has combined baccalaureate/MD programs with three undergraduate colleges: Union College, Rensselaer Polytechnic Institute, and Sienna College.
Do not confuse BS/MD programs with early assurance programs (EAP), however. The confusion is understandable because both are similar in what they do and how they help students obtain guaranteed acceptance to a medical school. Early assurance programs allow students to apply early to medical school when they are sophomores in college.
Before deciding to apply to combined programs, you should understand what this commitment means about you and the plusses and minuses of doing so. EAPs offer guaranteed acceptance to medical school after students apply and go through a rigorous review once they are already enrolled in college. There are times that EAP matriculants can bypass some of the traditional medical school requirements such as the MCAT. The purpose behind having an MCAT exception is to allow students to focus on other interests and achievements.
A focused and committed student who is committed to a career in medicine can thrive in a combined BS MD or EAP program. You will be surrounded by like-minded peers who are as motivated as you are. Whether in an 8-, 7-, or 6-year program, you "gain time," which gives you the flexibility to enhance your career or education after completing your combined program by doing research or getting an MPH, for example.
You will also avoid the medical school application process is long and complex. By having a guaranteed medical school admission, you avoid this experience and sometimes are not required to take the MCAT. while you still take all pre med course, this may lead to less overall stress. For some students, avoiding a second admissions process can be viewed as a real bonus.
BS/MD vs. BA/MD vs. BS/DO: What's the Difference?
This difference between BS-MD and BA-MD programs relates to the undergraduate degree that you earn as part of the program. With BS-MD programs you will earn a Bachelor of Science undergraduate degree and with BA-MD programs you will earn a Bachelor of Arts degree. BS-MD programs will be similar to college degrees in which you major in a scientific discipline and there you will enroll in more science classes as an undergraduate. In contrast, BA-MD programs allow you to enroll in more liberal arts classes while still taking all of the standard medical school prerequisites plus some upper level science classes. Also significant is that some programs require students to take the MCAT while others waive the MCAT requirement entirely. BS-DO programs are programs combined with osteopathic medical schools.
List of BS/MD Programs (Updated January, 2023)
Combined medical programs vary in length and can be anywhere from six to eight years in length. Here are the most common BS-MD program structures:
List of 8 year BS/MD programs (4 years college + 4 years medical school):
Baylor College of Medicine (Baylor University, University of Houston/DeBakey High School, Xavier University, St. Mary's University)

Drexel (Drexel)

Florida Atlantic University (Florida Atlantic University, Florida A & M University)

Marshall University (Marshall University – West VA residents only)

Medical College of Georgia at Augusta (Augusta University – Georgia residents only)

Ponce Health Sciences University School of Medicine (Pontifical Catholic University of Puerto Rico, Universidad Interamericana de Puerto Rico, Universidad Sagrado Corazon De Puerto Rico, Universidad Central de Bayamon, New Jersey Institute of Technology)

State University of New York Upstate Medical University Alan and Marlene Norton College of Medicine (Adelphi University, Albany College of Pharmacy and Health Sciences, Hampton University, Purchase College
Rochester Institute of Technology, SUNY Polytechnic Institute, SUNY, College of Environmental Science and Forestry, Spelman College, Syracuse University, University at Albany, Yeshiva University)

University of Connecticut (University of Connecticut)

University of Illinois at Chicago (University of Illinois at Chicago – Illinois residents only)

University of Minnesota (University of Minnesota)

University of New Mexico (University of New Mexico – New Mexico Residents only)
List of 7 year BS/MD programs 7 years (3 years college + 4 years medical school):
List of 6 year BS/MD programs (2 years college + 4 years medical school):
Howard University College of Medicine (Howard University)

University of Missouri in Kansas City (University of Missouri in Kansas City)
Shorter programs tend to condense your education leaving less flexibility to enroll in non prerequisite courses that interest you and require you to enroll in summer classes as well. In contrast, eight year programs will more closely mirror a traditional path to medical school and provide greater opportunities to explore your interests inside and outside of medicine as an undergraduate.
Some programs offer distinct opportunities. For example, the Union College/Albany Combined program enables students to earn three degrees: a BA from Union College, and an M.S. or M.B.A. in Healthcare Management from Clarkson University-Capital Region Campus as well as an M.D. from Albany Medical College.
BS/MD Admission Requirements
All successful combined program applicants have superior academic credentials and test scores and have enrolled in the most challenging high school courses available to them. Additionally, applicants are expected to be exceptionally mature, focused, and articulate.
5 key admissions categories to consider:
Academics: BS/MD Admissions Grades and Test Scores

Research: Meaningful BS/MD Experiences

Community Service or Advocacy/Social Justice Work: Best Places to Volunteer for BS/MD Programs

Clinical Exposure: Opportunities for BS/MD Applicants

Extracurricular Activities: What else should you consider?
Academics: Grades, Test Scores, and Class Rank
A stellar academic record is a key ingredient for successful BS/MD applicants. Many programs have cut offs meaning that your application won't even be reviewed if you don't have the minimum "numbers" thresholds. Even though most GPA cut-offs are 3.5, accepted BS/MD students generally have GPAs that are higher and close to 4.0 (unweighted). Students are expected to challenge themselves during high school by taking the most rigorous course offerings available. You must also aim high on the SAT/ACT and SAT subject tests. Ideally, try to earn a 1500 or higher on the SAT or a 34 or higher on the ACT. With SAT IIs now canceled, scores on AP exams will hold greater importance.
Regarding coursework, students are expected to take the most rigorous curriculum available to them including AP and IB classes. Many students take six or more core academic classes each year and some are one year ahead in match starting with Algebra 2 in freshman year. Some students also enroll in dual curriculums, but, this is not always necessary. If your high schools ranks students, ideally you should be in top 10% or higher.
Research
Having meaningful research experiences during high school will help distinguish your candidacy. I am amazed by the research high school students sometimes perform; some start as early as the summer after freshman year doing valuable work. The type and discipline of research don't really matter – find something that interests you. Contact local universities or medical schools and inquire about summer opportunities.  If you are willing to devote several summers to a lab, or even some time during the school year, you will be more likely to be offered an opportunity.
There are also formal summer programs that allow you to do sophisticated mentored research.
READ: Most Prestigious High School Summer STEM Programs.
Many high schools also have formal research programs that start in the sophomore year of high school and the majority of STEM-focused high school students take advantage of these opportunities.
The highest achieving students, especially those who attend high schools with formal research programs, enter science competitions a win at which can be an important distinction when applying to both college and combined programs.
Community Service or Advocacy/Social Justice Work
Demonstrating a commitment to your community is extremely important. In 2023/2024 we are seeing that medical schools especially value applicants who do community service within the realm of advocacy/social justice in any form. Consider more traditional volunteer venues such as volunteering at a hospital or nursing home, tutoring grade school kids at a community center or volunteering at a free clinic on weekends. Sometimes religious organizations have valuable community service programs and events. Also look for opportunities that allow you to advocate for others; this is especially important now. Medical school admissions committees love to see that you are service oriented, culturally competent, compassionate, and understanding.
Clinical Exposure
On interviews, you will be assessed for your commitment to medicine and your understanding of it. You therefore need to demonstrate that you have explored the field of medicine enough to know that this is what you want to do. Shadowing a variety of physicians in different settings and from different disciplines will convince admissions committees that you have the exposure to make an informed decision about your career choice.
If you prefer a different clinical setting where you can really have some hands-on and valuable experiences, consider volunteering in a hospice or nursing home. Places such as this often are filled with patients in need of company, and I find that students have very meaningful experiences in these settings.
If you plan on applying to osteopathic medical school programs, you should have an idea of what osteopathic practice is like by shadowing an osteopathic physician.
Extracurricular Activities
During high school, you will have little time for much beyond your academics and what we have outlined here, but, if you do have extra time try to show that you have other interests, too. We encourage students to use any extra time to explore opportunities they enjoy most. Join your school's math or debate team or get involved in a student club that is aligned with your curiosities. Do you play an instrument, act, or play a sport? Remember that schools are looking for "quality" and "impact" rather than "quantity" so choose wisely and try to stick with whatever you choose.
Applying to BS/MD Programs

The Common App
Regardless of whether or not you will be applying to combined BS/MD programs alone or both combined and traditional college programs, you will need to be familiar with the Common App. Between trying to maintain their stellar GPAs, studying for that last round of SATs or ACTs, and working on their personal statements and writing supplements, savvy students (or the younger siblings of those who have done this before) know to begin as early as possible.
One of the most low-stress ways to enter the fray is to make an account on the Common App website to familiarize yourself with the process. Get started by inputting the simple information and click around to see what's what. The earlier you begin doing these things, the more time you will have later to draft, edit, and revise the more complicated and "important" areas: the personal statement, the activities section, and the sometimes-overlooked, school-specific supplemental writing questions.
Getting acquainted with the Common App site will also remind students of other perhaps-unknown (or forgotten) aspects of the college application process, such as getting letters of recommendation (including those for specialized programs or departments, or a whole other application for a particular program within the context of a larger school). Being able to see and understand everything that needs to get done on The Common App site increases students' chances of completing their applications with time to spare.
The School-Specific Medical Portion of the Application
The most important essay in BS/MD applications is the "Why Medicine" question. The allowed word limit for most of these essays is 500.
Here is a typical prompt: Explain why you are interested in pursuing a career in medicine. Describe any life experiences that may have sparked this interest, as well as any personal attributes that make you especially suited for a medical career.
We encourage students to try and be as direct as possible in writing this essay, to show an understanding of medicine, and to highlight those experiences that have helped confirm a commitment to a career in medicine.
BS/MD Acceptance Rates
Some students apply to combined programs because they believe this path will be less competitive than applying to college first and then medical school. This is a misconception, however. Successful applicants to combined programs are extremely accomplished. Not only is it necessary to earn great grades and test scores in high school, but these applicants typically have research experience, exposure to medicine in some capacity (shadowing is most common), and often excel in another area as well, whether in community service, athletics, or the arts. Indeed, successful combined program applicants are often more accomplished than "traditional" medical school applicants.

Let's review data from one of the most competitive BS/MD programs, The Brown Program in Liberal Medical Education which allows students to earn a degree from The Brown School of Medicine:

Brown PLME received 2641 applications last year and 94 of those students were admitted (20 early decision and 74 regular action) yielding a 3.5% acceptance rate. 61 of those accepted actually enrolled. Average SATs for accepted students: 742 EBRW and 770 Math and 34 ACT composite.
Keep in mind that the overall acceptance rate to allopathic medical schools in the United States is about 5-6%.
Sample BS/MD Essay
The smell of my mother's traditional brisket beckoned us from the TV room where we were watching the Thanksgiving Day parade, an annual tradition in our family. Just as we were about to sit down to our Thanksgiving brunch, as we called it, my aunt's cell phone rang. Based on her expression, I knew this wasn't good. Immediately, she announced she had to run to the hospital because one of her patients was sick. My aunt, a cardiologist, knew I wanted to become a doctor, so she asked if I wanted to join her. 


When we arrived in the ICU, we saw the patient's family huddled in the waiting room. We then proceeded swiftly to the patient's room where the medical team was doing compressions. I was only a freshman in high school and wished I could do more. I prayed for the patient since that was all I could offer. 


As I progressed through high school, I tried to learn as much about medicine and science as I could. I shadowed any specialist who would let me tag along. This included a surgeon, a pediatrician, an emergency physician, and an internist. I learned about medical practice in private and urban settings, the challenges facing patients who lack access to care, and the complexities of medical practice. I also realized how differently medicine is practiced, depending on the specialty and setting.


Inspired, I independently sought out research in clinical oncology to learn about the scientific process and inquiry. I studied the impact that hydrogen sulfide has on colon cancer in memory of my grandfather who died from colon cancer. I learned how to think critically and evaluate my results and the literature analytically. This experience also inspired my future interest in research and academic medicine.


Additionally, my volunteer work in hospice has helped me understand end of life issues, the value of compassion and understanding in medicine, and that each person deserves to die with dignity. I have also come to understand the varied cultural perceptions of death and illness and realize the importance of cultural competence when caring for others.


My experiences have nurtured my interest in medicine while helping me to focus on my future goals. The exposure I have had to medicine and research makes me realize that a career in medicine will allow me to satisfy my intellectual curiosities while becoming a leader in my community.


Even though my aunt's patient died that Thanksgiving day, the grieving family still expressed their gratitude for providing the best care possible. It is my hope to some day become a physician who can be seen as someone who did everything in her power to cure, even when poor outcomes are inevitable . I hope to use the skills and knowledge I gain in medical school to ease suffering with kindness.
The BS/MD Interview
Accelerated medical programs may involve two sets of interviews; one with the undergraduate college and one with the medical school, however, most only require a medical school interview.
Every year I receive calls from students who were unable to meet this criterion. Typically, students fail to maintain the minimum GPA because they become distracted by social activities, take their medical school seat for granted, or find other interests when they have freedom and are somewhat removed from parental pressure.
Thus, interviewers at these programs are trying to assess several characteristics:
Are you mature?

Are you truly committed to a career in medicine, and do you understand what it means to be a physician?

Are you going to "make it?"
Your interviewer wants to be sure that you have the diligence, focus, maturity and discipline to take on a rigorous course load. They also want to know that you are pursuing this path be- cause it is what you want and not because of pressure from your parents. Your interviewer is trying to assess the likelihood that you will succeed if you don't have your parents around to "keep you on track." The path you are taking will not be easy and will require you to work incredibly hard and interviewers need to make sure you realize this. Applicants to BS/MD and early admissions programs and a very accomplished group who have often accomplished as much as the typical premedical applicant. It makes sense, then, that these programs are very competitive and earning an interview is an huge victory in and of itself.
Some interview questions that are unique to BS/MD and early admissions programs:
What will be the greatest challenges you will face in this program?

Why do you want to pursue an accelerated program rather than the traditional route to medical school?

How do you know you want to be a doctor?

When did you know you wanted to be a doctor?

What have you done without the influence of your parents?

How do you manage your time and remember everything you need to do?

What undergraduate studies interest you?

How will you manage the pressure of medical school?

What will you do with "extra time" attending such a program will afford you?

What motivates you?
BS/MD Program Drawbacks
Whether or not a combined program is "worth it" is really a personal decision. Since BA/BS-MD applicants are guaranteed admission to medical school (if certain criteria are met including maintaining a certain GPA throughout college) this alleviates a lot of pressure for applicants as undergraduates. Students who gain admission to programs that are less than eight years will also save tuition dollars which can be significant. Many combined programs are associated with less prestigious undergraduate colleges and medical schools and there is no way to know if better opportunities might exist at more selective institutions. Since most BA/BS-MD applicants are exceptional students, most have to weigh the option of attending a more prestigious undergraduate college versus a less prestigious one that is part of a BA/BS-MD program.
The Accelerated Admissions Process is Complex
Since applicants to combined programs are applying to two types of programs at the same time (college and medical school), the admissions process is complicated. It requires students to complete both the college common application and a medical school application for each affiliated medical school. A medical school interview is also required for admission. So the student applying to combined programs must write more essays, complete more applications, and go on interviews.
Once Admitted, You Must Still Do Well in College
Most combined programs require that students earn a minimum GPA (typically a 3.5 overall) in college to keep their medical school spot. If a student drops below this GPA, the admission to medical school may be rescinded. Some programs also require students to take the MCAT.
The Undergraduate Colleges Associated with Programs may not be your top Choice
Applicants to combined programs tend to be highly motivated and successful people inside and outside the classroom. Most combined programs are not associated with top-tier undergraduate colleges or med schools, however. Therefore, when deciding whether or not to apply to combined programs, students must realize they could likely gain acceptance to a much more selective college than is associated with the programs to which they are applying. Most students, since they must complete the common application as a part of this process anyway, decide to also apply to their top choice selective colleges, which means submitting two stellar applications – the common college application and the medical school application required of each medical school. Then, once the student knows where he or she has been accepted, he may decide to go the "traditional route," which might afford the opportunity to go a top-notch college rather than the lower ranked college that would be a part of a combined program.
Less Academic, Extracurricular, and Social Freedom
In BS/MD programs that are essentially "condensed," students have fewer options to explore and discover all their academic interests because combined programs typically offer less curricular flexibility than traditional ones. And since summers are spent working and studying, students don't have as many options to work (or play!) in the summer, to travel, study abroad, or participate in extracurricular activities. Because of the intensive and serious nature of combined programs, students may also have less time to socialize, spend time with friends and family, and participate in traditional college activities. For these reasons, many students decide to go the more traditional route so they can have a more traditional undergraduate experiences.
In short, combined programs can offer the intensity, direction, and focus that the exceptional student who is mature and fully committed to a career in medicine needs to thrive in her education and career. However, for the student who is interested in medicine but also has other curiosities she wants to explore, or who prefers a more typical college experience, these programs can hinder overall development and maturation. Whether or not to pursue a combined program is really a personal decision that each individual should consider carefully by weighing the positive and the negatives of this path.
In the end, your career options when graduating medical school are likely to be the similar if you took a more traditional path, but, for many focused and committed students, traveling that path at a faster pace and with less pressure makes combined programs very much worth it!
Final thoughts
For a focused student who knows he or she wants to go to medical school, accelerated programs can be the perfect fit. However, for the student who isn't 100% sure or wants to have more space and time to explore other interests, a more traditional route might be a better choice. The successful BS/MD applicant must be able to present a narrative that convinces the reader or interviewer of a well developed interest in medicine together with stellar academics, exceptional maturity, and impressive achievements.
About MedEdits
MedEdits helps students get admitted to BS/MD medical school and residency programs. Our consultants have years of experience serving on medical school admissions committees, and as faculty members at the top medical schools in the country. At MedEdits, you will never work with a student advisor. While peer to peer guidance has value, we do not feel this is the best investment for such a high-stakes admissions process. 
Need Help With Your BS/MD Application?
Schedule a Free 15 Minute Consultation with a MedEdits expert.
List of BS-MD Programs
A list of all BS/MD programs organized by state.
Undergraduate College
State(s)
Medical School
Program Length
Program Requirements
Program Link
University of Alabama
Alabama
University of Alabama School of Medicine
Eight Years
Requirements: Minimum Overall GPA: 3.5 (on a 4.0 scale). Minimum of 30 on the ACT or 1390 on the SAT. In the Fall of 2015, students had an average ACT score of 33.7 and a High School GPA of 4.49.
http://www.uab.edu/emsap/
University of South Alabama
Alabama
University of South Alabama College of Medicine
Eight Years
Requirements: In state students must have a 27 ACT Composite (results of one administration; scores are not mixed from multiple tests), or 1220 SAT score (critical reading + math: we do not use SAT Subject Tests), or 1280 SAT score (if taken after March 2016) and a 3.5 GPA as computed by USA Admissions. Out-of-state students must have 30 ACT Composite (results of one administration; scores are not mixed from multiple tests), or 1330 SAT score (critical reading + math: we do not use SAT Subject Tests), or 1390 (if taken after March 2016) and a 3.5 GPA as computed by USA Admissions.Preference is given to applicants from Alabama and our Service Area Counties in Mississippi and Florida, although highly competitive applicants from outside these areas may be considered under special circumstances.
http://www.southalabama.edu/departments/admissions/earlyacceptance/index.html
California Northstate University
California
California Northstate University College of Medicine
Six or Seven Years
For the 6-year program, minimum requirements include: 3.75 GPA, 1360/1400 (old/new) SAT, and 31 ACT. For the 7-year program, minimum requirements include: 3.6 GPA, 1290/1350 (old/new) SAT, and 29 ACT.
http://healthsciences.cnsu.edu/programs-offered/bs-md-combined-program/about
University of Colorado
Colorado
University of Colorado School of Medicine
Eight Years
"Requirments: A minimum high school grade point average of 3.5 (weighted or unweighted; whichever is higher).
A composite ACT Score of 27 or higher and or an Evidenced Based Reading & Writing +Math SAT Score of 1185 or higher.
This program is designed for Colorado high school seniors who meet one or more of the following criteria:

From educationally disadvantaged backgrounds
From financially disadvantaged backgrounds
From federally designated rural/frontier communities in Colorado
From ethnic groups who are currently under-represented in the medical community in Colorado including:
​​​​​​​​​​​Black or African American
Hispanic/Latino
Native American/Alaska Native
Pacific Islander
Vietnamese
First generation college students-someone whose parents did not attend or graduate​ from college or did not complete a baccalaureate degree.
Desire to practice medicine in Colorado as a primary care physician after the completion of medical school and residency."
https://clas.ucdenver.edu/health-professions-programs/babs-md-program-information#program_information-69
University of Connecticut
Connecticut
University of Connecticut School of Medicine
Eight Years
Requirements: GPA of 3.5/4, SAT (CR + M) 1300/1350 (old/new) or ACT 29. Additional factors considered include, strength of recommendations, maturity, range and depth of extracurricular involvement; and commitment to the health sciences. Preference given to Connecticut residents.
http://admissions.uconn.edu/apply/freshman/special-programs/medicine
Florida Atlantic University
Florida
Florida Atlantic University College of Medicine
Eight Years
"Requirements:• SAT score of 1490 or a minimum ACT composite of 33
• Weighted high school GPA of at least 4.30
• Medical Pipelines online supplemental application
• Highly recommended but not required—experience with patient interaction
• U.S. citizen or permanent resident statuscombined) or a New SAT score of 1490 or a minimum ACT composite of 33, and weighted high school GPA of at least 4.30"
http://www.fau.edu/honors/academics/majors/medical-scholar-program.php
University of Southern Florida
Florida
Morsani College of Medicine
Seven Years
"Requirements: Based on 4.0 weighted HS grade point average (GPA), as calculated by USF Undergraduate Admissions
Once admitted to USF and the Honors College, no additional application is required for the 7-Year B.S./MD Program
SAT (Critical Reading and Math sections) score of 1470 or combined ACT score of 33 (we super-score all attempts for both tests)"
https://www.usf.edu/honors/prospective-students/7-year-med.aspx
Georgia Regents University
Georgia
Medical College of Georgia
Seven Years
Requirements: Unweighted High School GPA: 3.7; Minimum SAT score (math/verbal): 1400; or Minimum ACT score: 32
http://www.gru.edu/colleges/scimath/biology/bs-md-dmd.php
Mercer University
Georgia
Mercer University School of Medicine
Eight Years
For in state Georgia residents only.
https://medicine.mercer.edu/admissions/md/enhancement-programs/scpmedicine.cfm
University of Illinois at Chicago
Illinois
University of Illinois at Chicago College of Medicine
Eight Years
The most competitive students for admission have a minimum ACT (or SAT equivalent) of a 28 and a 3.5 GPA. Additionally, students will have demonstrated an interest in medicine during high school. Illinois residents only.
https://medicine.uic.edu/gppa/
Indiana State University
Indiana
Indiana University School of Medicine
Eight Years
"For residents of rural Indiana only. Minimum requirements include GPA 3.5/4, 1200 (CR+M) on SAT or 27 on ACT
"
http://www.indstate.edu/cas/pre-professional-programs/bmd-rural-health-program/overview
University of Evansville
Indiana
Indiana University School of Medicine-Evansville
Eight Years
Typically, applicants have an approximate GPA of 4.0, and ACT 29 or SAT-1 1920 or SAT-R of 1350. Indiana residents only.
https://www.evansville.edu/majors/BtoMD/
University of Southern Indiana
Indiana
Indiana University School of Medicine-Evansville
Eight Years
Requirments: Applicants need a combined critical reading and math SAT score of 1200 or composite RSAT* score of a 1290 (Evidence-Based Reading/Writing + Math) on a single sitting or an ACT composite score of 27 and a cumulative high school GPA of at least 3.5/4.0. Indiana residents only.
https://www.usi.edu/science/pre-professional/pre-medicine/bmd-program/
Grambling State University
Louisianna/Tennessee
Meharry Medical College
Seven or Eight Years
Minimum Requirements include SAT 900 or ACT 20, overall and science GPA of 3.25/4.0.
http://www.gram.edu/academics/majors/arts-and-sciences/biology/training.php
Boston University
Massachusetts
Boston University School of Medicine
Seven Years
-
http://www.bu.edu/academics/cas/programs/seven-year-liberal-arts-medical-education-program/
Wayne State University
Michigan
Wayne State University University School of Medicine
Eight Years
Requirements: Applicants must have a minimum 3.5 GPA and 1340 SAT or 30 ACT score.
https://provost.wayne.edu/wayne-med-direct
St. Louis University
Missouri
St. Louis University University School of Medicine
Eight Years
Minimum requirements include: SAT 1390 (CR+M) or ACT 30. During undergrad, scholars must maintain an overall and math/science GPA of 3.65. A certain number of seats are reserved for Medical Scholars at the St. Louis University of Medicine, but not all Medical Scholars will be able to matriculate to the medical school.
https://www.slu.edu/scholars/medical-scholars/
University of Missouri - Kansas City
Missouri
University of Missouri - Kansas City School of Medicine
Six Years
Requirements for Missouri residents: top 20 percent of class; ACT of 26 or above, Non-Missouri residents: top 10 percent of class; ACT of 28 or above OR SAT composite of 1200 (critical reading and math).
http://med.umkc.edu/bamd/
Washington University in St. Louis
Missouri
The Washington University School of Medicine
Eight Years
-
https://admissions.wustl.edu/majors-academics/university-scholars-program-in-medicine
University of Nevada
Nevada
University of Nevada School of Medicine
Seven Years
Requirements: 1290 Math/CR SAT Score or a 29 or greater on the ACT is required. In college, students are required to maintain a 3.5 GPA and take the MCAT. Nevada residents only.
http://www.unr.edu/science/accelerated-programs/bs-md-program
Franklin Pierce University
New Hampshire/Caribbean
St. George's University School of Medicine
Eight Years
Minimum requirements include cumulative GPA 3.5, SAT 1200 (CR + M) or ACT 26
http://www.franklinpierce.edu/academics/ugrad/programs_of_study/div_natsci/md_dvm_pathway/index.htm
Caldwell University
New Jersey
New Jersey Medical School at Rutgers University
Seven Years
"Applicants must have at least a 3.5 GPA and be in the top 10% of their high school class. Their M/CR SAT scores must be at least 1450. Students must indicate their interest when they apply to Caldwell University. To continue to the medical school, admitted students need to maintain a specific GPA (>3.5 for Rutgers) and receive a competitive score (as determined by the medical school) on the MCAT.
"
https://www.caldwell.edu/academics/health-professions/affiliation-programs
College of New Jersey
New Jersey
New Jersey Medical School at Rutgers University
Seven Years
Minimum requirements include: 1500 SAT (CR + M), or 33 on ACT, and rank top 5% in graduating class and/or unweighted GPA of 4.5/95%. In 2015, average scores were: 1550+ SAT I, SAT II scores 730+, and ACT 35.
https://ncas.rutgers.edu/student-support/current-students/pre-professional-programs/bamd-program-njms-nwk
Drew University
New Jersey
New Jersey Medical School at Rutgers University
Seven Years
Minimum requirements include: unweighted GPA 3.8, SAT 1500+ (CR+M) or ACT 33+
http://catalog.drew.edu/content.php?catoid=21&navoid=1056#ba-md
Montclair State University
New Jersey
New Jersey Medical School at Rutgers University
Seven Years
Minimum requirements include: 1400 (CR+M), and top 10% rank of graduating class OR GPA > 3.6 if no class rank available
https://www.montclair.edu/csam/biology/articulation-programs/bs-md-medical-rutgers/
New Jersey Institute of Technology
New Jersey
New Jersey Medical School at Rutgers University
Seven Years
To be considered, an applicant must have a minimum composite SAT score of 1490 OR composite ACT score of 33. These scores MUST be from one test date ("super-score" will not be considered). There are no exceptions to these mandatory minimum scores. These are the minimum requirements and, on average, those students admitted to the program have scores well above these minimums. The average scores of a recent cohort of admitted students was a composite SAT score around 1570 and a composite ACT score between 35 and 36. US citizens or permanent residents only.
https://honors.njit.edu/content/pre-health-admissions
Rutgers University-Newark College of Arts and Sciences
New Jersey
New Jersey Medical School at Rutgers University
Seven Years
Requirements: Applicants must achieve a min 1400 (CR + M) on SAT, 32 on ACT, and be ranked in top 10% of graduating class
https://sasn.rutgers.edu/student-support/current-students/pre-professional-programs/bamd-program-njms-nwk
Stevens Institute of Technology
New Jersey
New Jersey Medical School at Rutgers University
Seven Years
Requirements: Students must rank in the top 10% of their high school class, and achieve a combined SAT I score of 1400 (critical reading and math) in one sitting as well as take the SAT II in Mathematics Level I or Level II, and Biology or Chemistry.
https://www.stevens.edu/schaefer-school-engineering-science/departments/chemistry-chemical-biology/undergraduate-programs/accelerated-chemical-biology-programd
Caldwell University
New Jersey/Caribbean
St George's University School of Medicine
Seven Years
Applicants must have at least a 3.5 GPA and their M/CR SAT scores must be at least 1270 if taken after. Students must indicate their interest when they apply to Caldwell University. To continue to the medical school, admitted students need to maintain a specific GPA (>3.4 for St. George's) and receive a competitive score (as determined by the medical school) on the MCAT.
https://www.caldwell.edu/academics/health-professions/affiliation-programs
Monmouth University
New Jersey/Caribbean
St. George's University School of Medicine
Eight Years
-
https://www.monmouth.edu/pre-health/st-georges-program/
New Jersey Institute of Technology
New Jersey/Caribbean
St. George's University School of Medicine
Seven Years
This accelerated program is available to anyone, including graduating high school seniors who are not US citizens or permanent residents. Minimum requirements include 1400/1450 (old/new) SAT (CR+M) or ACT 32. Typically students are in top 10% of graduating class.
http://honors.njit.edu/admission/pre-health-law/health.php
University of New Mexico
New Mexico
University of New Mexico School of Medicine
Eight Years
Requirements: SAT - 510 Math + 450 CR. ACT requirement - 22 Math + 19 Reading + 19 Science + 19 English. New Mexico residents only.
http://som.unm.edu/EDUCATION/bamd/index.html
Brooklyn College
New York
SUNY-Downstate Medical Center
Eight Years
-
http://www.brooklyn.cuny.edu/web/academics/honors-academy/programs/ba-md.php
Hobart & William Smith Colleges
New York
SUNY Upstate Medical University of Medicine
Eight Years
Requirements: min SAT score of 1250/1310 (old/new), or ACT 28, 90% high school GPA
http://www.hws.edu/admissions/blackwell_scholars.aspx
Hofstra University
New York
Hofstra Northwell School of Medicine
Eight Years
Minimum requirements: SAT 1410 (CR + M) or ACT 32, GPA 3.7/4.0, and ranked 10% of graduating class
http://www.hofstra.edu/admission/adm_4plus4.html
Rensselaer Polytechnic Institute
New York
Albany Medical College
Seven Years
Academically, most applicants invited for an interview have combined critical reading and math SAT scores of 1425 or greater (on the 1600 scale). More detailed examination of the group of exceptional and promising young men and women beginning their first year studies at Rensselaer in a recent class shows that their combined critical reading and math SAT scores averaged 1471. Of equal importance to their demonstrated academic ability is their distinctly superior level of maturity and motivation.
https://admissions.rpi.edu/undergraduate-admissions/accelerated-combined-programs
Siena College
New York
Albany Medical College School of Medicine
Eight Years
With an emphasis on humanities, ethics and social service, the 8 year combined acceptance program Minimum requirements include 1300/1360 (old/new) SAT scores, or ACT 30+, and rank n the top 10% of their graduating class.
https://www.siena.edu/academics/academics-at-siena/additional-academic-opportunities/albany-medical-college-program/
Sophie Davis Biomedical Education
New York
Sophie Davis Biomedical Education School of Medicine
Seven Years
"Requirements: Be a high school graduate as of June 30th
Have a minimum grade point average of 85 through the first three years of high school
Submit ACT and SAT scores."
https://www.ccny.cuny.edu/sophiedavis/bsmd
Stony Brook University
New York
Stony Brook University's School of Medicine
Eight Years
Successful applicants to the program (the middle 50th percentile ranges) have historically had 98-99 high school GPAs and 1490-1590 SAT* (Critical Reading + Math) composites. ACT exam scores are now considered in lieu SAT scores.Candidates must also have documentation of U.S. citizenship or permanent residency in the United States.
https://www.stonybrook.edu/commcms/wise/college/scholars.php
Union College
New York
Albany Medical College School of Medicine
Eight Years
Requirements: Ideal applicants rank near the top of the class, SAT scores above 1410/2010 (new/old) or ACT above 30.
https://www.union.edu/admissions/apply/medical
St. Bonaventure University
New York/Washington DC
George Washington University School of Medicine and Health Sciences
Eight Years
.Minimum requirements include: Competitive (90%) SAT/ACT scores. Typically at least 1390 (ERW+M) new SAT or 1800 (CR+M+W) old SAT or ACT composite 30, SAT II in a science, high school average of 90+.
www.sbu.edu/GWMedicine
Case Western Reserve University
Ohio
Case Western Reserve University School of Medicine
Eight Years
MCAT not required

http://bulletin.case.edu/undergraduatestudies/gradprofessional/#preprofessionalscholarsprogramstext
University of Cincinnati
Ohio
University of Cincinnati College of Medicine
Eight Years
Requirments: Students must score a minimum 1300 (CR + M) on SAT or 29 on ACT to apply. Average statistics are available on the website. Preference given to Ohio residents.
http://med.uc.edu/dualadmissions.aspx
Drexel University
Pennsylvania
Drexel University College of Medicine
Seven Years
"Requiements: Must be a U.S. citizen or permanent resident applying for first-year admission
Be on track to graduate from an American high school
Have a minimum 3.5 GPA on a 4.0 weighted scale (subject to change)
Have a combined SAT score of at least 1420 on the SAT (for Evidence-based Reading and Writing and Math sections) or a minimum ACT composite score of 31; submission of an SAT Subject Test is strongly recommended, preferably in the sciences, but all Subject Tests will be reviewed. As a point of reference, first-year students admitted to the BA/BS+MD Early Assurance program had an average GPA of 4.42 and an average combined SAT (Evidence-based Reading and Writing and Math) of 1542 or ACT 35 composite."
http://drexel.edu/medicine/academics/md-program/md-program-admissions/accelerated-early-linkage/#EarlyAssuranceHighSchoolSeniors
Penn State University
Pennsylvania
Sidney Kimmel Medical College at Thomas Jefferson University
Seven Years
Requirements: A total score of 1470 or higher on the new SAT (Math plus Evidence Based Reading and Writing), 1420 or higher on the old SAT (prior to March 2016 - Critical Reading and Math sections), or a composite score of 32 or higher on the ACT. Applicants must rank in highest 10% of their high school class.
http://www.science.psu.edu/premedmed/
Temple University
Pennsylvania
Temple University Katz School of Medicine Medicine
Seven or Eight Years
"Requirements: Four years of high school math and science
Unweighted (4.0 scale) High School GPA of 3.8 or higher
Two letters of recommendation
Volunteer exposure in health care settings
Demonstrated commitment to service/volunteer activities
https://www.temple.edu/healthadvising/healthscholars.html"
http://www.baylor.edu/prehealth/index.php?id=36430
University of Pittsburgh
Pennsylvania
University of Pittsburgh School of Medicine
Eight Years
Requirements: Must be a US Citizen, Lawful Permanent Resident (not pending or conditional) or have Asylee Status. In addition, the applicants must meet the initial eligibility requirements of earning the highest grade point average available in their high school in the context of a curriculum showing the greatest academic rigor possible and earning a minimum SAT I score of 1490 (combined Critical Reading and Math) or 34 ACT.
https://www.medadmissions.pitt.edu/programs/guaranteed-admissions-program
University of the Sciences
Pennsylvania
Geisinger Commonwealth Medical College
Eight Years
"Minimum requirements: Old SAT 1150 (Critical Reading & Math), or New SAT 1220 (Evidence-Based Reading and Writing & Math), or ACT 25 (composite)
Minimum high school grade point average of 3.40 (on a 4.0 scale)
Other evidence of scholarly/professional potential and demonstration of the desire to serve as a primary care provider in rural communities in Northeastern or North Central Pennsylvania
Must be a US citizen or permanent resident."
https://www.usciences.edu/misher-college-of-arts-and-sciences/pre-med-program/geisinger-commonwealth-school-of-medicine.html
Washington & Jefferson College
Pennsylvania
Temple School of Medicine
Eight Years
Requirements: Students must Have a combined SAT critical reading + math score of greater than 1350, with no score in verbal, math, or writing below 600, OR have an ACT Composite score of 31 or higher, and Be in the top 5% of his or her high school class
https://www.washjeff.edu/wj-medical-scholars-program-with-temple-university-school-of-medicine
University of Science
Pennsylvania/New Jersey
Cooper Medical School of Rowan University
Eight Years
"To apply, you must be a U.S. citizen or permanent resident and meet the following criteria:

Minimum overall GPA of 3.5
No course grade lower than a C
Desire to become a primary care provider in urban communities. Strong consideration will be given if you meet the eligibility requirements outlined below and are interested in becoming a primary care provider serving urban and underserved populations. Students who are residents of New Jersey or urban Philadelphia and surrounding areas are encouraged to apply to this program. "
https://www.usciences.edu/misher-college-of-arts-and-sciences/pre-med-program/cooper-medical-school-of-rowan.html
Brown University
Rhode Island
The Warren Alpert Medical School of Brown University
Eight Years
"Average SAT & ACT scores for matriculants over the last three years
SAT ERW: 742
SAT Mathematics: 770
ACT Composite: 34"
https://www.brown.edu/academics/medical/plme/prospective-students/prospective-students
University of Rochester
Rochester
University of Rochester School of Medicine
Eight Years
Strong applicants typically have a 3.95 unweighted GPA and rank in top 3%.
https://enrollment.rochester.edu/combined-degree-programs/rems/
Fisk University
Tennessee
Meharry Medical College School of Medicine
Seven Years
Students who have strong ACT scores from their High School and maintain that academic excellence with a minimum GPA of 3.2 at Fisk during their first semester are eligible to apply to the program.
https://www.fisk.edu/academics/pre-professional-program/pre-medicine-and-pre-dental"
Baylor University
Texas
Baylor College of Medicine
Eight Years
"Requirements: Have scored 1430 or above on the SAT (math & critical reading) or a 32 or above composite on the ACT.
Rank in the top 5% of their high school graduating class or possess a minimum 3.7 GPA on a 4.0 scale.
Are a U.S. citizen or permanent resident."
http://www.baylor.edu/prehealth/index.php?id=36430
Rice University
Texas
Baylor College of Medicine
Eight Years
-
https://admission.rice.edu/apply/freshman/ricebaylor-medical-scholars
Texas Tech University
Texas
Texas Tech University Health Sciences Center School of Medicine
Eight Years
Minimum requirements include score of a 29 ACT, 1300 SAT (exams prior to March 2016) or a 1360 SAT (exams after March 2016), and 3.7 GPA, with preference provided for students in the top 10% of their class. For Texas residents only.
https://www.ttuhsc.edu/som/admissions/umsi.aspx
Virginia Commonwealth University
Virginia
Virginia Commonwealth University School of Medicine
Eight Years
Minimum requirements: 1330 combined SAT score from critical reading and mathematics from one test administration on your SAT1 or a 29 ACT composite score. In addition, applicants must have an unweighted GPA of at least 3.5 on a 4.0 scale, or the equivalent.. In addition, accepted candidates had accumulated an average of 450 hours of healthcare-related experience.
https://honors.vcu.edu/admissions/guaranteed-admission/gmed-app/
George Washington University
Washington DC
George Washington University School of Medicine and Health Sciences
Seven Years
Requirements: Academic excellence, competitive (90%) SAT/ACT scores, leadership in activities, community service, and health care experiences, and have a strong desire to become a physician. Applicants must be in their senior year of high school education to apply for this program.
http://smhs.gwu.edu/academics/md-program/admissions/joint-programs/bamd
Howard University
Washington DC
Howard University College of Medicine
Six Years
Minimum requirements include: GPA 3.5, SAT 1950 or ACT 26
https://medicine.howard.edu/education/dual-degree-programs