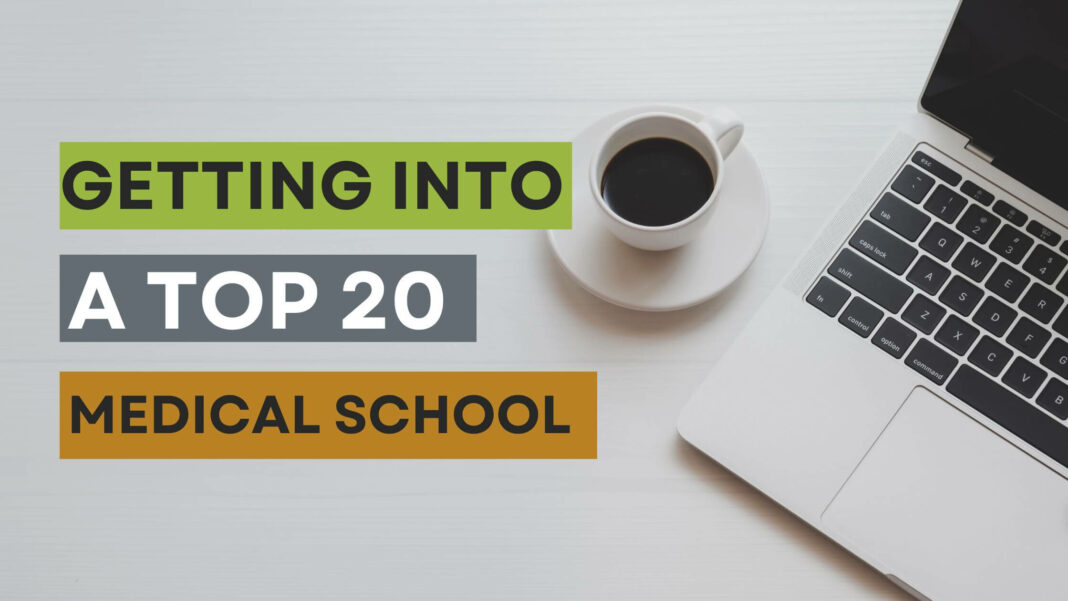 Getting into a Top 20 Medical School
Dreaming of getting into Johns Hopkins? Harvard? Columbia? Penn? You're not alone. Many medical school hopefuls hope to grab a spot in the first-year class at a top-20 medical school. 
But med school admissions are extraordinarily competitive in general — and if you're aiming for one of the top universities in the country, you'll have to up your game even more. 
It's about far more than earning perfect grades in a rigorous curriculum and an excellent MCAT. To be frank, most applicants to top medical schools have these qualifications. Even if you're coming from one of the most brand-name undergraduate colleges, you'll need to set yourself apart through other means if you want a chance of admission at one of the "best" med schools in the country*.
*As a caveat, at MedEdits we consider all United States medical schools outstanding. The competition is so fierce that even a single acceptance is a significant accomplishment.
What are the top 20 medical schools?
According to U.S. News and World Report Rankings, these are the top 20 medical schools in the United States based on 2022-2023 rankings:
| | | |
| --- | --- | --- |
| Ranking | School | Location |
| 1 | Harvard University* | Boston, MA |
| 2 | New York University (Grossman) | New York, NY |
| 3 | Columbia University | New York, NY |
| 3 | Johns Hopkins University | Baltimore, MD |
| 3 | University of California—San Francisco | San Francisco, CA |
| 6 | Duke University | Durham, NC |
| 6 | University of Pennsylvania (Perelman) | Philadelphia, PA |
| 8 | Stanford University | Stanford, CA |
| 9 | University of Washington | Seattle, WA |
| 10 | Yale University | New Haven, CT |
| 11 | Icahn School of Medicine at Mount Sinai | New York, NY |
| 11 | Washington University in St. Louis | St. Louis, MO |
| 13 | Vanderbilt University | Nashville, TN |
| 14 | Cornell University (Weill) | New York, NY |
| 14 | Mayo Clinic School of Medicine (Alix) | Rochester, MN |
| 14 | University of Pittsburgh | Pittsburgh, PA |
| 17 | Northwestern University (Feinberg) | Chicago, IL |
| 17 | University of Michigan—Ann Arbor | Ann Arbor, MI |
| 19 | University of California—Los Angeles (Geffen) | Los Angeles, CA |
| 20 | University of California—San Diego | La Jolla, CA |
| 20 | University of Chicago (Pritzker) | Chicago, IL |
*Harvard Medical School will withdraw from US News rankings in 2023-2024.
How difficult is it to get into a top medical school?
Getting into medical school has always been difficult, but today, applicants are facing more competition than ever before. This is across the board — not just at the top, brand-name schools. According to the Association of American Medical Colleges (AAMC), the number of applicants rose by 17.8% during the 2021–2022 admissions cycle but this was likely due to the pandemic. Last year, 2022-2023, numbers returned to "pre-pandemic" norms and 41% of medical school applicants were accepted to at least one school. 
Remember, too, that the majority of people who apply to medical school — any medical school — are well-qualified, with strong MCAT scores and GPAs. This is a self-selecting pool of people who want to be physicians and believe they are qualified for the profession. So, unfortunately, the odds are not in your favor. It's extraordinarily difficult to get into even the seemingly less selective medical schools.

How to boost your chances of admission to top medical schools
1. Excel in your academics and perform well on your MCAT
It is basic, we know. But, your academic performance and MCAT score are the most important "ingredients" for getting into a top-20 medical school. The most competitive applicants will have a 3.9+ GPA and a 520+ MCAT. However, we work with applicants who have GPAs of 3.8+ and MCATs of 515+ who are competitive for top-20 schools depending on their other accomplishments.
2. Show experience outside of your coursework.
Your academic achievements will get you to the starting gate, so to speak. But your accomplishments outside the classroom will make you truly shine. So, assuming you have the GPA and MCAT to be competitive, your scholarly and extracurricular work is what will solidify your candidacy.
You want to demonstrate excellence and a niche in extracurricular activities, both medically-related and otherwise. A strong candidate will have research, shadowing, or other relevant experience that demonstrates their passion for medicine and ability to get involved in the field — even before they're technically a member of the profession.
In fact, we consider outstanding research a requirement for any student hoping to get into any U.S. allopathic (M.D.-grating) medical school. Excellence in research, ideally with a well-defined niche or specialty, is necessary if you are hoping for a top-20.
Additionally, medical schools value volunteer, advocacy, and community service work. Giving back to the community is the cornerstone of the medical field, and by showing your commitment to volunteering, you are proving that you truly embody that spirit. It is also important to develop cultural competence and to show your ability to work with and understand people from backgrounds that are different from your own. You don't even need to volunteer in a medically-related niche — it could be teaching/tutoring, working at a soup kitchen, and so on. However, if you do find an opportunity to, for instance, volunteer at a hospital or in another health-themed capacity, that could be a bonus.
Here are sample extracurricular profiles that would be competitive for a top-20 medical medical school:
Profile #1:
Medical Scribe: 600 hours

Teaching Experiences: 2700 hours

Research Experience #1: 950 hours

Research Experience #2: 1400 hours

Research Experience #3: 800 hours

Community Service Experiences: 700 hours
Profile #2:
Medical Scribe: 550 hours

Significant Impact Community Service Experience: 900 hours

Teaching Experience: 900 hours

Research Experience #1: 1000 hours

Research Experience #2: 2000 hours

Several Publications 
Profile #3: As you can see from this profile, if you have a truly niche interest, you do not need as many hours of experience to excel.
Niche Research Experience #1: 450 hours

Niche Research Experience #2: 300 hours

Niche Teaching Initiative: 650 hours

Niche Leadership Initiative: 400 hours

Community Service Experiences: 100 hours
Your personal statement is one of the most important aspects of your application. This is a way to communicate your personality, goals, and qualifications beyond your grades and test scores. While your MCAT and GPA speak to your academic prowess, your personal statement demonstrates those personal qualities that can set you apart from other academically-qualified applicants. 
You will be tasked with writing a personal statement for your primary application and will have additional opportunities to write about yourself in secondary applications; you should choose topics that are meaningful to you and really allow the best sides of yourself to shine through. 
At the same time, you want to try your best to avoid repetition of topics as much as possible. Avoid cliche topics (e.g. "I want to be a doctor so I can help people"), and employ a narrative approach that truly conveys the unique facets of your character and why you want to be a physician.
You know that your performance in your undergraduate years matters — but it matters beyond the grades you get. You also need to be forming relationships with professors and advisors because some of these individuals will ultimately write your letters of recommendation.
A basic recommendation letter will attest to your strong academic performance in the instructor's course. But a stellar one will discuss your personal qualities and qualifications — ones that will make you an exemplary medical professional. So, you need to nurture these relationships early and make yourself stand out as a student who has personal, professional, and academic characteristics that set you apart.
Your letters of recommendation won't always come from your instructors at school. Some extracurricular advisors, such as a research mentor could also provide a reference. These professionals will write about the qualities and characteristics that medical schools are seeking as outlined by the AAMC core competencies.
If you have the opportunity to interview at a medical school, it means that you've already made it through application screening and review which already puts you in an elite group. That said, interviews are not a guarantee of admission. If you receive an invitation, you still need to prepare extensively, even though you have the qualifications the school is looking for.
Like personal statements, interviews offer the opportunity for admissions committees to get to know you as a person and a professional. The good news is that they already like you on paper. Now, you have to display those appealing characteristics in person (or over Zoom, as the case may be). 
Go over the frequently-asked questions you'll encounter in a medical school interview. Additionally, ensure that you are well-versed in your own history (this may seem like a no-brainer, but you'd be surprised at how much you can forget about yourself when you're on the spot). Finally, practice to the point at which you feel comfortable but aren't over-rehearsed. A friend or classmate can help you with your delivery and tone.
5. Persevere!
Ultimately, very few students are admitted to medical school at all, never mind the top 20 universities. You should put in the effort in all your options, including those you consider "safeties" (in reality, no medical school is truly a safety school). If you're not admitted to one of your top choices but still get into a school on your list, that is a huge accomplishment, and you shouldn't dismiss it. 
If you're truly committed to the medical field, then admission to any medical school you've applied to is something to celebrate. And if you don't get in on your first try, then don't give up — pursue other experiences, bolster your academics, improve your MCAT,  take a gap year, gain expertise, and try again! The majority of students take time off before entering medical school, and it's nothing to be ashamed of. In fact, showing perseverance will be attractive in the admissions process, especially if you make good use of your time between undergraduate and graduate school.
Good luck!