Fellowship Match Comprehensive Packages
MedEdits is invested in the success of our clients and we develop a personalized consulting strategy based on your needs. We ensure that your individuality is highlighted through your activities and that you are not "over-packaged." A career in medicine is a life-long commitment and we embrace the philosophy that you should not simply do what is necessary to "get in" but that you should enjoy and learn from the process.
Whether you choose us for our admissions consulting, editing or mock interview services, we can help you achieve success.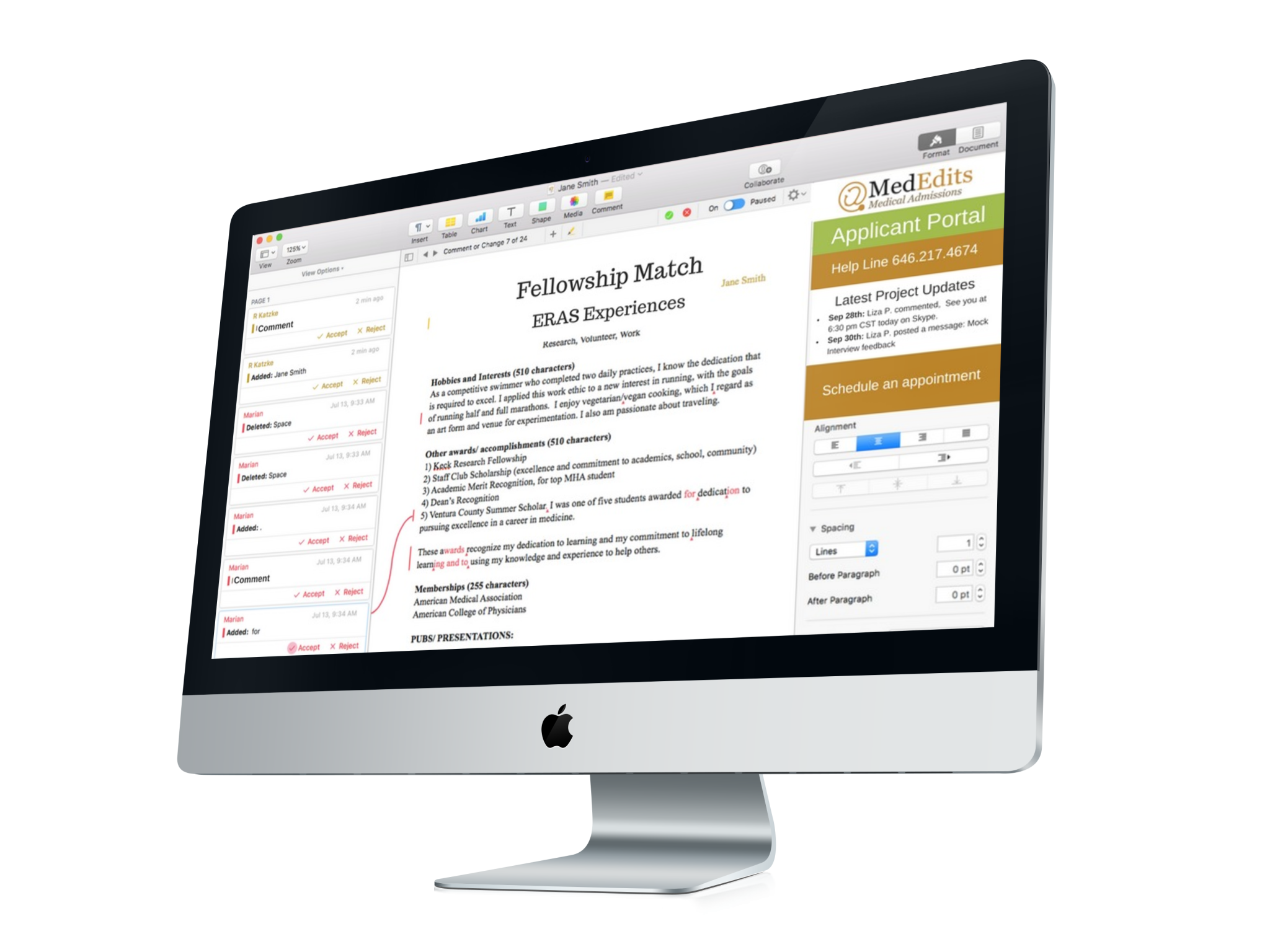 MedEdits NRMP Medical Specialties Matching Program Success
Abdominal Transplant Surgery
Adolescent Medicine
Anesthesiology
Colon and Rectal Surgery
Female Pelvic Med & Reconstructive Surgery
Headache Medicine
Hematology Oncology
Laryngology
Medical Genetics
Medical Specialties Matching Program
Medical Toxicology
Musculoskeletal-Hand Surgery
Obstetrics / Gynecology
Pediatric Specialties Fall and Spring Match
Pediatric Surgery
Pediatric Neonatology
Pediatric Asthma and Immunology
Pediatric Hematology Oncology
Pediatric Pulmonology
Pediatric Intensive Care
Pediatric Emergency Medicine
Pediatric Gastroenterology
Primary Care Sports Medicine
Psychiatry
Radiology
Rehabilitation Medicine
Sleep Medicine
Spinal Cord Injury Medicine
Surgical Critical Care
Surgical Oncology
Thoracic Surgery
Vascular Neurology
Vascular Surgery
To purchase a package or service, please follow these steps.
Step 1: Payment
Submit payment above. Click on the "Add to Cart" button (above) to pay via PayPal or credit card.
*If you do not hear from MedEdits promptly, please check your spam/junk folder or contact us. By submitting payment, you agree to our terms and conditions.
After payment is submitted, we will send you a diagnostic inventory questionnaire to complete and directions on how to proceed.
Terms and Conditions
Step 2: Schedule Your Session