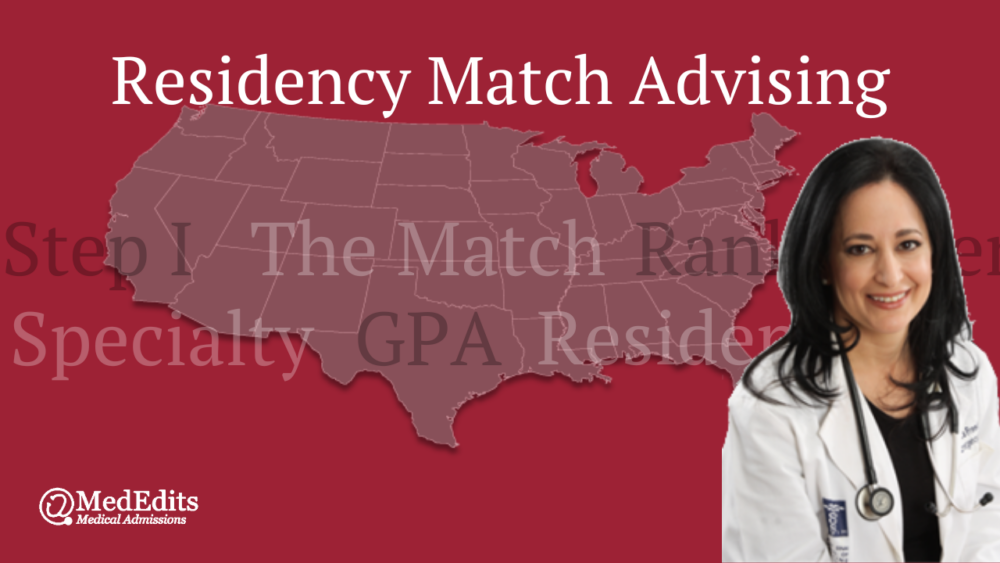 Residency Match Comprehensive Advising
We understand how overwhelming it can be to find reliable and trustworthy help when applying for residency.
You can now breathe a sigh of relief; you have found us.
For more than 15 years, MedEdits' student have engaged us to match successfully into a variety of specialties.
Founded by Jessica Freedman, M.D., a former residency admissions officer, in the spirit of collaborative academic medicine, MedEdits has established itself as a leader in the industry.
All of MedEdits' advisors have residency match committee experience and are committed to helping you succeed.
MedEdits' results are impressive. The vast majority of residency applicants (95%) who work with us comprehensively, on every piece of the residency admissions process, match in the specialty of their choice. Most match at one of their top three choices.
MedEdits students match into many specialities including: orthopaedic surgery, dermatology, psychiatry, internal medicine, emergency medicine, family medicine, anesthesiology, pediatrics, OB/GYN, ENT, radiology, radiation oncology, and ophthalmology.
MedEdits' Faculty Distinctions
"Professor" Level Faculty
MedEdits Faculty at the Professor level are the most experienced private medical educators and advisors in the industry with a minimum of ten years of residency admissions and advising experience at some of the most prestigious medical institutions in the United States.
"Assistant Professor" Level Faculty
MedEdits faculty at the Assistant Professor level are physicians with residency admissions experience at some of the most selective medical schools in the United States. They are all accomplished physicians in their fields and published academic authors.
All of MedEdits' Residency Advising Packages INCLUDE:
Unlimited Messaging for the Duration of Services

Unlimited Editing of Personal Statement and ERAS Entries

Top-Ranked Books Written by our Chair, Jessica Freedman, M.D.
ERAS Supplemental Application Guidance, Review, and Editing is included in our Deluxe Package but can be added on to any package for $500.
Flexible Payment Plans Available.
MedEdits faculty work with applicants seeking residency matches to allopathic, osteopathic and SF Match programs in every medical specialty including dermatology, family medicine, internal medicine, orthopedic surgery, and radiation oncology. We also understand the issues facing U.S. citizen medical students and non-U.S. citizen international medical students and graduates. We start working with residency applicants as early as the first year of medical school through match day. However, many applicants hire us only during the "match year." Regardless of the option you choose, working with MedEdits will give you a distinct advantage in the residency matching process.
Residency Match Package Objectives:
National Residency Match Program (NRMP) and San Fransisco (SF) match timeline and deadlines

Optimize your ERAS (Electronic Residency Match Program) or SF Match, Personal Statement and Activities Entries

Prepare for your residency match interviews

Create a post interview letter of intent and rank order list strategy

Optimize your CV

General residency match and medical school academic advising

How to choose and approach letter of recommendation writers

What are the six core competencies and how can this help me in the residency match?

What is the "all in policy" for residency programs?

What are Doximity Residency Navigator, FREIDA Online®, the AMA Residency & Fellowship Database®, and how can it guide me in the residency match?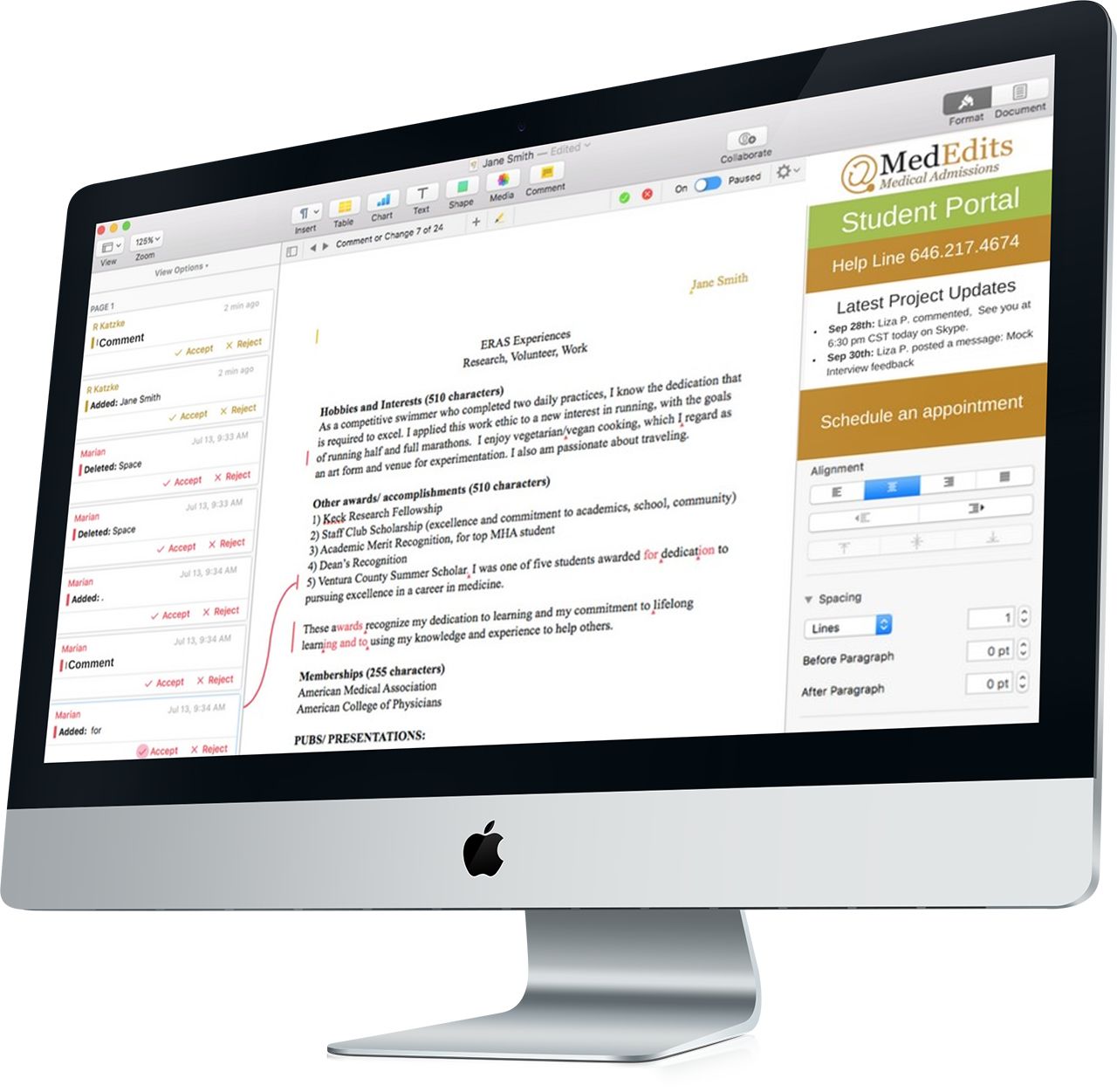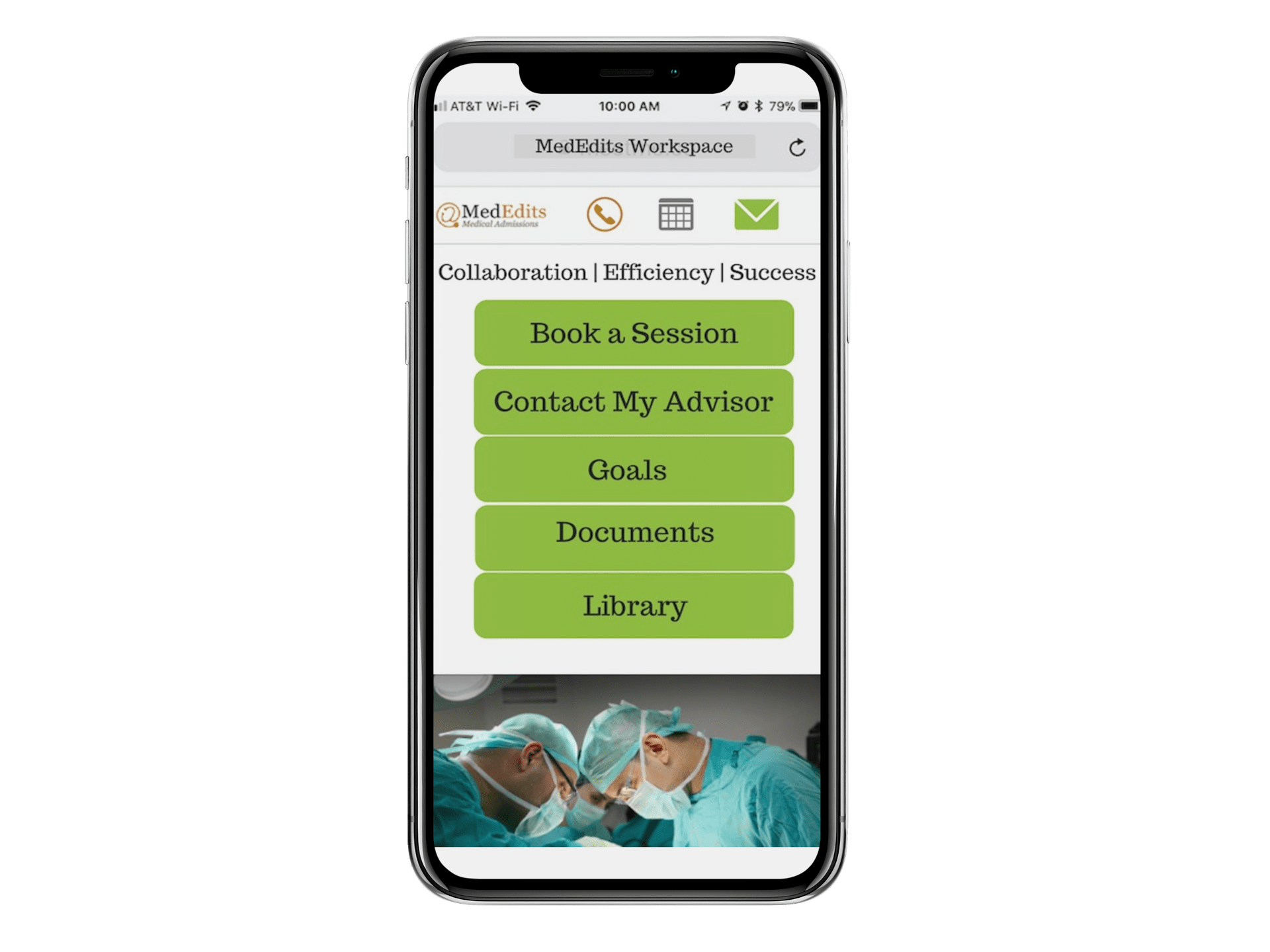 What distinguishes MedEdits Residency Consulting Services?
Content Overhaul
We do more than just review your grammar. Our extensive content suggestions will allow you to focus your personal statement to highlight your strengths and distinguishing experiences.
Wisdom & Expertise
MedEdits is recognized as the nation's leading medical admissions company. Our reputation for excellence is based on our unmatched experience in academic medicine, record of success, and personalized service.
Dedicated Residency Advising Team
Our team of expert medical educators have worked as faculty at medical schools across this country. And none of us works in a vacuum — we collaborate. MedEdits clients benefit from our pool of expertise.
Compassion and Understanding
We realize how stressful the admissions process can be. At MedEdits, we advise each client with support and understanding.
Residency Match Applicant Coordinator
At MedEdits, we take good care of you. This is our full time job. Clients are assigned an applicant coordinator who helps with all logistics related to your work with us.
Residency Match Discovery Session
We will work with you one-on-one to devise a personalized strategy that will optimize your success. Topics discussed include academic coursework, extracurricular involvement, letter writers, USMLE timing, elective and rotation planning, and how to approach your admissions documents.
Professional Residency Application Editorial Review
Every document revision is edited by an experienced professional editor whom Dr. Freedman has trained in the art of medical admissions.
Residency Personal Statement Edit
We will make extensive valuable suggestions to improve your personal statement content. We ensure that your statement showcases your most important experiences. Of course, we also review your grammar, syntax and sentence structure!
ERAS Application Entry Edit
We will make extensive valuable suggestions to improve your application entry content. We ensure that your entries showcase your experiences and insights. Of course, we also review your grammar, syntax and sentence structure!
Residency Letter of Intent Editing
It is important to communicate to your top-choice choice program effectively. We help you craft an effective letter of intent to improve your chance of being accepted at your #1 pick!
Residency Mock Interview
Practice makes perfect. We will ask you the "basic questions" as well as the "tough ones." By helping you to understand how to present yourself and your experiences in these sessions, you will feel confident and empowered. All mock interviews include personalized written feedback.
Student-Centered Collaborative Approach
Our team, as a whole, takes great pride in the work we do, and this applicant-centered view defines our commitment to the clients we serve.
Medical Residency Consultant: Evidence-Based Advising
We attend the annual Association of American Medical Colleges meeting and read the academic medicine literature to stay up to date with the most recent NRMP, AOA, & SF match statistics and data. This allows us to serve as a cutting edge resource.
Individually designed packages are available to suit each client's needs.