If you're passionate about medicine, then you may have decided that a career as a doctor is right for you. Whether your goal is to be a family physician or pursue a more specialized field, such as orthopedics or gynecology, the first step on your journey is to attend medical school. Understanding the AMCAS application is key to your success.
If you are applying to allopathic, meaning M.D. granting medical schools in the U.S, you will want to understand the ins and outs of the American Medical College Application Service, also known as AMCAS. AMCAS is used to apply to all allopathic medical schools in the United States except medical schools in Texas.
Offered by the Association of American Medical Colleges, the AMCAS is a centralized application service used by almost all the medical students in the U.S. In this sense it's like the Common Application used by undergraduate programs. Along with grades and test scores, you can expect to use the AMCAS to submit your recommendations, personal statements, and other information to your target colleges.
While the AMCAS makes applying to multiple schools easier, using this system can be a challenge. If you want to ensure medical schools receive all of your application components as early as possible in the application cycle (a goal for anyone applying to medical school), it's a good idea to familiarize yourself with the application system early in the process. Keep reading for our guide to submitting your AMCAS application successfully.
Follow the steps below to ensure you know what to expect when completing your AMCAS application.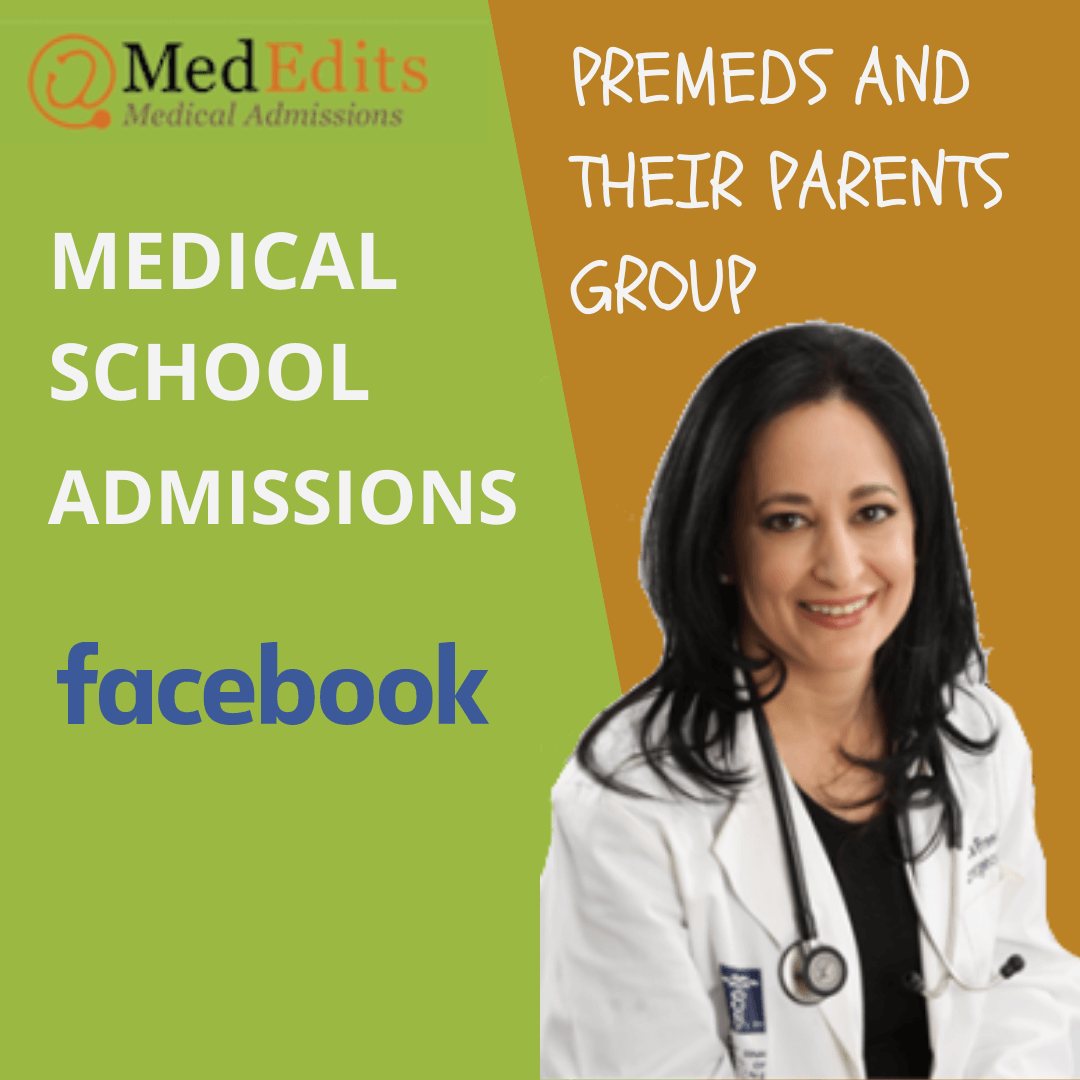 Creating Your AMCAS Account
The first step in applying to colleges through the AMCAS is to create an account on the website. Start by clicking on the blue AMCAS Sign In tab on the right side of the page.

The site will then prompt you to create an account and select an application cycle. If you plan to apply in 2024, for example, you would click on the words "Start the 2024 application." You should expect to submit basic information at this time, including legal name, citizenship, and birthdate. At this point, you will also receive an AMCAS ID, which will function as a signature for communications with medical school admissions offices.
On the main screen, you will see a checklist for the different components of your application.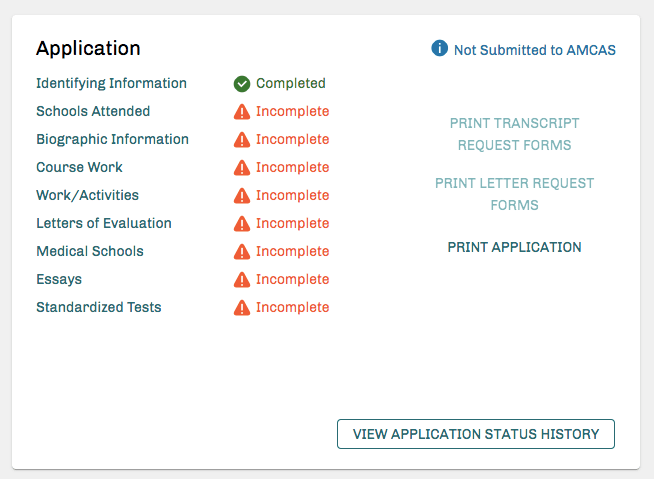 Completing your Identifying Information, Schools Attended and Biographic Information is very straightforward. You will indicate your state residence in this section. If you have an institutional action, felony, arrest or misdemeanor, you will also need to complete those sections very thoughtfully. In the biographical section you will also select your race/ethnicity and if you consider yourself to be of disadvantaged status.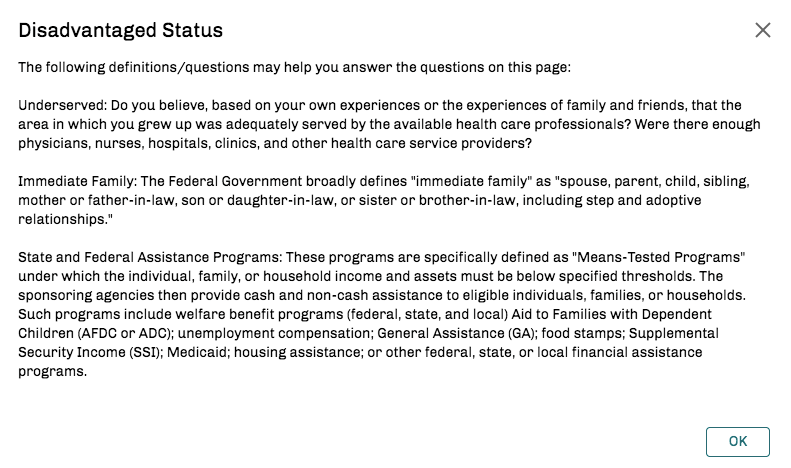 Entering AMCAS Course Information
After creating an account, one of the first steps in the AMCAS application process is entering your undergraduate coursework. You will be required to enter all college coursework you have ever completed which includes any dual enrollment high school courses.
The AMCAS requires students to enter each class individually and properly classify it based on the subject. Additionally, students will be asked to specify during what academic year they took the course, with summer classes counting toward the following school year.
AMCAS Course Classification
Proper classification is important because the AMCAS separates science courses from non-science courses when calculating GPA. The AMCAS will provide schools with both a BCPM (Biology/Chemistry/Physics/Math courses) GPA and an AO (all other courses) GPA, along with a total GPA value.
BCPM courses are listed below but you should also refer to the AMCAS course classification guide. If you are unsure of a course classification, you can check with your registrar but AMCAS advises you choose the "best match" when deciding on course classification especially for interdisciplinary courses. For all course designations, refer to the official AMCAS course classification guide.
BCPM Course:
Biology (BIOL)
Anatomy
Biology
Biophysics
Biotechnology
Botany
Cell Biology
Ecology
Entomology
Genetics
Histology
Immunology
Microbiology
Molecular Biology
Neuroscience
Physiology
Zoology
Chemistry (CHEM)
Biochemistry
Chemistry
Physical Chemistry
Thermodynamics
Physics (PHYS)
Astronomy
Physics
Mathematics (MATH)
Applied Mathematics
Biostatistics
Mathematics
Statistics
When listing your course on your AMCAS 2024 application, you must list it exactly as it is printed on the transcript itself. This is very important for verification purposes.
2024 AMCAS Transcripts
You will also need to send AMCAS an official transcript from every college you attended or attempted/completed coursework including college courses taken during high school. The schools should send official transcripts directly. Both paper and electronic options are permitted; however it is important to keep in mind that paper transcripts are processed more slowly.
Adding your AMCAS Activities
After adding your coursework to the AMCAS application, you will need to provide information detailing your extracurricular experiences and work history.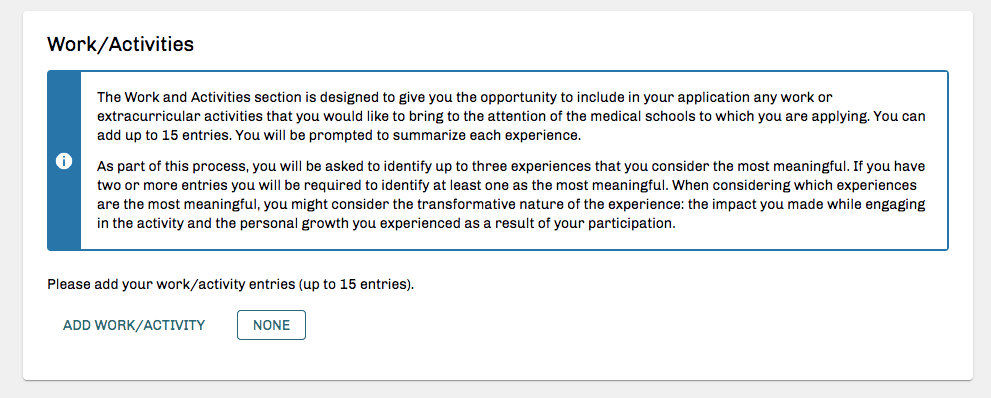 You write about up to 15 experiences and you identify three of those 15 experiences as "most meaningful." You will select an experience type for each entry and for each you will say what hours you have completed, if the activity was repeated, and if there are any anticipated hours. See the images below for clarification.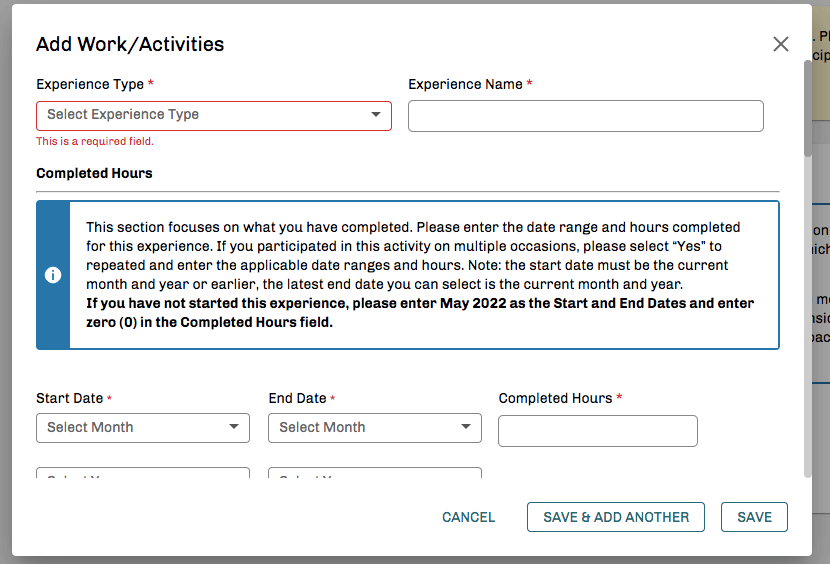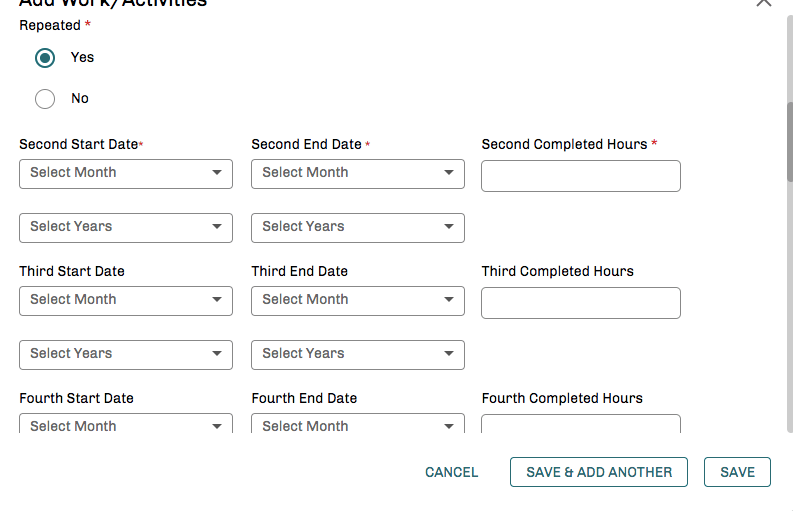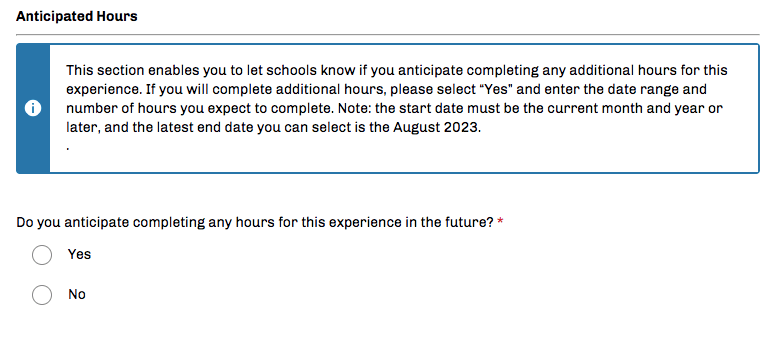 You will then add an organization name and contact information.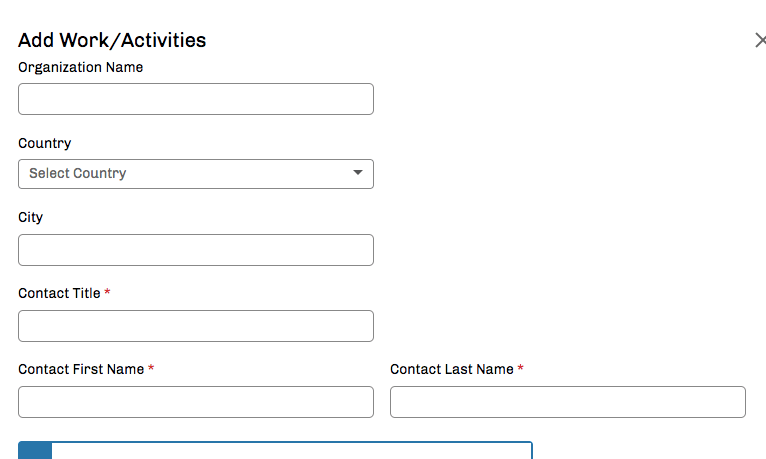 Finally, for each experience, you are allowed 700 characters with spaces to write a description and for each most meaningful you have an additional 1325 characters with spaces for elaboration.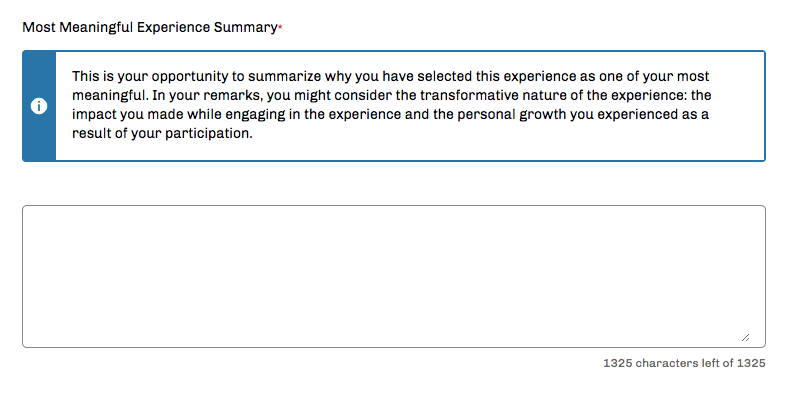 After you "save" your letter writer information, you will be prompted to generate a letter request form. The form allows your letter to be matched to your application and is very important. It also has instructions for how to submit your letter. 
You will be able to print it out at any time. You'll have the opportunity to submit 10 entries, which you can assign to specific medical schools as desired. Note that you can't edit or remove letters after submitting them. The application system also allows you to choose which schools to send your letters to by scrolling through a dropdown menu. 
Providing AMCAS Letters of Recommendation
It's no secret that letters of recommendation play a key role in med school admissions decisions. While the AMCAS does not require students to enter letters before submitting their applications, it's best to start the process of gathering these recommendations as soon as possible.
When you're ready, be sure to create a single AMCAS entry for each letter or recommender; this includes a letter packet, committee letter, or individual letter. Letters do not roll over if you are a reapplicant.
Adding Medical Schools
On the next page you will be able to add medical schools to which you'd like to apply. Keep in mind that you can add medical schools after submitting your application. You will also designate which letters you want to send to which medical schools.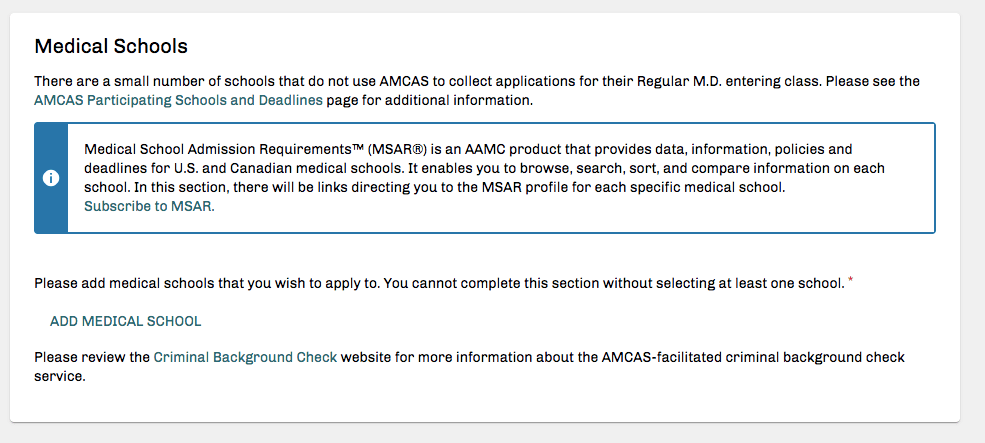 Medical school applicants also need to enter their personal statements to the American Medical College Application Service. Note that the AMCAS refers to this section as Personal Comments.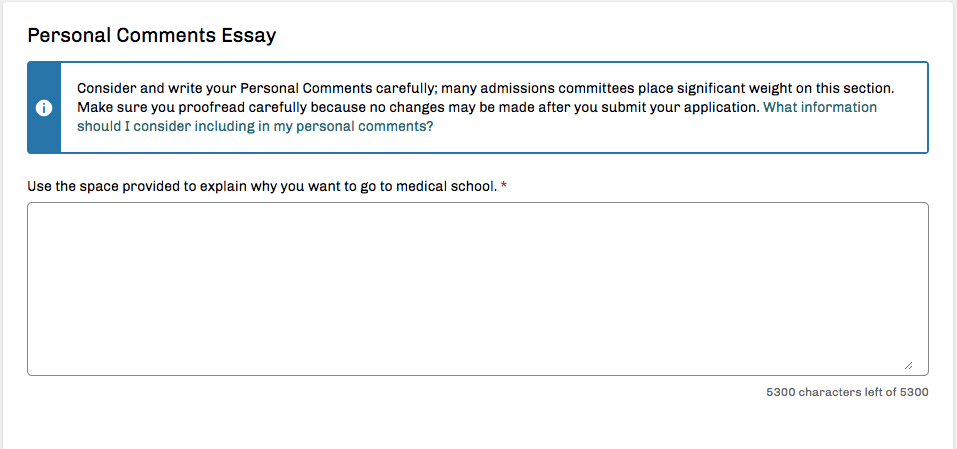 It's important to realize that students who are applying to an MD-PhD program will need to submit two additional essays called the MD-PhD Essay and the Significant Research Experience Essay. Be sure to spend plenty of time composing your essay or essays, as they represent one of the best opportunities for colleges to get a sense of your personality and passion for medicine. 
Entering Standardized Test Scores
One of the last components to enter in the AMCAS is your standardized test scores. It's important to note that the MCAT will automatically release all the tests for which you've earned scores to the AMCAS. Since most medical schools require MCAT scores, you should make sure you take the exam within three years of applying to programs.
If you're filling out the AMCAS before taking the MCAT, you can simply list the date that you plan to take the test. This lets admissions committees know that scores from you are forthcoming. You can also enter scores for the GRE, LSAT, and GMAT in the standardized testing section if you desire but medical school admissions committees are unlikely to know how to evaluate these.
What Happens After You Submit Your Application
Medical school applicants should be aware that not all information submitted in AMCAS can be edited. For example, if you want to correct a school name or course, you will need to submit an Academic Change Request after the fact. You can find this form under the Quick Links section of the AMCAS main menu. You can also check your document status on this page.

Students should be aware that they will have to pay an application fee for AMCAS to process and verify their application. This cost includes just one medical school. Applicants should expect to pay a separate fee for every additional school on their list. The good news is that a Fee Assistance Program exists to help students who require financial aid. Applicants who receive assistance will earn a waiver good for up to 16 medical schools, along with reduced registration fees. 
Checking Your AMCAS Application Status
At any time you can go to the Main Menu of AMCAS to check the Document Status box (see above) as well as the Application box to check the status of your application, print transcript request forms, letter request forms, print your application, and view your application history.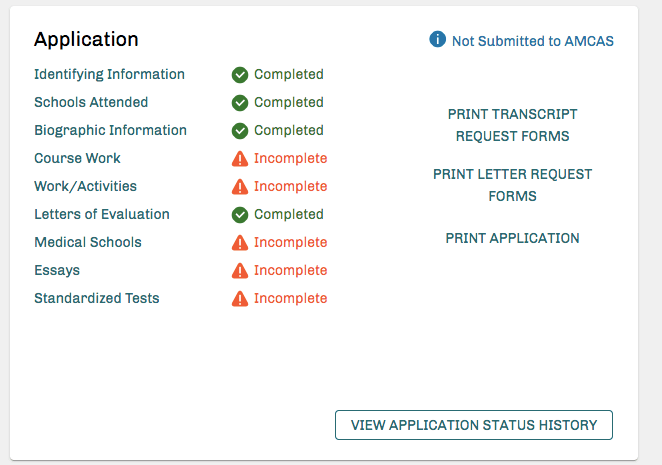 About MedEdits
MedEdits helps students get admitted to medical school and residency programs. Our consultants have years of experience serving on medical school admissions committees, and as faculty members at the top medical schools in the country.
Need Help With Your Medical School Application?
Schedule a Free 15 Minute Consultation with a MedEdits expert.