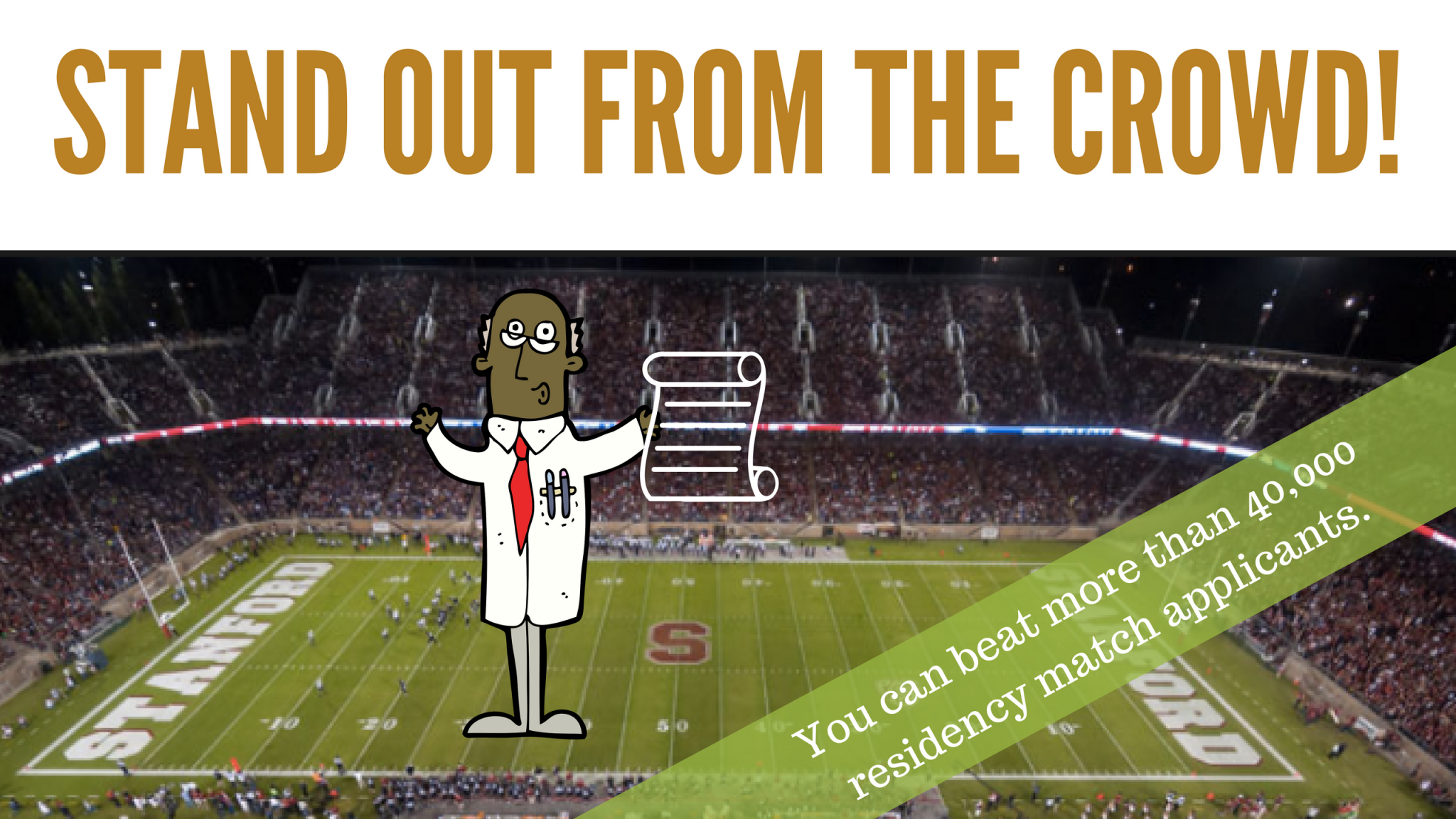 A physician and

former residency program director

explains how to write your residency personal statement to match in to your top-choice residency program in 2024.
Read example residency personal statements and suggested outlines.
Introduction
The residency personal statement allows residency program directors and associate directors the chance to get a sense of who you are and your commitment to your chosen specialty. 
As a former program director who understands how residency personal statements are reviewed, what "stands out," and, most importantly, what will earn you interview invitations, the information below will help you write a residency personal statement to match!
It is imperative to make sure you get the most accurate guidance possible with regards to your residency personal statement content and optimal residency personal statement length (up to 5300 characters with spaces).
Want more personalized suggestions? Sign up for a FREE residency personal statement consultation.
Goals for Writing Your 2024 Residency Personal Statement
Above all else, your residency personal statement offers the opportunity to show your interest in your chosen specialty when applying to residency to illustrate you are a good fit.
The more details you offer about why you are interested in the specialty and how your med school rotations, accomplishments and experiences have reinforced this interest, the stronger your personal statement will be, the more it will appeal to selection committees and the better you will do in the match process.
I encourage applicants to offer as much "evidence" as possible to "show" rather than "tell" what qualities, characteristics and interests they have. "Telling" a reader, for example, that you are compassionate and hard working means nothing. Instead, you must "show" that you embody these qualities based on your experiences in health care and the patients for whom you have cared.
The residency personal statement also offers the opportunity to write about who you are as a person to convey some details about your background, influences, and interests outside of your given specialty.
The Importance of a Balanced Residency Personal Statement
The key when writing your residency personal statement is to ensure that it is well-balanced so it appeals to a large group of people who might read your ERAS residency application.
However, it is important to understand that every program director and faculty member has his or her own idea of what he would like to read in a personal statement. As an applicant, you must go into this process understanding that you cannot please everyone, or a specific program, and your personal statement should therefore have the broadest appeal possible.
For example, some program directors would rather hear about your personal interests and curiosities and get to know who you are rather than have you focus on the specialty in which you are interested.
At MedEdits, we suggest taking a "middle of the road" approach; include some details about who you are but also focus on the specialty itself. In this way, you will make more traditional reviewers who want to hear about your interest in the specialty happy while also satisfying those who would rather learn about you as a person.
Above all, be authentic and true to yourself when writing your statement. This always leads to the best results! Read on to learn more about how to write a winning personal statement.
About MedEdits
Getting into a residency has never been more competitive. Founded by a former associate program director, the experts at MedEdits will make your residency personal statement shine. We've worked with more than 5,000 students and 94% have been matched to one of their top-choice programs.
Need Help With Your Residency Personal Statement?
Schedule a Free 15 Minute Consultation with a MedEdits expert.
Residency Personal Statement Outline & Structure
Residency applicants often do well when given outlines or templates to follow, so, we will offer that, but, it is important to realize that many applicants deviate from these rigid rules. One very typical outline that serves applicants quite well in the residency admissions process is:
Compose a catchy introduction. Your intro can be related to your interest in the specialty to which you are applying, about a hobby or personal experience, or about your background. Regardless of the topic you choose, you want to tell a story and start with something that will interest your reader and engage him.

The next two to four paragraphs comprise the body of your personal statement. We encourage applicants to write about any significant experiences they have had related to their desired specialty and/or future goals. This would include information about rotations, electives, and sub internships related to the specialty, volunteer and research experiences and even significant outside interests.

Finally, you want to conclude your essay. In your conclusion, write about what you seek in a residency program, what you will bring to a residency program, and, if you have any idea of your future career goals, write about those as well. Your conclusion is also where you can tailor a personal statement to a specific geographic area of interest or type of program (rural, urban, community).
Need Help With Your Residency Personal Statement?
Schedule a Free 15 Minute Consultation with a MedEdits expert.
Residency Personal Statement Length & Residency Personal Statement Word Limit
Residency Personal Statement Length: Our recommendation is that your residency personal statement be between 4000 – 5300 characters with spaces or up to 900 words in length. 
The allowed ERAS residency personal statement length is 28,000 characters which equates to about five pages!
We have been hearing from more and more applicants that the personal statement should not exceed one page when typed in to the ERAS application. Because of this overwhelming trend, we are supporting this guidance unless you have extenuating circumstances that require your personal statement be longer.
Our recommendation is that your residency personal statement be a maximum of 5300 characters with spaces.
ERAS Residency Personal Statement Checklist
Ensure your personal statement flows well
The best personal statements are easy to read, don't make the reader think too much, and make your path and interests seem logical. Rarely does a personal statement have a theme. Also try to have each paragraph transition to the next seamlessly. 
2. Your personal statement should be about you!
Your personal statement should be about you and no one else. Focus on your interests, your accomplishments and your path. This is your opportunity to be forthcoming about your achievements – by writing in detail about what you have done.
3. Be sure your personal statement clearly outlines your interest in the specialty.
Since the reader wants to be convinced of your understanding of, experience in, and curiosity about the specialty to which you are applying, be sure you highlight what you have done to explore your interest as well as your insights and observations about the specialty to show your understanding of it.
4. Make it human.
Again, your personal statement should be about you! The reader wants to know who you are, where you are from, what your interests are and who you are outside of medicine. Therefore, try to include those details about your background that are intriguing or important to you.
5. Express your interest in the specialty.
The reader fundamentally wants to know why you are pursuing the specialty. The more details you offer the more convincing you are about your commitment and your understanding of the specialty. Be sure to include details that might seem obvious. For example, in emergency medicine you must like acute care, but try to include more nuanced details about your interest, too. What do you enjoy about the diagnoses and pathologies involved? What do you value about the actual work you will do? What do you enjoy about the patients for whom you will care? How about the setting in which you will practice?
6. The start and evolution of your interest.
Readers want to know how and when you became interested in your specialty. Was this before medical school? During medical school? What have you done to pursue and nurture your interest in the specialty?
7. What you have done to learn more about the specialty.
You should explain what you have done to pursue your interest. What rotations have you done or have planned? What research, scholarly work or community service activities have you pursued to further your interest?
8. Where you see yourself in the future – if you know!
Without going into too much detail, write about the type of setting in which you see yourself in the future. Do you hope to also participate in research, teaching, public health work or community outreach as a part of your career? What are your future goals? Since many programs typically train a certain type of physician, it is important that your goals are aligned with the programs to which you are applying.
9. What do you bring to the specialty?
You should try to identify what you can bring to the program and the specialty to which you are applying as a whole. For example, are you applying to family medicine and have a distinct interest in public health? Are you applying for internal medicine and do you have demonstrated expertise in information technology and hope to improve electronic medical records? Do you have extensive research or teaching experience, and do you hope to continue to pursue these interests in the future? Have you developed a commitment to global health, and do you hope to continue making contributions abroad? Programs have a societal obligation to select residents who will make valuable contributions in the future, so the more ambitions you have the more desirable a candidate you will be.
10. What type of program you hope to join?
Do you hope to be part of a community or university-based program? What are you seeking in a residency program? Programs are looking for residents who will be the right "fit" so offering an idea of what you are seeking in a program will help them determine if your values and goals mesh with those of the program.
11. Who you are outside of the hospital?
Try to bring in some personal elements about who you are. You can do this in a few ways. If you have any outside interests or accomplishments that complement your interest in your specialty, such as extracurricular work, global work, teaching or volunteer efforts, write about them in detail, and, in doing so, show the reader a different dimension of your personality. Or, consider opening your statement by writing about an experience related to your hobbies or outside interests. Write about this in the form of an introductory vignette. I suggest taking this nontraditional approach only if you are a talented writer and can somehow relate your outside interest to the specialty you are pursuing, however. An interest in the arts can lend itself to dermatology, plastic surgery or ophthalmology, for example. Or, an interest in technology could relate to radiology.
12. Any personal challenges?
Also explain any obstacles you have overcome: Were you the first in your family to graduate from college? Were you an immigrant? Did you have limited financial resources and work through college? Many applicants tend to shy away from the very things that make them impressive because they are afraid of appearing to be looking for sympathy. As long as you explain how you have overcome adversity in a positive or creative way, your experience will be viewed as the tremendous accomplishment that it is. The personal statement should explain any unusual or distinctive aspects of your background.
Common ERAS Residency Personal Statement Mistakes
Do not tell your entire life story or write a statement focused on your childhood or undergraduate career. 
Do not write about why you wanted to be a doctor. This is old news. From the reviewers perspective, you already are a doctor!
Do not write a personal statement focused on one hobby or begin with your birth. Some background information might be useful if it offers context to your choices and path, but your residency personal statement should be focused on the present and what you have done to pursue your interest in the specialty to which you are applying.
Do not preach. The reader understands what it means to practice his specialty and does not need you to tell him. Don't write, for example: Internal medicine requires that a physician be knowledgeable, kind and compassionate. The reader wants to know about you!
Do not put down other specialties. You don't need to convince anyone of your interest by writing something negative about other specialties. Doing so just makes you look bad. If you switched residencies or interests, you can explain what else you were seeking and what you found in the specialty of your choice that interests you.
Do not embellish. Program directors are pretty good at sniffing out inconsistencies and dishonesty. Always tell the truth and be honest and authentic. 
Do not plagiarize. While this seems obvious to most people, every year people copy personal statements they find online or hire companies that use stock phrases and statement to compose statements for applicants. Don't do it!
Do not write about sensitive topics. Even if you were in a relationship that ended and resulted in a poor USMLE score, this is not a topic for a personal statement. In general, it is best to avoid discussing relationships, politics, ethical issues and religion.
Do not boast. Any hint of arrogance or self-righteousness may result in getting rejected. There is a fine line between confidence and self promotion. Some people make the mistake of over-selling themselves or writing about all of their fantastic qualities and characteristics. Rarely do readers view such personal statements favorably.
Do not write an overly creative piece. A residency personal statement should be professional. This work is equivalent to a job application. Don't get too creative; stay focused.
Writing ERAS Residency Personal Statements For Multiple Specialties
An increasing number of applicants are applying to more than one specialty in medicine especially if the first choice specialty is very competitive. If you are applying to more than one specialty, even if there is disciplinary overlap between the two (for example family medicine and pediatrics), we advise you write a distinct specialty for each. Remember that a physician who practices the specialty you hope to join will most likely be reviewing your statement. He or she will definitely be able to determine if the personal statement illustrates a true understanding of the specialty. If you try to recycle an entire personal statement or parts of a personal statement for two specialties, there is a high likelihood the personal statement will communicate that you aren't sincerely interested in that specialty or that you don't really understand what the specialty is about.
Writing About Red Flags in your ERAS Personal Statement
The personal statement is also the place to explain any red flags in your application, such as gaps in time or a leave of absence. When addressing any red flags, explain what happened succinctly. Be honest, don't make excuses, and don't dwell on the topic. Whenever possible, write about how you have matured or grown from the adversity or what you may have learned and how this benefits you.
If you have left a program or had a break in your medical education, you will also have the chance to explain this in your ERAS application. You should also write about this topic in your personal statement only if you have more to explain, however. 
If you have failed a Step exam or one course in medical school, this likely isn't something to address in the personal statement. However, you should be prepared to discuss any failure during an interview. By the same token, it is best not to address one low grade or poor attending evaluation in your statement. 
Have you taken a circuitous path to medicine? If so you might address why you made these choices and what you found so interesting about medicine that was lacking in your former career.
Residency Personal Statement Example
Below are two great examples of residency personal statements that earned the applicants who wrote them numerous interviews and first choice matches. As you will see, these two applicants took very different approaches when writing the personal statement yet wrote equally persuasive and "successful" personal statements.
Residency Personal Statement Example, Analysis, and Outline: The Traditional Approach
The most common approach to the personal statement is what I will call the traditional approach, in which the applicant conveys her interest in the specialty, when that interest began and what she has done to pursue the particular specialty.
Suggested outline:
Introduction: Catchy Story

Paragraph 2: Background Information and how Interest Started

Paragraph 3: Write about what you did to explore your interest

Paragraph 4: Second paragraph about your experiences related to your specialty

Conclusion: Wrap it up. Write something about your future goals.
Below is an example of the traditional approach:
I looked into her eyes and saw terror. She knew the life of her unborn baby was in jeopardy. As tears streamed down her face, she looked to the attending physician. In desperation, she pleaded, "Please save our baby." She and her husband had been trying to conceive for more than two years, and they knew this could be their only chance to have a healthy child. She went into labor at home and because of a horrible snowstorm was not able to reach the hospital for several hours. When she arrived in labor and delivery, she was crowning. But, the baby was having late decelerations. Because of the sweat on my attending's forehead I knew the situation was serious. Yet we all tried to remain calm and to keep the patient and her husband calm as well. 
I entered medical school with an open mind as everyone suggested. Even as a first year medical student, however, I was fascinated with embryology. I entered my third year still unsure of what I would pursue. I knew I wanted a career that would be challenging and interesting. Because of my background in drawing and painting, I always loved working with my hands. Yet I also enjoyed working with people. Thankfully, my obstetrics and gynecology (ob/gyn) rotation was the first of my third year and I was immediately hooked.
I quickly sought out opportunities for research and became involved in a clinical study investigating the impact of a vegan diet on birth outcomes. I have always had an interest in wellness and nutrition, and this seemed like a perfect fit for me. My research is still in process, but through this experience I have learned how to analyze data, stay objective and critically evaluate the literature. So far, our findings suggest better than normal outcomes for babies born to vegan mothers. This reinforces my goal to educate my patients about the important of diet and nutrition, which I hope to make a part of my future practice. 
Early in my fourth year, I completed an elective rotation at Inner City Medical Center. There I cared for a diverse group of patients in both inpatient and outpatient settings. I realized how much I enjoy labor and delivery, but I also value the operative aspects of ob/gyn. I appreciate the importance of understanding the female anatomy so I can operate with precision.  I also value the diversity of practice in ob/gyn. Whether caring for a woman about to give birth, helping a woman newly diagnosed with breast cancer navigate her treatment options, or caring for a perimenopausal woman who is coping with symptoms of hormone fluctuations, I enjoy caring for patients with knowledge and compassion. The outpatient aspect of ob/gyn brings satisfaction as well. I look forward to building relationships with my patients, helping them to lead the healthiest lives possible. I have also realized how much I want to care for those who lack access to care. The work I have done at Medical School Free Clinic has helped me realize the gaps that exist in access to care and education. As a future practicing ob/gyn, I hope to work in such a setting at least on a part time basis.
On that snowy night, when we realized the baby was having difficulty being born because of shoulder dystocia, a simple maneuver eased the situation. The baby's first cry brought such joy and relief to everyone in the room and, at that moment, I knew I had to be part of this specialty. I hope to join a program where I will have the clinical exposure that will give me the skills and experience to care for a wide range of patients. I do not yet know if I will subspecialize, and I will seek out mentors and experiences as a resident to make an informed decision. I would be honored to interview at your program and thank you for your consideration.
Why It's Great
This is a great personal statement because it clearly conveys the applicant's interest in, and understanding of, obstetrics and gynecology (OB/GYN) and what the applicant has done to pursue that interest. Not only does this applicant have a long-standing interest in OB/GYN, but, she conveys that she has experienced the specialty in different settings and understands the diverse nature of the specialty. She also includes information about her hobbies and interests and writes about her exploration of OB/GYN outside of the clinical arena. An added bonus is that the applicant writes well and uses descriptive language making her statement interesting and fun to read.
Residency Personal Statement Example, Analysis, and Outline: The Outside Interests Approach
Many mentors advise applicants to tell the reader something about them that is unrelated to medicine or the specialty they are pursuing. This is a fine idea, but be sure your personal statement also includes some details about your interest in your specialty if you decide to move in this direction.
Suggested Outline:
Introduction: Write a Catchy Introduction. Be creative! Think outside the box.

Paragraph 2:Elaborate on your introduction offering more details

Paragraph 3: Write about your specialty choice and what appeals to you.

Paragraph 4: Write more about your explorations in medical school.

Concluding paragraph(s): Write about your future goals, the type of program you hope to join and consider looping back to your introduction.
Below is an example of the outside interests approach:
The landscape before me was lush and magical. We had been hiking for hours and had found a great spot to set up camp. As I was unloading my backpack and helping to pitch the tent, I saw a scene I knew I had to capture. I quickly grabbed my carefully packed Leica before the magnificent sunset disappeared. Trying to get the perfect exposure, I somehow managed to capture this image so accurately that it reflected the beauty of what was before us high in the mountains of Utah, so far away from the hustle and bustle of New York City where we attended medical school.
Throughout my life, I have pursued my interests and curiosities with focus and creativity. One of those interests is photography. Even as a small child, I wanted my own camera, and I started snapping interesting scenes and images at the age of 6. As I grew older, this hobby took on more significance. I took a college level course in photography as a high school student, worked as a photographer's assistant and even considered a career in photography. Paralleling my interest, however, was a desire to travel and experience new places, foods, and cultures.
I have been fortunate to travel all over the world. Rather than stopping in a city or place for a couple of days and seeing the sights, I prefer to immerse myself in my surroundings, eating the food, meeting the people, and staying for as long as I can. My fluency in Spanish and Italian has made it easier to "fit in" naturally. My most recent trip to Costa Rica allowed me to visit sugar cane fields and rain forests. I also volunteered in a clinic that helps the most desperate citizens. Of course, because I never travel without my camera, I also captured the beauty of this country; those pictures can be found on my blog.
Surgery seemed like a natural choice for me. It is a very tactile and visual field that requires patience, attention to detail and creativity—just like photography. The operating room setting is invigorating. I love to be a member of a team, and in surgery team work is an essential part of practice. The ability to deal with anatomical variations also satisfies my creative side; I have always been fond of puzzles, and the field of surgery represents a real-world puzzle to me. I also appreciate the intensity of surgery and believe I have the personality and demeanor for the field. I have always enjoyed solving problems quickly, something the field of surgery requires. My rotations in surgery – in addition to my core surgery rotation I have done trauma and cardiothoracic surgery – have helped me to understand the tremendous opportunities and diversity of the field. I have heard some residents lament that the only reason they went into surgery is to operate. However, I really enjoy seeing patients postoperatively. It is only at that time that a surgeon can really appreciate the impact of his or her work.
Finally, my trip to Honduras with a surgical team from my hospital and medical school made me realize that I can make a great contribution globally in the field of surgery. There we saw patients who had no resources or access to care. The facilities in which we worked were bare-bones. Yet the impact we made was tremendous, given that this was a group of people who otherwise would have no surgical care. In this way, I hope to combine my interests in travel and surgery as a resident, if I have time, and certainly as a practicing physician. My ultimate goal is to use my training to help populations globally and domestically.
To gain the most clinical exposure possible, I hope to train in a busy urban hospital. I believe that such a setting will give me the operative experience I need to be able to navigate many situations in the future. Such a setting will also give me the outpatient experience to understand how to manage patients once the surgery is completed.
I look forward to the day when I can be snapping my camera intraoperatively, documenting what I am doing and seeking to help other surgeons. For some, such pictures may not represent the art of those pictures I take in the wilderness, but for me they reflect the beauty of surgery and the great opportunity to make a lasting impression on another human being's life.
Why It's Great
This is a really intriguing personal statement because the author writes about his outside interests in a compelling way that makes him instinctively likable. He then goes on to explain what he enjoys about surgery and what he has done to pursue that interest. As you can see, this applicant writes less about his specialty (surgery) than the applicant in statement #1 did, but, he still convinces the reader of his understanding of, and commitment to, surgery. In this statement, the reader gains a much broader understanding of who the applicant is as a person and what he likes to do in his free time.
Final Thoughts
Writing your residency personal statement should be about telling your story in your own voice and style. You want to highlight your interest in the specialty for which you are applying while also conveying some ideas about who you are as a person to keep your reader engaged in learning about you as a person.
Residency Personal Statement Consulting Services
MedEdits Medical Admissions offers comprehensive guidance and document review services for residency applicants to every specialty in medicine. With more than twenty years of experience in residency admissions and founded by a former residency admissions officer and physician, MedEdits understands what program directors want to read and can help you decide what aspects of your background to focus on in your residency personal statement to earn the most interviews possible.
About MedEdits
Getting into a residency has never been more competitive. Let the experts at MedEdits help you with your ERAS personal statement. We've worked with more than 5,000 students and 94% have been matched to one of their top-choice programs.
Need Help With Your Residency Personal Statement?
Schedule a Free 15 Minute Consultation with a MedEdits expert.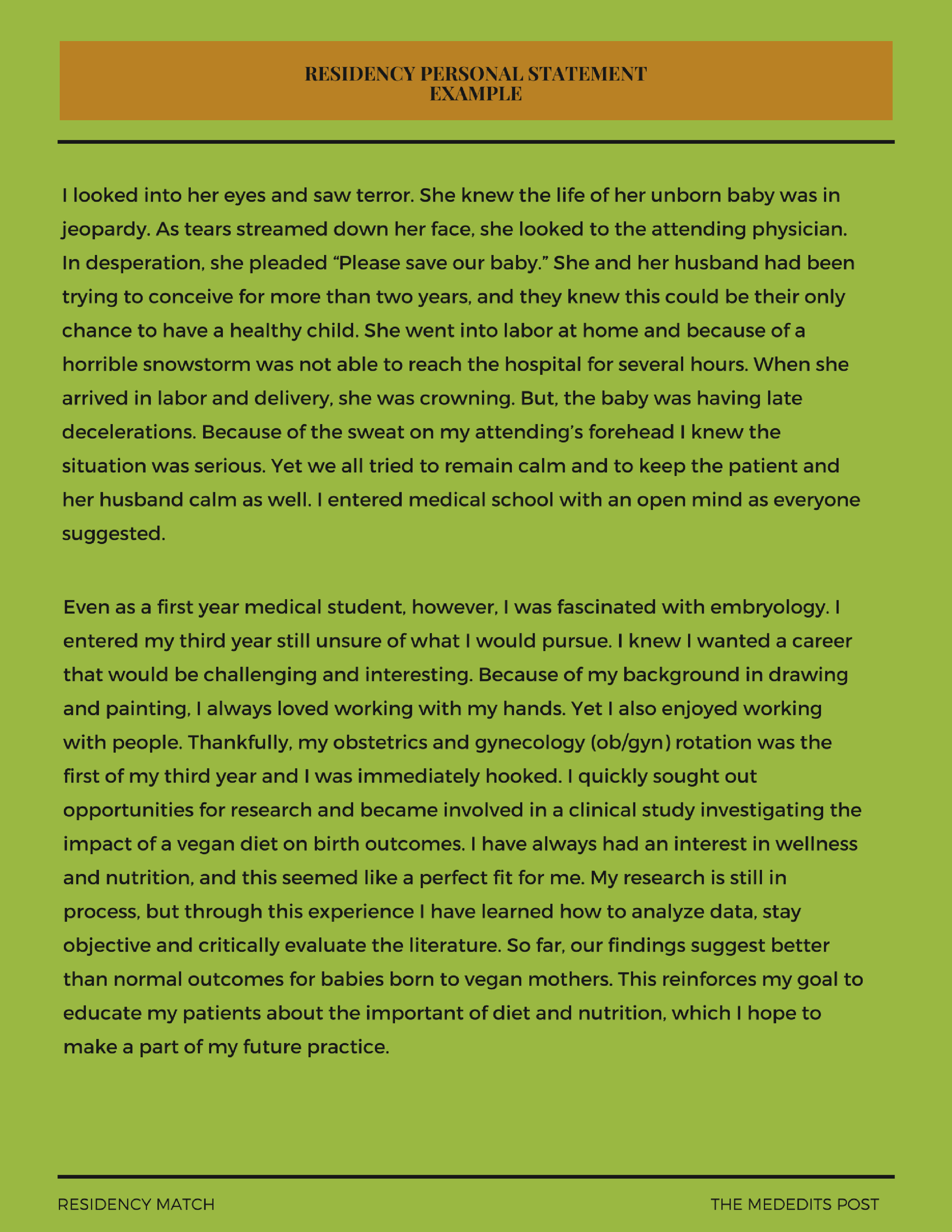 Sample Residency Personal Statements