ERAS Residency Match Timeline (2022 –
2023)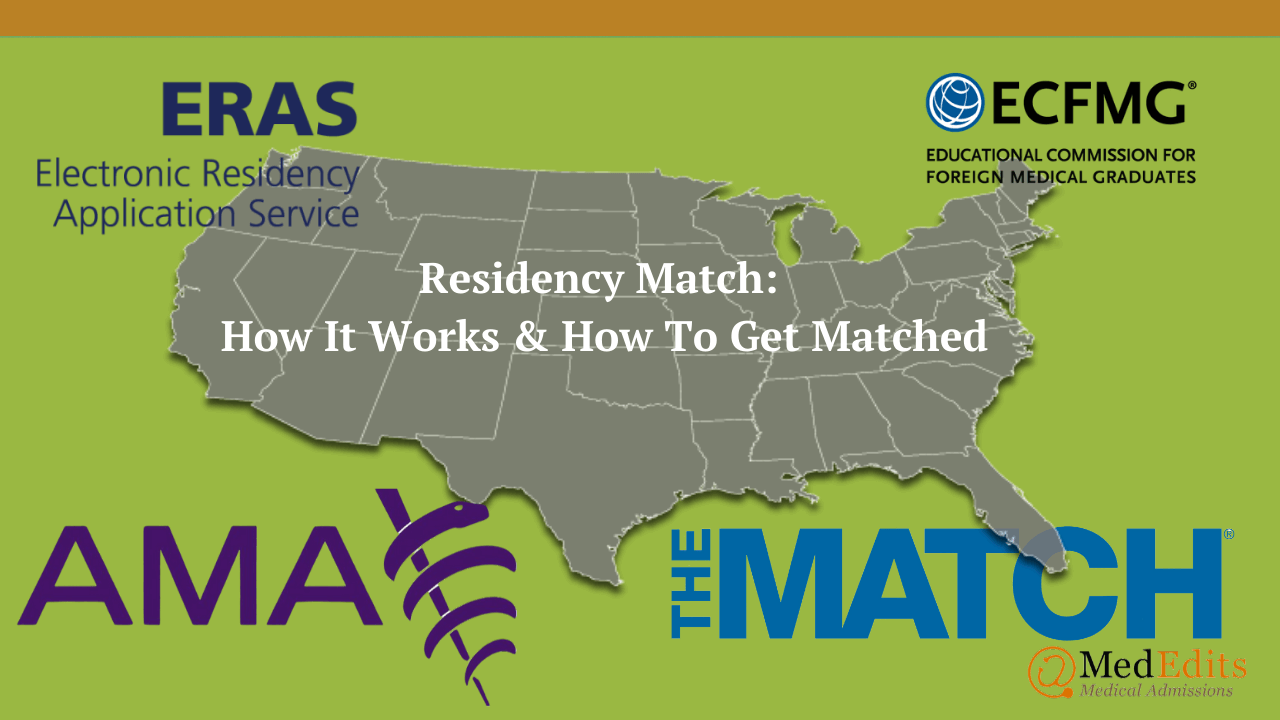 Part 1: Introduction
The ERAS (Electronic Residency Application Service) is a standardized application system used by the majority of medical schools to streamline the application process, making it easier to medical school students to apply to multiple different medical residency programs. Even though ERAS doesn't open until June each year and you cannot submit your application until September, there are many steps you should be aware of so you can stay organized to submit your application as early as possible which is becoming increasingly important each year. While this article will focus on ERAS, we will outline all application systems available to apply for residency.
Part 2: Residency Application Systems
These two systems are needed for all residency applicants:
Applicants applying for plastic surgery and ophthalmology:
Applicants applying for urology:
American Urological Association
International applicants applying for residency (U.S. and non-U.S. citizens:
Part 3: How To Apply For Residency With ERAS
Step 1: Receive An ERAS Token & Register With MyERAS
Your medical school Dean's office will provide you with a one time "token" ID to sign up for MyERAS. The ECFMG serves as the Dean's office for international medical graduates. 
As soon as you receive your token ID number, you should register with MyERAS system. A token can be used only once. Make note of and remember your AAMC ID when you register.
Photo Requirements
You must upload a picture of yourself (max of 3" x 4"), Resolution: 150dpi, File Size: 100kb.
Step 2: Complete Applications & Apply To Programs
Complete the MyERAS application, which includes sections for biographical information, education, medical education, training (if applicable), experience descriptions, publications, licensure and medical licenses (if applicable), self-identification, language fluency and miscellaneous.
Within MyERAS, you also have to manage and keep track of your documents. In this section, you can create one or multiple residency personal statement(s); identify the people who will write letters of recommendation (LoRs) and authorize the release your USMLE/COMLEX scores.
In 2023, 16 specialties will use a supplemental ERAS® application during the ERAS 2023 season. These essays will offer applicants the opportunity to share more information about themselves with programs.
• Anesthesiology
• Dermatology
• Diagnostic Radiology and Interventional Radiology
• Emergency Medicine (Program Signals only)
• General Surgery
• Internal Medicine (Categorical only)
• Internal Medicine/Psychiatry
• Neurological Surgery and Adult Neurology
• Obstetrics and Gynecology (Program Signals only)
• Orthopedic Surgery
• Pediatrics
• Physical Medicine and Rehabilitation
• Preventive Medicine
• Psychiatry
Once you submit your application, you cannot change it!
ERAS Application Fees
Below is the MyERAS fee schedule:
Programs Per Specialty
Up to 10: $99

11 – 20: $19 each

21 – 30: $23 each

31 or more: $26 each
Step 3: Designated Dean's Office, Medical School Transcript & Letters Of Recommendation
The applicant's designated Dean's Office will use ERAS to upload the Medical Student Performance Evaluation and medical school transcript. 
Some medical schools will upload letters of reference on each student's behalf, however, many letter writers will upload their letters to the system directly via the ERAS Letter of Recommendation Portal (LoRP).
Step 4: Programs Receive & Review Applications
Once your application is processed, residency programs will start receiving applications. Typically, residency programs will review applications only once all documents (including letters of reference) have been received.
Most programs review applications on a computer and do not print out applications. Each reviewer also has his or her own method for reviewing applications. Some might look first at USMLE/COMPLEX scores, someone else might first read letters of recommendation, and another might go straight to the personal statement.
The number of people who review your application to decide whether or not you receive an interview also varies. At many programs each person involved in residency admissions might read a certain number of applications and have sole discretion about whether or not to interview an applicant or several people might review each application.
Keep in mind that some programs also have filters to weed out some applicants. The most common filters are USMLE/COMLEX score minimums, type of medical school (MD, DO, international) or years since graduation from medical school.
Step 5: Interviews Offered
Once your application materials have been reviewed, you will either be granted an interview in which case you will receive an email notification or you may be put on "hold" or "rejected." In these latter two instances you likely won't be notified.
Part 4: ERAS 2022 Timeline
January – May 2022:
Decide what specialty you will pursue.

Start thinking about who will write your letters of reference.

Plan your fourth year schedule carefully making sure to schedule away rotations and home rotations in your specialty strategically.

Apply to away elective rotations via VSAS.

Figure out USMLE Step 2 CK and USMLE Step CS schedule. Take both by September of the application year.

Work on and finalize CV.

Meet with Dean's office about MSPE.

Meet with faculty advisor. Discuss how many programs to apply to and possibility of backup specialty.
June 8, 2022: The ERAS season begins!
Applicants can register on MyERAS and begin working on their application.

Obtain ERAS token from designated Dean's office (ECFMG for international students/graduates).

Start finalizing who will write your letters of reference.

Start working on personal statement.

Authorize transmission of USMLE scores.
July – August 2022:
Finalize list of letter writers.

Work on and finalize ERAS personal statement.

Work on and finalize ERAS experience entries.

Work on and finalize program list.
August 1, 2022
Supplemental ERAS application opens for applicants.
September 14th, 2022
Deadline for applicants to register an ERAS token to receive an invitation to the supplemental application (11:59 PM EST).
Starting September 15, 2022:
Apply to ACGME-accredited residency programs only.

Assign documents (letters of reference, personal statement) to programs.
September 16, 2022
Supplemental ERAS application closes at 5 PM EST.
September 28, 2022: 
ACGME-accredited residency programs start reviewing applications and MSPEs at 9 AM EST.
October – December 2022:
Interview invitations are extended.

Check MyERAS and your email frequently. Respond to interview requests ASAP.
October, 2022 – January, 2023:
Residency interviews take place.
Mid-January, 2023:
Rank order list (ROL) entry begins

Send letter of intent to your top-choice program
February 1, 2023
Applicants and programs may start entering their ROLs at 12:00 noon eastern time.
March 1, 2023 (9PM EST):
Deadline for NRMP registration and ROL certification

ROL certification deadline

Applicants and programs must certify their ROLs before 9 PM.

Applicant and program ROLs and any other information pertinent to the match must be entered in the NRMP R3 System by this date and time.
March 13, 2023: Match Week!
Monday of match week: 9:30 AM EST: ALL applicants find out if they have matched.

Monday: 10 AM EST. List of unfilled positions released for SOAP eligible applicants.

Monday – Thursday: Applicants eligible for SOAP can start applying to programs with unfilled positions where they are eligible. Can send up to 30 applications.
March 17, 2023: MATCH DAY!:
12 PM EST match results are released.
Non-NRMP Residency Programs
The primary reason a program would not participate in the NRMP match is if that program wanted to offer positions to applicants outside of the match. It used to be common practice for programs to fill some spots outside of the match and to offer some spots to applicants directly. However, since the "all in policy" was implemented, programs participating in the NRMP match must offer all spots through the match.
The primary reason a program might not participate in ERAS is if that program was a part of the National Matching Service (NMS/AOA) match.
You can search for programs that don't participate in the NRMP and/or ERAS by using the "Application Info" feature on FREIDA, however, a recent search of ours found some outdated information.
NRMP: The Match
In March, the National Resident Matching Program (NRMP®) main residency match results are available. This is when applicants find out where they matched and if they matched! Programs will also find out with whom they matched and if their programs filled. Unmatched applicants and unfilled programs participate in the The Supplemental Offer and Acceptance Program (SOAP).
Frequently Asked Questions
When will I receive MyERAS token?
You will receive your MyERAS token from your designated Dean's office in late June.
When can I start filling out the MyERAS application?
You can start completing the ERAS application after you receive your MyERAS token.
When will programs start reviewing applications?
Programs will start reviewing submitted applications on September 28th, 2022.
About MedEdits
MedEdits helps students get admitted to medical school and residency programs. Our consultants have years of experience serving on medical school admissions committees, and as faculty members at the top medical schools in the country.
Need Help With Your ERAS Application?
Schedule a Free 15 Minute Consultation with a MedEdits expert.