Residency Match: How It Works & How To Get Matched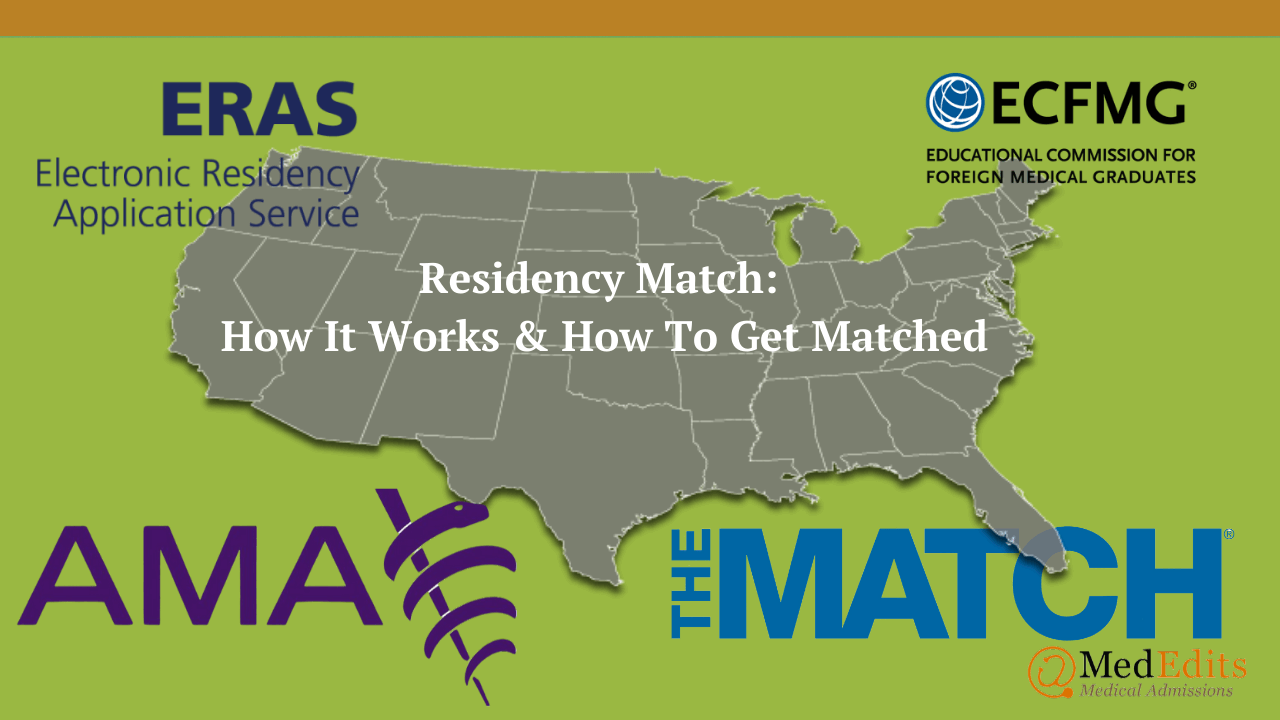 At first glance, the residency matching process seems quite complicated and detailed, however, by paying close attention to key dates and by keeping organized, it will be less stressful and easier to navigate. MedEdits helps students navigate the residency match process and stay on track with deadlines and due dates.
What Is The National Residency Matching Program (NRMP)?
The NRMP was first established in 1952 to match US students with post graduate training programs. The match has evolved since that time to include osteopathic students and both US and non-US international medical graduates. In 1997, the NRMP established a new computerized matching algorithm. The NRMP has two primary matches – the general residency match and specialty fellowship matches.
Why Does The NRMP Exist?
The NRMP was established in 1952 to provide a fair, objective, and unbiased method to match applicants with residency programs based on residency applicant and residency program preferences.
How The NRMP Residency Matching Process Works
Step 1: Research Programs & Requirements
Deciding where to apply can be difficult. In determining how many applications you should submit, a lot depends on your competitiveness. Some applicants who are concerned about their competitiveness may apply to more than 100 programs to increase the likelihood of matching while others are successful applying to only 15. 
Some programs have great websites from which you can glean a lot of information while others do not. Often, it is tough to get a real sense of a program before your interview there. But keep in  mind that you will learn more about the program, its affiliated hospitals and didactics during your interview day. You will also meet residents and faculty from whom you will learn about the program.
The Fellowship and Residency Electronic Interactive Database (FREIDA Online) allows you to search for programs throughout the country. I suggest using this resource as a starting point when deciding where to apply. You can find the following information on FREIDA: Program director and program contact information, program website link, length of program and institutions affiliated with each program, faculty makeup, work schedule and educational environment. After composing a preliminary program list, talk to your mentors about which would be the best programs for you, taking into consideration your geographic requirements and preferences.
I also advise medical students to review past match lists from their own school. Most programs have "histories" in matching a certain medical school's students. Applying where your medical school has a good match history could increase your changes of being interviewed and matching, assuming the graduates from your school are doing a good job in residency.
If you are a US or non-US citizen IMG or an osteopathic medical student applying for an allopathic residency, you also want to consider which programs typically consider applicants from these categories. Sometimes you can find this information by reviewing programs' lists of residents and where they attended medical school; these lists sometimes are posted.
Getting into a residency has never been more competitive. Let the experts at MedEdits help you with your residency application materials. We've worked with more than 5,000 students and 94% have been admitted to residency.
Need Help With Your Residency Application?
Schedule a Free 15 Minute Consultation with a MedEdits expert.
Step 2: Apply To Programs
First of all, understand that ERAS (Electronic Residency Application Service) and NRMP (National Residency Matching Program) are not the same entity! Think of ERAS as the application for residency and the NRMP as the "ranking machine" that allows you to rank programs and submit your rank lists. Specifically, you will have a profile via the NRMP called the Registration, Ranking, and Results (R3) system. Thus, ERAS allows you to apply to programs and NRMP R3 system allows you to rank those programs where you interviewed. You will find out via the NRMP R3 system if you matched.
Step 3: Register For The NRMP
Current NRMP Fees:
Standard Registration Fee: $85
In the Main Residency Match, includes the listing of up to 20 unique program codes on the primary rank order list and up to 20 unique codes on all supplemental rank order lists combined.
Extra Rank Fee: For each program code ranked over 20, NRMP charges an extra rank fee of $30 per program code up to the maximum of 300 ranks
Late Registration Fee (Main Residency Match only): $50 additional after November 30
Couples' Fee: $25 additional per partner
Length of Rank Order List Fee: For rank order lists with 100 or more ranks, the following additional charges apply:
100-150 ranks: $50

151-200 ranks: $100

201-250 ranks: $150

251-300 ranks: $200
You must also register for MyERAS to complete your application. You can do that here: https://apps.aamc.org/myeras-web. There is no cost to register for MyERAS.
Step 4: Interviews
Residency interview invitations can go out as early as mid-September and as late as mid-November. When invitations are sent out really depends on the individual residency program and the specific specialty.
Step 5: Rank Order List (ROL)
Some programs may rank as the interview season moves along while others may rank all applicants on a single day based on "scores" generated during the season. Almost every program has a "rank day" when all of the faculty gather, review applications, flash your pictures on a wall and determine the final Rank Order List (ROL). These meetings can become pretty heated as everyone expresses their (sometimes strong) opinions. 
The NRMP matching algorithm works in favor of the applicant so you should rank programs based on where you would like to train rather than where you have the greatest likelihood of matching. Some people think it is best to rank programs that will rank them, but trying to outsmart the system doesn't work. Most applicants have a "gut feeling" of where they would fit in.
Step 6: Match Day
On the third Wednesday in March, at 1 PM EST, applicant match results will be posted in the NRMP R3 system. Many medical schools have ceremonies (that start at noon that day) and fourth year medical students are told of their match by receiving envelopes that determine their fates. Before a computer-based system, this was how all students learned of their matches.
Step 7: SOAP (If Needed)
In 2012, the NRMP instituted the Supplemental Offer and Acceptance Program (SOAP) for applicants who didn't match or who partially matched. Through SOAP, applicants apply to programs that have open positions and those programs then can extend offers to those applicants who applied within a certain time frame. Applicants must be SOAP eligible to apply, with eligibility  determined by the medical school the applicant attended, except for IMGs for whom the ECFMG makes the eligibility determination. Your SOAP status will be displayed when you log in to your NRMP R3 ranking page if you don't match. ALL applicants, whether they matched or not, will receive notification via email on the Friday before match week regarding SOAP eligibility. You will also be able to view the unfilled programs at 12 noon on the Monday of SOAP week for those programs where you are eligible.
About MedEdits
MedEdits helps students get admitted to medical school and residency programs. Our consultants have years of experience serving on medical school admissions committees, and as faculty members at the top medical schools in the country.
Need Help With Your Residency Application?
Schedule a Free 15 Minute Consultation with a MedEdits expert.