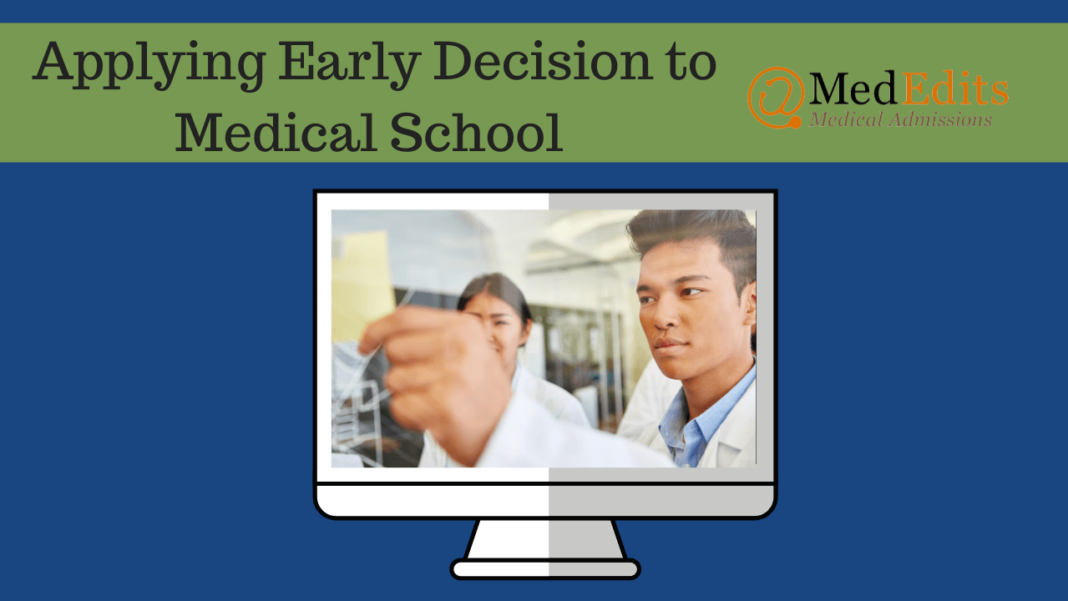 Applying to Medical School Early Decision (2022)
Is there one medical school you've always dreamed of attending? If so, you might be thinking about applying early decision. Available to students who have completed their prerequisite classes, took part in meaningful extracurricular experiences, and sat for the MCAT, early decision programs enable students to move up their timeline for applying to med school. 
While early decision programs tend to be highly competitive, only admitting applicants at the top of their classes, they're a good option for students with stellar grades and test scores who are certain about where they want to go to school. Keep reading to learn more about how early decision works and if it could be the right choice for you.
Understanding Medical School Early Decision
If you're set on attending a particular medical school, then applying early decision might be on your to do list. A large number of students applying to medical school are familiar with early decision because it is a popular option when applying to college. However, unlike college, the vast majority of medical school applicants do not apply early decision.
Why don't more applicants apply early decision to medical school? Students who apply early decision are not permitted to submit applications to other institutions until they've received a rejection letter from the early decision medical school. Therefore, if a student is not accepted early decision to a medical school, they end up submitting late applications everywhere else which is a no-no!
As a student, the prospect of applying early decision can seem appealing for several reasons. Along with allowing you to expedite the application process, saving you from months of waiting and worrying, early decision lets you show a school how passionate you are about attending. 
From the medical school's point of view, early decision is an opportunity to snatch up stellar applicants that fit their needs and goals.
The Timeline for Medical School Early Decision
Students interested in applying early decision need to be aware of the pertinent deadlines. Currently, August 1st is the AMCAS deadline for completed early decision applications. However, students should begin the early decision submission process in early April. If the medical school invites you for an interview, you can expect that to happen in August or September. 
Early decision applicants will hear back from their primary schools by October 1st. At that point, rejected students have the opportunity to apply to other schools as a regular applicant. The deadlines for regular admission vary by school, with most programs requiring students to get in their application packages by December at the latest.
Benefits and Drawbacks of Applying Early Decision to Medical School
It's no secret that applying to medical schools is stressful, and there are many reasons that students prefer to send in their application packets early. However, going the EDP route comes with both positives and negatives. Read on for details.
Early Decision Pros
Saving Time
The process of applying to schools is time consuming. Along with filling out applications and writing essays, students have to take hours out of their busy schedules to visit campuses and attend interviews. Applying early decision can mean sending one application instead of dozens.
Saving Money
Applying to medical school is expensive. In fact, sending out just one AMCAS application with secondary components costs approximately $270. Since med school students apply to 16 schools on average, it's easy for costs to skyrocket. On the other hand, if you apply early decision and are accepted, you can save thousands of dollars at the start of your education.
Reducing Stress
Pre-med students have a lot on their plates these days, and it's easy to get stressed by the prospect of applying to dozens of schools and waiting months for the responses to trickle in. Early acceptance programs may help take the edge off, so students can focus on other tasks and responsibilities.
Early Decision Cons
Committing Early
If you're sure that you want to attend a certain medical school, then early decision might be the way to go. However, if there's a chance you could change your mind, it's best to avoid committing yourself too early in the application cycle. Early decision students who are accepted are obligated to attend, so you don't want to send in your application if you think another school might be a better fit for your needs or budget.
Increasing Competition
Medical schools are famously selective, and competition tends to be even more fierce with early decision programs. After all, schools are looking to admit the most stellar applicants before they can be snatched up by other programs. If your GPA and MCAT scores aren't at the top of the pack, medical school are unlikely to offer you an early slot.
While students who apply early decision and get rejected have the opportunity to pursue other programs, they wind up entering the med school applications process later in the cycle because they don't hear back on their first institution until October. By this point, schools have already filled a large number of positions.
Tips for Applying Early Decision to Medical School
When it comes to early decision med school applications, there are no guarantees. However, there are steps students can take to boost their odds of acceptance. The goal is to convince the admissions committee that you are a perfect match for the school and have everything they're looking for in a prospective attendee. With that in mind, here are some of the most important components of a successful early decision application package:
The Medical School Personal Statement
As important as personal statements are for regular med school admissions, they're even more crucial for early decision applications. The best statements reveal something unique about the applicant's background while conveying their passion for medicine. Additionally, a med school personal statement should show why you're a great fit for the school to which you're applying. 
When writing a personal statement, it's important to avoid simply listing out your skills and traits. Rather than restating the information found on your CV, use your personal statement as a way to tell a story that resonates with the admission committee. For example, if you shadowed a doctor in an underserved area, you might discuss the challenges of providing care to patients who are skeptical of the medical community. This type of statement could be particularly effective if the medical school is located in an area where medical care is limited. The goal is to convince the school that your ideals are aligned with their mission.
Secondary Applications
While AMCAS requires a standard medical school application, individual medical schools may request that students submit additional information. For example, you may be asked to answer yes-or-no questions, write out short-answer responses, or compose an entire essay for a specific institution. Additionally, secondary applications can ask for extra academic or biographical data.
Secondary applications also offer a valuable opportunity for students to show medical schools they are a perfect fit. After all, medical schools use the early decision program as an opportunity to find highly competitive applicants who meet their criteria. If the school in question has faculty members who are renowned for their cancer research, you might use your secondary application to discuss how passionate you are about oncology. On the other hand, you could talk about a personal experience watching a friend or family member deal with a cancer diagnosis. The goal is to provide the medical school with evidence showing you're a great candidate for the program and that they should accept you early, before other schools have the chance. Similarly, you want to use your secondary application materials to convey your passion for the school in question.
Interviews are a great opportunity to make an impression on admissions committees. If you're invited for an interview, you can expect to answer questions about your background and reasons for wanting to study medicine. Additionally, EDP interviews put a strong emphasis on why you want to attend this medical school over other schools. Do your research on the program and faculty so you can answer questions in a specific, meaningful way. The goal is to convince the school that you'll be a success, both during your time at the institution and throughout your medical career. 
The Bottom Line: Should I Apply Early Decision to Medical School?
In MedEdits' experience, the only students with whom we have worked who have applied early decision to medical school are those students who did the following:
Applied early decision to their state medical school

Were from a "less competitive" state

Had strong extracurricular experiences and letters of recommendation
Applying early decision to medical school is something we only support for a very select student who meets all of the criteria above.