What is Your Flex Factor?
The FlexMed Early Acceptance Program at The Mount Sinai Icahn School of Medicine in New York City allows students who are sure they want to pursue a career in medicine to apply to the medical school in the sophomore year of college.
What is the FlexMed Program at Mount Sinai?
This program, launched in the fall of 2013, allows college sophomores majoring in any discipline early acceptance to the medical school. FlexMed students are not required to take the MCAT and enjoy more academic freedom to pursue their undergraduate interests. Mount Sinai writes that FlexMed students represent half of every incoming medical school class. 
FlexMed Requirements
Two semesters of:

Biology OR Chemistry OR Physics

Three letters of reference

SAT or ACT

Application entries and essays

High school transcript

College transcript that includes sophomore year first semester final grades
FlexMed Application Timeline
August: FlexMed application opens

January 15: FlexMed application is due

Mid-March: FlexMed interview invitations released

April: Interviews

Early July: Admissions decisions released
FlexMed Acceptance Rate
FlexMed Acceptance in 2020/2021 was 3.6%

944 Applicants Applied

112 Applicants Granted Interviews

34 Applicants Accepted
FlexMed Admitted Student Details
Students Underrepresented in Medicine: 9 (6 female, 3 male)

Male: 14

Female: 20

First Generation: 7

Number of Undergraduate Colleges: 21
FlexMed Median GPA
The FlexMed Median GPA in 2020/2021 was 3.97.
FlexMed Median SAT
The FlexMed Median SAT in 2020/2021 was 1535.
FlexMed Median ACT
The FlexMed Median ACT in 2020/2021 was 35.
FlexMed Essay Prompts (2022 Application Cycle)
1) Please describe something in your life that has given you a great sense of personal, academic, or professional accomplishment. (300 words)
2) Please describe something in your life that has given you a great sense of personal, academic, or professional disappointment. (300 words)
3) Describe your reason for pursuing a future career in medicine and then describe how FlexMed will change your educational plan. Please describe how you will use the flexibility afforded by FlexMed. (400 words)
4) Activities descriptions (150 words each). Up to 20 activities.
Who gets Accepted to FlexMed?
In our experience, successful applicants have earned high SAT/ACT scores and top grades in high school. What other criteria are give applicants an edge? Experience in clinical medicine, and research, the more extensive the better, help guarantee success. The admissions committee also likes to see well developed interests in areas unrelated to medicine.
In summary, FlexMed students, across the board, have:
1) A demonstrated commitment to medicine and research
2) A stellar academic and scholarly record
3) Well-developed interests and pursuits unrelated to medicine including service
4) Exceptional maturity and professionalism
5) Great interpersonal skills
Simply earning an interview to this prestigious and highly competitive program is an honor.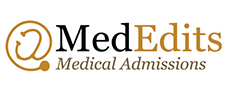 Every year MedEdits works with successful FlexMed applicants on the following:
FlexMed 2022 essays

FlexMed interview prep
To read about Dr. Freedman and Laurie Tansey's experiences at The Mount Sinai School of Medicine, click here.
From the Mount Sinai website:
"Named to honor the legacy of Abraham Flexner, a pioneer educator who revolutionized medical education early in the 20th century, FlexMed is transforming medical education by cultivating physicians who are grounded in 21st century science and the social context in which they will practice medicine."
"The Icahn School of Medicine is looking for medical school applicants who have excelled academically, are collaborative leaders on their undergraduate campuses, and are passionate about medicine, science, and health care."