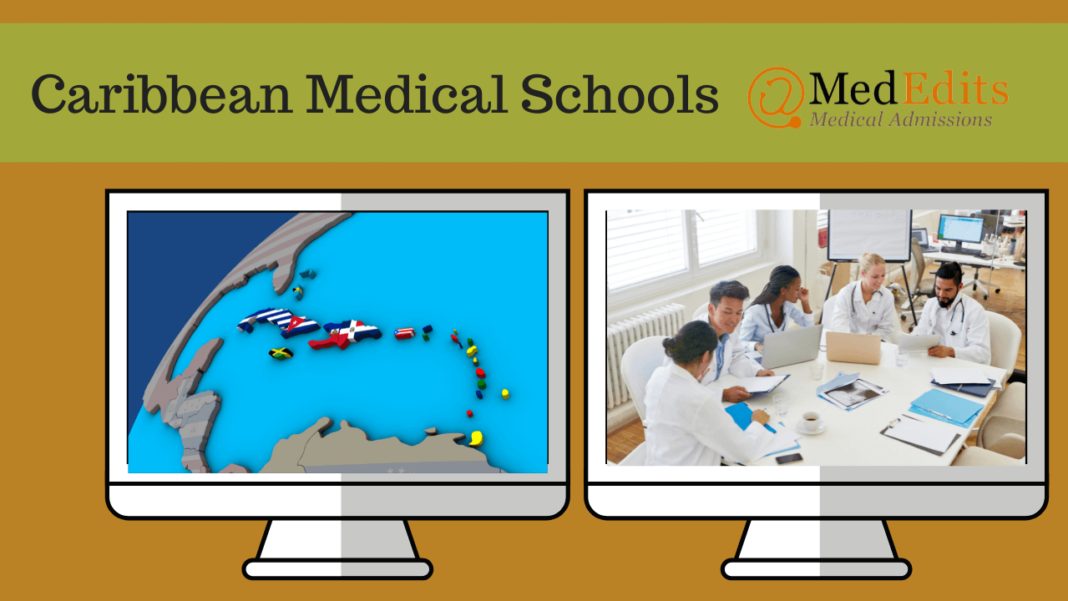 Caribbean Medical Schools (2022)
Medicine is a worthy and esteemed occupation and one many students seek to pursue. As a result, it's also highly competitive. Of the more than 53,000 students who applied to traditional medical schools in 2019, only around 40 percent of them were accepted. 
That means more than half of aspiring doctors fail to achieve their goals. And while some of these applicants lack the grades and test scores to compete, others received rejection letters simply because there weren't sufficient spots available at their target institutions. 
With competition continuing to rise at American medical students, an increasing number of applicants are turning to schools in the Caribbean. These programs may still be a good option for those who want to study medicine, especially if their academic statistics are slightly below average. 
However, attending one of the 80 Caribbean medical schools doesn't guarantee you'll be successful in the field and be able to earn a residency position after you graduate. Moreover, some of these schools have better reputations than others. Keep reading to learn about the benefits and drawbacks of going to medical school in this part of the world, along with which institutions stand out from the pack.
Is a Caribbean Medical School Right for You?
There are various reasons that students may opt to pursue a Caribbean medical school. Typically, Caribbean medical schools have less rigorous guidelines for acceptance. If you have a lower GPA or MCAT score, you might have a better chance of getting into a school in the Caribbean. Additionally, some Caribbean medical schools don't require the MCAT, while others only consider this value if it's high enough to make up for other areas of the application that may be lacking. For this reason, students who struggle with standardized testing may have a better chance of being accepted into a Caribbean school than an American one.
If you choose to attend a Caribbean medical school, keep in mind that living on a Caribbean island comes with challenges. Depending on where you are from, you may not be accustomed to the living conditions, the frequent power outages, and the heat.
Also, keep in mind that Caribbean medical school will require you to pass internally administered practice USMLE exams in order to sit for the "real exam." The USMLE Step 1 is taken at the end of your second year of medical school and most Caribbean schools will not let you progress to take the "real exam" and clinical rotations if you don't pass the internally administered test. This is especially an issue for those students who have incurred debt.
In the third and fourth year of medical school, you will then embark on your clinical rotations. Many Caribbean medical students are forced to travel from city to city for these rotations since the schools do not have home hospitals through which students rotate. Many of our Caribbean medical students complain about the quality of rotations and teaching.
Although many working doctors currently come from other parts of the world — international graduates make up a quarter of the medical workforce in this country — students who attend Caribbean medical schools may have trouble moving forward in their careers. If you hope to succeed as a doctor, you need to leave your Carribean medical school with a high GPA, strong exam scores, prestigious rotation experience, and impressive letters of recommendation. Failing to meet these requirements may affect your ability to secure a residency or even practice medicine down the line. 
Can You Still Practice in the United States?
For most students, earning a medical degree is an important step on the road to becoming a doctor. However, not all states have the same guidelines when it comes to accreditation. If you're thinking of attending a Caribbean medical school, it's crucial to ensure the institution is accredited by the World Federation for Medical Education/Foundation for Advancement of International Medical Education and Research (WFME/FAIMER). 
Additionally, students should do their homework to be certain they will be able to practice medicine in their desired location. It's worth noting that certain states impose stricter guidelines on aspiring physicians. If you live in California, Florida, New Jersey, or New York, WFME/FAIMER accreditation may not be sufficient. 
Moreover, California has a list of foreign medical schools with Medical Board approval. Although the list includes four of the top Caribbean medical schools, a degree from many of the other institutions in this part of the world will not necessarily enable you to practice. 
Will You Still Match With a Residency Program?
Getting licensed to practice medicine is only part of the battle. The process of becoming a physician is a long one, with most aspiring doctors completing residencies and fellowships after earning their MDs. So it's important to make sure the Caribbean medical school you choose will enable you to match with a residency program after graduating. In the past 10 years or so we have found that Caribbean graduates are having a tougher time matching into desirable programs and specialties.
Research shows that most of the residency spots in the U.S. go to graduates of American institutions. According to a recent article, the match rate for international medical students is just 60 percent compared to over 94 percent for U.S. applicants. 
Moreover, the speciality you choose could affect your odds of being accepted. Typically, Caribbean medical school graduates are less likely to get into more competitive fields, such as anesthesiology and plastic surgery. American graduates from allopathic institutions also make up more than 90 percent of the residency programs for neurological surgery, orthopedic surgery, otolaryngology, and thoracic surgery. 
On the other hand, nearly 68 percent of international applicants who successfully matched wound up in internal medicine, family medicine, or pediatrics. In 2020, a majority of the graduates at the top four Caribbean medical schools matched with an internal or family medicine residency program. 
If you're thinking of applying to Caribbean medical schools, there are some further downsides to consider. Compared to American medical schools, these institutions may be lacking when it comes to support systems. Because most Caribbean medical schools are considered "for profit," they might not invest as many resources into student support and well being. This more competitive atmosphere could explain why some of the Caribbean colleges have high attrition rates.
Additionally, applicants looking to attend school in the Caribbean may struggle to secure federal financial aid. This funding issue could make it harder for students to earn their degrees or compel them to pursue private loans with higher interest rates. If you can't secure a residency, you may even have trouble paying off your student loan debt down the line. 
The Best Caribbean Medical Schools
Historically, Caribbean medical schools have gotten their fair share of criticism. However, that doesn't mean students can't obtain an excellent education in this area of the world. While Caribbean schools aren't generally ranked in the same way American schools are, four of these institutions are widely regarded as being at the top of the pack. These include St. George's University School of Medicine, Ross University School of Medicine, American University of the Caribbean School of Medicine, and Saba University School of Medicine.
Known as The Big 4, these medical colleges are known for boasting higher USMLE pass rates and strong residency match rates. Additionally, students who attend these institutions are typically able to receive federal loans and apply for licensure in all 50 states. Read on to learn more about these four institutions and their requirements for entry.
St. George's University School of Medicine
Based in Grenada, this prestigious Caribbean medical school affords students opportunities for clinical training at over 70 facilities throughout the U.S., Canada, and the UK. The GPA of a student admitted to St. George's is 3.3, while the average MCAT is 498. Around 94 percent of graduates match with residency programs. 
American University of the Caribbean School of Medicine
Widely regarded as a top international medical school, AUC strives to train future physicians to become leaders in their communities. This St. Maarten-based school is uniquely focused on social accountability. Accepted students have a GPA of 3.27 and an MCAT of 496. The residency match rate is 92 percent. 
Saba University School of Medicine
Located on beautiful Saba Island, this university boasts a USMLE step 1 pass rate of 99 percent. While the school doesn't publish GPA or MCAT scores for its students, the residency match rate is currently an impressive 94 percent. 
Ross University School of Medicine
If you dream of attending medical school in Barbados, Ross University is a logical choice. Founded in 1978, Ross reports that more than 16,200 of its alumni are currently practicing in the U.S. and Canada. The school has a GPA of 3.2 and an average MCAT of 496. The residency match rate is over 95 percent.