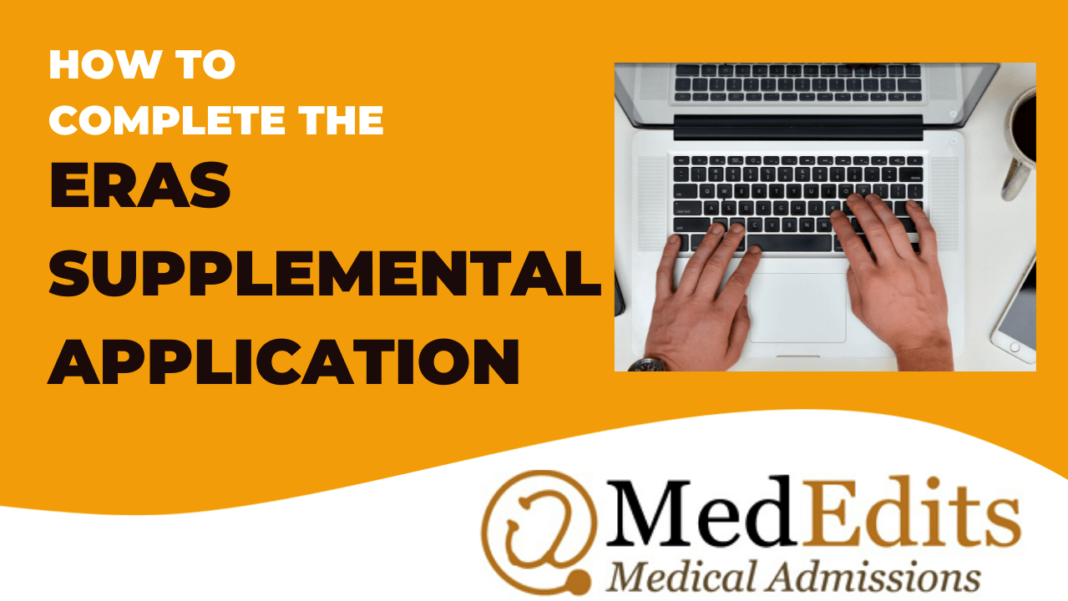 How to Complete the ERAS Supplemental Application (2022-2023)
Last year the Association of American Medical Colleges (AAMC) began offering a supplemental application to the main Electronic Residency Application Service (ERAS) application to residency program candidates in particular specialties as part of a pilot program. It was established to create a more holistic review application review and for the 2022-2023 residency match cycle has been adopted by 16 specialties.
The ERAS supplement comes as part of the AAMC's ongoing effort to improve the application and make the admissions process more holistic. It also aims to decrease the burden of increasing application numbers for programs directors by offering applicant-specific information that can help decide which applications to review and whom to interview.
Do I Need to Complete the ERAS Supplemental Application?
Technically, if applying to one of the 16 specialties offering the ERAS supplemental application, applicants need only complete the ERAS supplement if they choose to do so. Even if their program participates, they are not required to fill out the supplement. However, we recommend completing the ERAS supplemental application if offered and consider it mandatory as a way to help distinguish yourself. In the pilot year, the majority of applicants completed the supplement and you could stand out, in a negative way, if you opt out.
Which Specialties will have the ERAS Supplemental Application?
The following specialties will participate in the ERAS supplemental application process this year. Bear in mind that not all programs elect to accept the application — a complete list of participating programs for the 2022–2023 application cycle will be available on the ERAS application website starting in July 2022.
Specialty
Experiences
Geographic Preferences
# of Program Signals

Adult Neurology

Yes

Yes

3

Anesthesiology

Yes

Yes

5

Dermatology

Yes

Yes

3

Diagnostic Radiology and Interventional Radiology

Yes

Yes

6

Emergency Medicine

No

No

5

General Surgery

Yes

Yes

5

Internal Medicine (Categorical)

Yes

Yes

7

Internal Medicine/Psychiatry

Yes

Yes

2

Neurological Surgery

Yes

Yes

8

Obstetrics and Gynecology

No

No

3 (gold)

15 (silver)

Orthopedic Surgery

Yes

Yes

30

Pediatrics

Yes

Yes

5

Physical Medicine and Rehabilitation

Yes

Yes

4

Preventive Medicine

Yes

Yes

3

Psychiatry

Yes

Yes

5
Which Programs Participate in the ERAS Supplemental Application?
The majority of programs for the specialties participating have elected to accept the ERAS Supplemental Application. You can find a full list from the AAMC.
About MedEdits
MedEdits helps residency applicants to every specialty in medicine. Our consultants have years of experience working in academic medicine and serving on residency admissions committees. Many have served as faculty members at the top medical schools in the United States.
Need Help With Getting the Best Match?
Schedule a Free 15 Minute Consultation with a MedEdits expert.
The ERAS Supplemental Application in a Nutshell
The good news is that the supplemental ERAS application is fairly short and straightforward, especially in comparison to the main application. It has just three sections, in which you will describe your past experiences, geographic preferences, and program signals (interest in particular types of residency programs).
The purpose of the supplement, according to the AAMC, is to help residency programs better understand their candidates, enabling them to identify those who share their purpose and values. In turn, it means that applicants have another opportunity to demonstrate their fit with particular programs.
The supplemental ERAS application is free to complete.
ERAS Supplement Application Timeline: When is it due?
You may complete the supplemental ERAS application at any point between August 1st and September 16th. However, you must first register for a token by September 14th. Then, you will receive an invitation to complete the supplement. Therefore, you should register earlier rather than later so you have time to give it proper attention.
You will receive an invitation to complete the supplement if you have registered in the MyERAS application, whether or not you intend to apply for one of the designation specialties that accepts the supplement. Invitations will be sent daily to anyone who registers an ERAS token between August 1 and September 15.
Once you submit your application, you will receive a confirmation email. 
How to Complete the ERAS Supplemental Application
The AAMC estimates that most applicants can complete the supplemental ERAS application in less than an hour. However, you should take some additional time to read over the application instructions and guidance and plan out your responses.
ERAS Supplemental Application Past Experiences
The past experiences section is divided into two parts: meaningful experiences and other impactful experiences. It is intended to help you demonstrate how your background affects your journey and give programs insight into what you can offer within their specialty. 
In the meaningful experiences section, you will identify up to five meaningful experiences that have shaped your education and/or career path. In each case, list:
Position title

Name of the organization

Start and end dates

Frequency

Setting
During the pilot program last year, the most common types of experiences applicants highlighted are as follows:
Education/training (13%-22%)

Research (14%-23%)

Volunteer/service/advocacy (22%-27%)

Work (11%-19%)
The average duration of experiences was 12 months.
Note that you do not need to submit your main ERAS application on September 16th.
Past Experiences Categories
Below are the categories for past experiences:
Education/training

Military service

Professional organizations

Research

Teaching/mentoring

Volunteer/service/advocacy

Work

Other extracurricular activities, clubs, or hobbies
When deciding what experiences to write about you will have to choose the type of experience, the primary focus area, and key characteristics, as well as write a brief essay of up to 300 characters each.
How to Select ERAS Past Experiences
At MedEdits, we have encouraged students to offer this introspection and reflection for every experience in the primary ERAS application. However, for specialties that now offer the ERAS supplemental application, we suggest a different approach. 
Let me explain in more detail how to choose and approach those experiences. 
In your primary ERAS application, you have a very generous 1020 characters to write about your experiences. That is a lot relative to the ERAS supplemental which frankly doesn't make too much sense to me but we will help you work with these limits.
So, step one is to select what experiences you will highlight. To do this, you should write down every experience, extracurricular, scholarly project, educational/training experience, and hobby, and decide which best reflect who you are and what is important to you. Also consider the "story value" of the experiences you consider carefully how those experiences, in summary, depict who you are. 
Once you do this, figure out which experiences will also overlap with your ERAS entries. For example, you will not be writing about your education in your ERAS entries but you will be writing about your research, community service, hobbies, and work experiences. For those experiences that overlap between the main application and the supplemental, think about how you will write about them in each separate document. You don't want to repeat any information in the two sections; each should convey different information and insights.
In the ERAS supplement, you have only 300 characters so you must be concise in describing the impact of each experience as briefly as possible. Select those that will set you apart as a unique and exceptional candidate — residency programs want candidates with a range of diverse backgrounds and qualities. The supplement is not the place to outline your roles and responsibilities; that is what the primary application is for.
It is acceptable to repeat topics and experiences that appear elsewhere in your application. However, you want to use the limited space you have in this section to write with greater depth and insight about how those experiences impacted you or to write about them from a different perspective or angle. Do not simply copy and paste content from your ERAS description; write something new and fresh. 
Some program directors surveyed found the past experiences section redundant. Don't fall victim to redundancy and use the space you have to your advantage! Tell a story of who you are, what is important to you, and how these experiences detail your path to your desired specialty while highlighting what has been vital to your development along that path. 
Other Impactful Experiences Section
The vast majority of students will not complete this section and should only do so if you have had extenuating circumstances that have impacted your life. Some topics the Association of American Medical Colleges suggest you write about include:
"These experiences could be related to family, financial, or educational background, the community setting in which you grew up, or general life circumstances. This question is not intended for all applicants. Carefully consider whether this question is applicable to you and if you should respond to this question using the examples provided in the appendix. Approximately 30% of applicants did not reply to this question in the 2022 ERAS cycle. Programs do not expect all applicants to reply to this question."
Topics you may write about include:
Family background (e.g., first generation to graduate college)

Financial background (e.g., low-income family, worked to support family growing up, work-study to pay for college)

Community setting (e.g., food scarcity, poverty or crime rate, lack of access to medical care)

Educational experiences (e.g., limited educational opportunities, limited access to advisors or mentors)

Other general life circumstances (e.g., loss of a family member, serving as a caregiver while working or in school)
You will have 750 characters for this section.
Last year applicants wrote about the following topics:
Financial hardships (19%)

Serious life challenge, illness, passing of a family member (18%)

First generation to higher education or in medicine (12%)
The Geographic Preferences Section
In this section, you will have the opportunity to designate up to three geographic divisions in which you wish to take part in a residency program. You may also indicate that you don't have a geographic preference. 
In this section you will also be asked your "SETTING PREFERENCE" — urban or rural — and an explanation for your choice. You can also select that you have no preference. This selection is sent to all programs and you will be allowed 300 characters to write about your preference.
For example:
Having lived in both urban and rural settings, I appreciate what both have to offer and do not feel the quality of my training will be impacted by the practice setting. I would therefore be grateful to practice in either setting.
You can choose among the nine geographic divisions as identified by the U.S. Census Bureau:
Pacific West: AK, CA, HI, OR, WA

Mountain West: AZ, CO, ID, MT, NM, NV, UT, WY

West North Central: IA, KS, MN, MO, NE, ND, SD

East North Central: IL, IN, MI, OH, WI

West South Central: AR, LA, OK, TX

East South Central: AL, KY, MS, TN

South Atlantic: DC, DE, FL, GA, MD, NC, SC, VA, WV

Middle Atlantic: NJ, NY, PA

New England: CT, ME, MA, NH, RI, VT
In up to 300 characters, you may explain each of your preferences. For example, you might illuminate ties you have to the region, such as family or ancestry in the location. Your geographic preference will only be shared with programs in that geographic area. If you are moving from an area where you have strong ties, we suggest mentioning this desire.
For example:
I have spent my college and medical school years in Rhode Island but I would ultimately like to practice and live on the west coast to be closer to my family.
How many Geographic Preferences Can I Choose?
You can select up to three geographic preferences of the nine listed above. We recommend choosing those areas that genuinely appeal to you. It is also important to choose regions outside of those with which you are familiar if you are seriously considering those areas. For example, if you have spent your entire life in California, but you are really interested in training in the midwest, be sure to select East North Central as one of your preferences and write about what appeals to you about the midwest.
ERAS Supplemental Program Signals Section
Program signals are indicators that allow you to express interest in particular residency programs. They may be used as data points that help programs determine to whom they should extend interview invitations, along with other information. 
A couple of key points:
Programs that participate in the ERAS supplement will only see your preference if you have signaled them, and they will not see other programs you have signaled. 

Program signals are not ranked.

You may also skip the signaling program section but we do not recommend this.
When you're completing this section, reflect on factors such as your personal goals, your likelihood of matching and how competitive you are as an applicant, the competitiveness of the programs, and geographic preferences. You may only signal up to a certain number of programs (variable by specialty), so select them with care. 
How to Choose Preference Signals
Data from last year showed that a majority of programs received the majority of the preference signals. What this says is that the most competitive and  popular programs are preferred by everyone. In terms of strategy, it likely would make the most sense NOT to use your preference signals for overly popular top programs since the more signals a program receives, the more dilute the impact of your signal. 
The only scenario in which we would recommend sending program signals to very competitive programs is if you are a top applicant who is likely to match to a top program.
For applicants who are not aiming for top tier programs, sending a signal to a  "less popular" program can help you get noticed and can essentially serve as a flag to make sure your application is seen (and reviewed). A signal tells a program that you are really interested in them which can be really appealing to a program that isn't so popular or for one that hasn't filled historically. 
Regardless of your candidacy, we do not suggest sending all of your signals to top tier programs. In choosing your preference signals, you need to be realistic about your candidacy.  By the same token, if you are a very competitive applicant, you don't want to send preference signals to "safety" programs where you are very likely to receive an interview thus potentially "wasting" a signal.
In summary, for the vast majority of applicants, we suggest sending preference signals where you have a decent chance of receiving an interview, where you aren't a shoe-in, and, if possible, choose programs that won't receive hoards of program signals where your signal will fail to "stand out." Be strategic and thoughtful, approaching it the same way you would apply to college, using a blend of reach, target, and safety programs.
If you already have strong ties to the program, you probably don't need to use up a signal on that option because your interest will already be known. 
In summary, do not send program signals to:
Your home institution

An institution where you have done an away rotation

A program that is far out of reach

A program that is surely a safety
For more guidance on how to complete the optional ERAS supplemental application, review the Supplemental ERAS Application Guide.
Final Sentiments
On the one hand, another hoop to jump through is annoying when you are applying to residency! You don't need more stress! However, if you use the ERAS Supplemental Application strategically and to your advantage, it can offer another opportunity to set yourself apart from the onerous sea of applicants to make the program director's job easier to choose you!