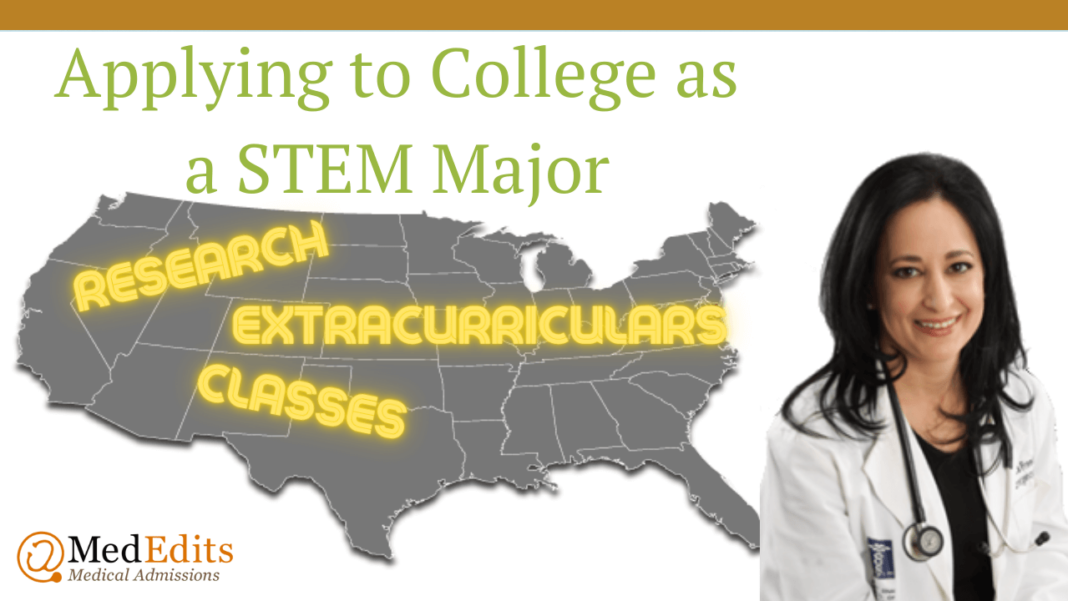 Applying to College as a STEM Major: How to Stand Out (2022-2023)
In the 2019–20 academic year, 429,298 STEM bachelor's degrees were awarded in the United States.
A high-demand collection of fields, STEM (science, technology, engineering, and mathematics) draws hundreds of thousands of applicants every year. And while almost every college is seeking talented students to join its ranks, the competition for a coveted spot in a STEM department is fierce.
How do you stand out?
What classes should you take?
It probably comes as no surprise that you will need to take plenty of STEM courses to be admitted as a STEM major. But you should go far beyond the minimum requirements for your high school.
You should aim to take the most challenging courses in math and science available to you, meaning the most rigorous curriculum your school offers. That means plenty of advanced placement (AP) or international baccalaureate (IB) and honors courses in subjects like Calculus, Computer Science, Statistics, Chemistry, Biology, Physics, and so on. This is a must for practically all STEM disciplines. If your school offers additional courses that interest you, take those, too!
Many STEM applicants supplement courses available at their high schools with additional classes outside of school. This includes dual enrollment classes at a local community college or college classes either in the summer or during the school year. Bear in mind that this may not be feasible for everyone, so don't worry if you can't access these challenging courses — college admissions committees will evaluate you in the context of the curriculum available to you.
Don't just focus on STEM subjects, however. Colleges seek out students who have demonstrated specializations, but professionals in these fields need a variety of skills like strong writing. This is something you can demonstrate by, for example, taking AP courses in humanities subjects, too.
What GPA do I need if I want to be a STEM Major?
This is a generic answer, but, of course, you should have a strong GPA as well. At the most competitive colleges, successful applicants have top grades — mostly, if not all, A's, especially in STEM subjects. Keep in mind that colleges only look at UNWEIGHTED GPAs when reviewing applications so do not get hung up on your weighted GPA. Regarding your GPA, remember you will be reviewed within the context of your high school. For example, if your school has grade inflation, you should aim for straight As in all your classes. For the majority of applicants, a B or B+ or two on the transcript is not a deal breaker.
What SAT/ACT do I need as a STEM Major?
The most competitive applicants have minimum ACT / SAT scores of 35 / 1530. You also want your "highest" scores to be in either science and math on the ACT and in math on the SAT if you are applying as a STEM major.
What AP Scores do I need as a STEM Major?
Ideally, you should earn all 4s and 5s on any STEM-related AP exam.
About MedEdits
MedEdits helps students get admitted to college, BS/MD programs, medical school and residency programs. Our consultants have years of experience serving on medical school admissions committees, and as faculty members at the top medical schools in the country.
Need Help With Finding the Right College?
Schedule a Free 15 Minute Consultation with a MedEdits expert.
Which extracurriculars should you pursue?
Many STEM applicants have stellar grades and test scores. In order to stand out in a pool of talented students, you should participate in impressive extracurricular activities. Usually, it's best to show a deep commitment to a couple of key areas or disciplines, rather than try to show a superficial interest in a number of subjects and topics.
Look for unique activities to set yourself apart, and find ways to create an impact while demonstrating leadership skills (the two usually go hand in hand). For example, you might start a STEM-focused club at your school in public health or epigenetics or establish a chapter of a nationally-recognized organization in a discipline of your interest. Engage in independent research also related to your niche interests. Seek out internships. Take extra courses to become an expert in your niche.
It is also important to give back to your community in some way within your niche through advocacy or service work. This could mean tutoring under resourced children, creating a STEM club for middle school students at a local school, volunteering for a political campaign that supports your ideals, or creating a video series for kids about STEM-related topics.
STEM competitions are also great opportunities for future STEM professionals to show off their skills. Consider competitions like Science Olympiad, Google Science Fair, and Regeneron Science Talent Search.
The key is to show the "three Is" in whatever you choose to do (this is something you will hear from us a lot!):
Impact

Intellectual Curiosity

Initiative
Be creative — and ambitious!
Interested in College Advising or Essay Help? Email us: info@mededits.com
List of Some STEM Majors
Keep in mind that this is not a comprehensive list! Many larger universities have niche interdisciplinary majors while smaller liberal arts colleges tend to have fewer in those categories. Therefore, when deciding what activities to pursue in college, you need to keep in mind that you want to be competitive for both types of majors depending on the colleges you plan on applying to.
Applied Mathematics

Applied Mathematics-Biology

Applied Mathematics-Computer Science

Applied Mathematics-Economics

Astronomy

Behavioral Decision Sciences

Biochemistry & Molecular Biology

Biology (Ecology & Evolutionary)

Biology (Molecular Biophysics & Biochemistry)

Biology (Molecular, Cellular, & Developmental)

Biomedical Engineering

Biophysics

Chemical Engineering

Chemical Physics

Chemistry

Cognitive Neuroscience

Cognitive Science

Computational Biology

Computer Science

Computer Science-Economics

Computer Science- Psychology

Data Science

Electrical Engineering

Electrical Engineering & Computer Science

Engineering

Environmental Studies

Geological Sciences

Geology-Biology

Geology-Chemistry

Geology-Physics/Mathematics

Health & Human Biology

History of Science, Medicine, and Public Health

Linguistics (can have a STEM component such as Computational Linguistics)

Mathematics

Mathematics-Computer Science

Mathematics-Economics

Mechanical Engineering

Neuroscience

Physics

Physics and Philosophy

Public Health

Science, Technology, and Society




Statistics
What summer activities should I be involved with?
As an aspiring STEM major, you must use your summers wisely to build, find, establish, and explore your niche. Whether you pursue additional coursework, research, community service, or another independent project, you want to demonstrate what your speciality within STEM is.
READ: MOST PRESTIGIOUS SUMMER STEM PROGRAMS
What skills do you need as a STEM major?
There are plenty of hard and soft skills colleges look for in STEM majors. In addition to your coursework and extracurriculars, you can demonstrate them in your application via other components, such as your essay.
Communication is an important skill for STEM majors. While the disciplines are technical and scientific, you will be tasked with communicating your work with others in writing, through presentations, and more. You should also demonstrate strong critical thinking and problem-solving abilities.
Personal qualities are valuable, too. Colleges want students who have strong moral fiber and character. You can demonstrate these qualities by, for example, participating in community service and volunteer work.
What to consider before applying as a STEM major
These fields are rigorous and demand the best of the best. Nobody can — or should — fall into medicine or engineering, software development or forensic science. It will take an enormous amount of work, resilience, and dedication.
That means that if you are pursuing a path in STEM, you need to really want it. Your application should attest to a true passion for the material and discipline you want to be a part of. You should show that you've explored and engaged in your interests beyond the classroom and enjoy learning and challenges. The true stars are the ones who aren't engaging in this work to impress others or make a lot of money — they are the ones who do it because they love it.
Careers for STEM applicants
There are many careers open to STEM majors. These are just a few of the many options (NB: some require a graduate degree):
Physician

Dentist

Epidemiologist

Nurse practitioner

Occupational therapist

Physical therapist

Physician

Psychologist

Surgeon

Veterinarian

Engineering

Biomedical engineer

Civil engineer

Environmental engineer

Mechanical engineer

Tech

Data scientist

IT specialist

Information security analyst

Software developer/engineer

Web developer
Mathematics
Accountant

Actuary

Financial advisor

Statistician

Data Analyst
Miscellaneous science
Academician/Scientist

Teacher/Professor

Biochemist

Forensic scientist

Geoscientist