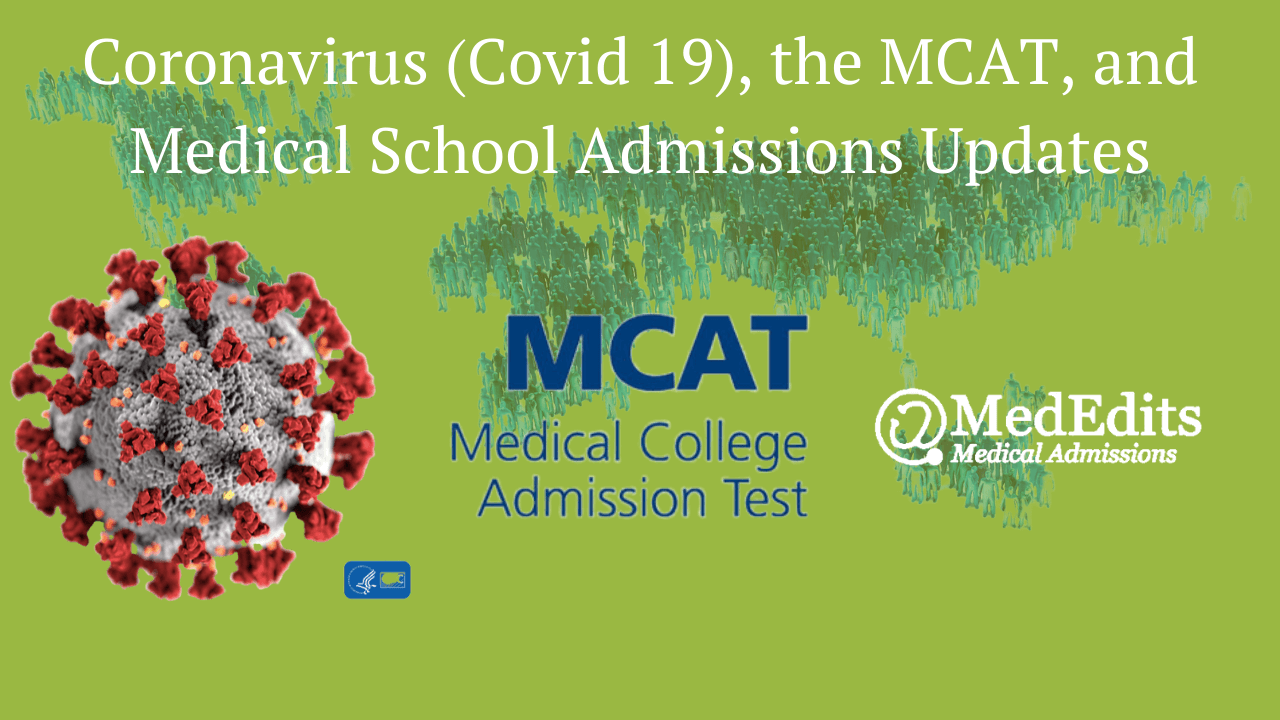 As the Coronavirus (COVID-19) pandemic sweeps the nation and the world, MedEdits' goal is to serve as a centralized resource for premeds and medical school applicants to understand the overall impact COVID-19 is having on medical school admissions, the MCAT, and the medical school application process. Our primary concern at MedEdits is that everyone stay safe and work collaboratively to get through this stressful time together. 
We anticipate that this admissions season will be a fluid process and the Association of American Medical Colleges, American Association of Colleges of Osteopathic Medicine will work with medical schools to determine the best course of action as the admissions season and the COVID pandemic progresses. Applicants and premeds will need to cope with a degree of uncertainty and flexibility as deadlines and requirements could change over the course of the year.
We will be updating this page regularly to reflect changes as they happen so please visit often, "like" our Facebook page, and subscribe to our YouTube channel.
Coronavirus (COVID-19), GPA and Academics
The majority of colleges in the United States that have moved to distance learning are offering students the option to take classes pass/fail. If you are in this position, we advise you to take your medical school requirements and all classes that fall under the biology, chemistry, physics, and mathematics (BCPM) categories for a grade. Some colleges, however, are not offer a graded option. If your college is only allowing you to take your courses pass/fail, there is little you can do.
Students are concerned that taking classes pass/fail will be viewed poorly by medical school admissions committees. However, because all students are now in this situation, medical school admissions officers will not view a pass/fail grade negatively if that was your only option.
The bigger question, however, is for students who are applying to medical schools this spring who were hoping for high semester grades to boost a GPA or demonstrate an upward trend. How we would advise students in this position would really depend on the earlier academic performance.
Coronavirus (COVID-19) and The MCAT Exam
As of now, Pearson | Vue testing centers are closed through April 15th. We will keep you posted about this situation and offer further guidance if more test dates are canceled or added.
Coronavirus (COVID-19) and Extracurricular and Scholarly Activities
Many MedEdits' students are disappointed because some valuable experiences and opportunities such as research, shadowing, volunteering, and teaching, have been canceled for the summer. Obviously, students who are now home rather than on campus also don't have access to the opportunities they once did. It is important to remember that everyone is in the same boat!!! At this time, very few medical school applicants are working or volunteering outside the home so medical school applications will be reviewed with this in mind! 
What can you do to show you are still invested and involved? Take an additional course that interests you, volunteer (virtually if necessary) to help your community including school age children who are now homeschooling, the elderly who are isolated, or see if there is an opportunity to volunteer with the Department of Health in your area.
Coronavirus (COVID-19) and Medical School Application Timeline
At this time, there has been no change to the medical school application timeline, but, that could change depending on the progression of COVID-19 throughout the nation. At MedEdits, we anticipate that the medical school admissions timeline could get pushed forward with interviews starting later.
Coronavirus (COVID-19) and Medical School Admissions
It is possible, depending on how much COVID-19 impacts applicants' ability to take the MCAT and whether or not the medical schools change the medical school application timeline in response to MCAT testing availability, that this could be a less competitive year for medical school admissions. Why? Since many students take April, May, and June MCAT exams, if those exams are canceled and medical schools do not change timelines or MCAT requirements, it could result in fewer people applying. Let's wait and see what happens on this front.
Coronavirus (COVID-19) and AMCAS
Coronavirus (COVID-19) and AACOMAS
AACOMAS deadlines have not changed.
Coronavirus (COVID-19) and TMDSAS
Coronavirus (COVID-19) and CASPER
Because CASPER is an online test taken at home, we do not anticipate any changes.
Coronavirus (COVID-19) and Medical School Interviews
Depending on the progression of COVID-19, it is possible that medical school interviews will be conducted virtually. If this is the case, it is possible there will not be MMI interviews this year and those medical schools would convert to traditional interviews this season. 
If you need further assistance or if the impact of COVID-19 makes you question whether or not you are ready to apply to medical school this year, please sign up for a free 15 minute consultation for guidance.
Related Links: 
https://www.aamc.org/coronavirus-resources-academic-medicine-community