Taking a Gap Year Before Medical School (2024)
Should you take a gap year before going to medical school? It's an option that's becoming increasingly popular, with the average age of first-year medical students steadily climbing upward. If you are contemplating a gap year you are likely asking yourself the following:
Will a gap year help me get into medical school?

What is the best thing to do during a gap year?
Dr. Jessica Freedman, a physician, bestselling author, and the chair and founder of MedEdits Medical Admissions, looks at the data and offers advice based on more than 15 years of experience working with students applying to medical school.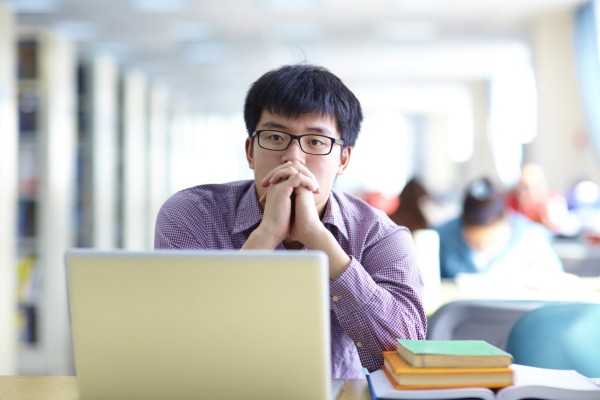 What percentage of medical students take gap years?
The Association of American Medical Colleges (AAMC) stopped reporting data for the average age of medical school matriculants in 2018. Therefore all current data is gathered from the Medical Student Questionnaire which is given to medical school matriculants annually. The most recent median age of medical school matriculants was 23.
The self-reported data shows that in 2022, 47.2% of matriculants started medical school one to two years after college, compared with 41.4 percent in 2017. The percentage of students who took off three or more years was 15.4%. 
Meanwhile, 28.9 percent of matriculants had graduated from college in less than one year since graduating from college, compared with 37.5 percent in 2017 — a meaningful decline.
That means, in total, approximately 71% percent of medical school matriculants had taken at least one gap year as of 2022. If you don't take a gap year, you're now in the minority of candidates.
Does Taking a Gap Year Improve your Medical School Admissions Chances?
Unfortunately, there's no AAMC gap-year or age-cohort data like there is for other demographic data to show us which group of applicants are most successful in the medical school admissions process. Therefore, we can determine exactly which group of students has greater success.
In the actual admissions process, medical school admissions officers look at those applicants with real-world experience alongside those who just graduated from college which explains MedEdits' anecdotal observations: students who have taken at least one gap year often have a leg up in the medical school admissions process. Why?
Students with more life experience usually have more robust accomplishments and observations leading to stronger medical school applications (medical school personal statement, secondary essays, and work and activities) and more compelling medical school interviews because they have more interesting talking points that might show more depth than a current college senior.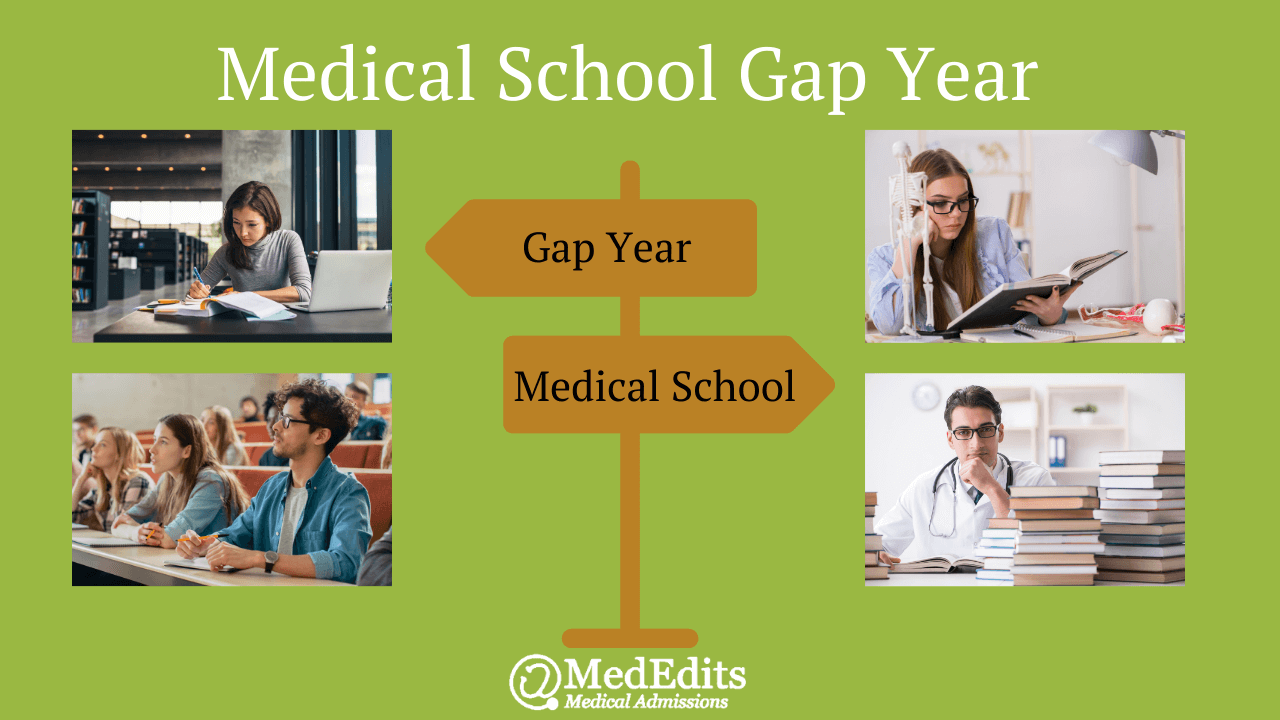 Getting into a medical school has never been more competitive. Let the experts at MedEdits help you with your medical school application materials. We've worked with more than 5,000 students and 94% have been admitted to medical school.
Need Help Navigating The Admissions Process?
Schedule a Free 15 Minute Consultation with a MedEdits expert.
Who should Take a Gap Year?
As discussed above, just about anyone can benefit from a gap year! Ask yourself the following questions to decide if taking a gap year is a good option for you:
Is your GPA or MCAT lower than the average for students accepted to medical school? Do you still have prerequisites to complete? Consider academic enhancement.
Do you lack significant clinical exposure or research experience? Is your extracurricular profile a bit lacking? Seek out more clinical exposure, research, or other scholarly endeavors. 

Do you have a special interest you would like to explore more deeply? Take a year (or two) to explore a specific interest or a develop a new one. 

Do you need more time to complete everything (your courses, MCAT, experiences) or do you want a break from school? The vast majority of students cannot get everything "done" in time to be the strongest applicant by the end of junior year of college. This is why many students simply need more time to prepare for medical school!
What Should you do During a Gap Year?
When embarking on your gap year, consider the following questions:
Do you have any weaknesses in your candidacy? If so, what are they?

How do you want to enhance your candidacy?

Are there gaps in your experiences?

What interests you most?
The answers to these questions should point you to two basic categories which gap year generally fall into the following categories:
1) Academic work for students who need to enhance these credentials.
2) Practical experience for students who have experience gaps or want to explore and interest further.
Academic Work Options
The reasons students pursue additional coursework after college is usually because they need academic enhancement to improve a lackluster undergraduate GPA, because of a specific interest they want to pursue further or they lack medical school prerequisites.
What are Special Masters Programs?
Some students pursue a Special Masters program (SMP) after college and before enrolling in medical schools. These programs are specially designed for students who need academic enhancement in the sciences. Bear in mind that these programs can be very competitive and may require an MCAT to apply and deadlines are in the spring. For example, Drexel University receives between 500 and 700 applications for approximately 40 seats.  85% Georgetown SMP graduates enroll in medical school.
Read: Is a Special Masters Program Before Medical School Helpful?
Other Masters Programs
Other students elect to pursue a master's in a specific discipline, such as public health. This is a path you should only take if you have a demonstrated interest in the discipline; otherwise, you'll appear disingenuous. Note that while this can be fulfilling, it won't bump your Biology, Chemistry, Physics, and Math (BCPM) GPA as much as an SMP.
Post Baccalaureate Programs
Another option is a post-baccalaureate program, either as a formal or DIY program, which is designed for people changing careers or students who haven't met their prerequisites for medical school. Note that this is not the same as an SMP and students who have completed all medical school prerequisites should not enroll in post baccalaureate programs.
Practical Gap Year Experiences
Gap year students usually engage in academic work, research, clinical work, community service or a combination of the four. 
Academic Experience
Depending on your interests and needs, students will sometimes opt for Master's in specific disciplines such as public or global health. 
Others who are looking specifically looking for academic enhancement might consider a special master's program.
Research Experience
Research could fall into categories like basic science or public health and might mean continuing with existing projects, such as working with an undergraduate professor, or finding new opportunities. Because research is essential for getting into medical school, this is an especially fruitful way to spend your gap year if you haven't accumulated much experience as an undergraduate.
Clinical Work
Medical schools are increasingly placing more value on direct patient care. Opportunities to work with patients and other medical professionals can consist of scribing, working as an EMT medical assistant, certified nursing assistant, medical tech, or ultrasound tech to name a few.
Community Service
Others undertake meaningful community or service work, such as teaching, working or volunteering in a free clinic or health care organization or not for profit. For example, you might join Teach for America, Americorp, Indicorps, Global Health Corps, or work for Planned Parenthood. Even students who work in research or in a clinical setting during the gap year usually do community service over the course of the year in some capacity. 
A Diversified Gap Year
Many choose to spend their gap year combining several activities, such as MCAT preparation and research. Supplementing one primary activity with an additional activity or two could further enhance your application. Other possibilities include working or volunteering in a nursing home or assisted living community or hospice.
Final Thoughts
Ultimately, a gap year can benefit medical school applicants, but it's not necessary for all students. Having worked with all types of applicants, at MedEdits, we've seen how it's best used to address red flags, fill in gaps, explore new interests, deepen existing interests, or study for the MCAT. If you do have a fulfilling way to spend your gap year and a plan for how to carry it out, you'll likely find that it will be time well spent.
Common Gap Year Concerns
Will time away from school get my child off track?
Actually, at MedEdits, we find that time away from school can make students more motivated. The applicants who choose to take a gap year tend to be very focused and driven.
Will I be the oldest in my class?
As we've noted, the average age of medical school matriculants is actually increasing. Not taking a gap year could mean you're one of the youngest in your class.
Will my child be disadvantaged?
A gap year can put you at an advantage rather than a disadvantage. Students can spend their time enhancing their academics, gaining experience, and improving their extracurricular activities. They are also often less stressed after taking at least one gap year.
About MedEdits
MedEdits helps students get admitted to medical school and residency programs. Our consultants have years of experience serving on medical school admissions committees, and as faculty members at the top medical schools in the country.
Need Help With Your Application Materials?
Schedule a Free 15 Minute Consultation with a MedEdits expert.