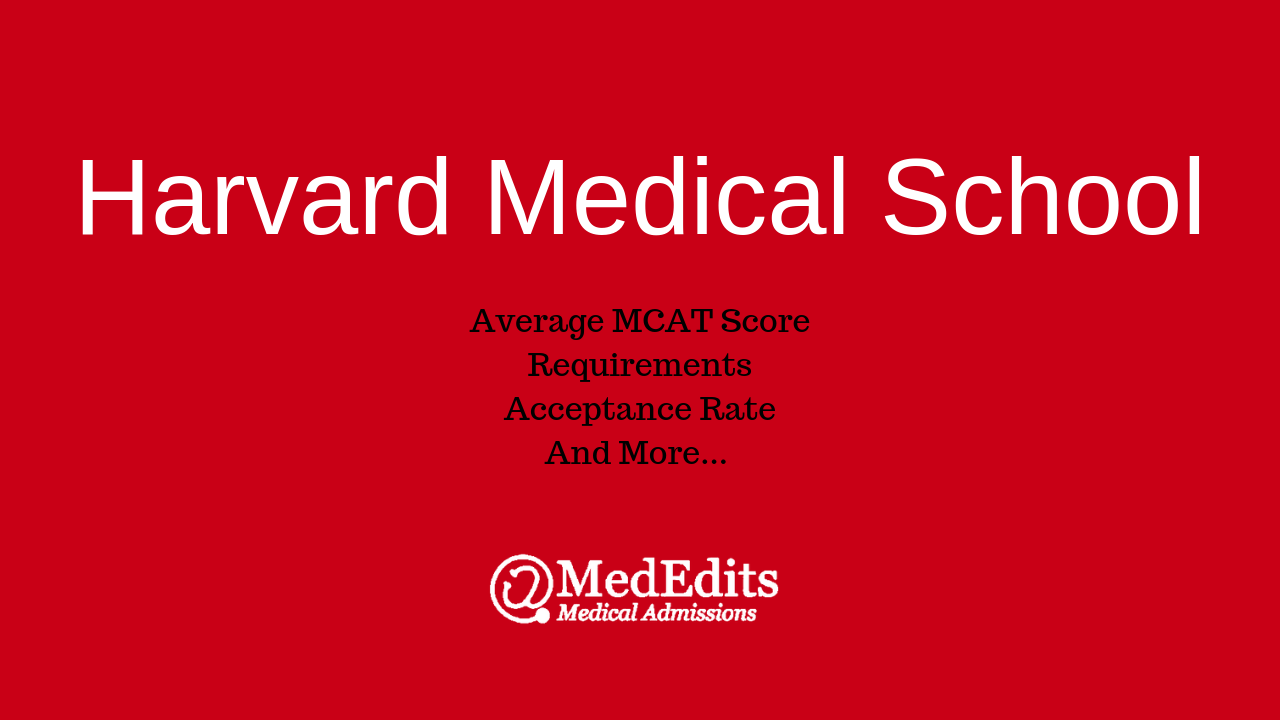 Harvard Medical School Requirements
If you are interested in applying to Harvard, it is important to know the medical school's requirements for admission. They are as follows:
Inorganic Chemistry with lab – full year (AP credit will satisfy one semester)

Organic Chemistry with lab.- full year

Biology with lab – full year

Biochemistry – one semester

Biostatistics/Statistics – one semester

Calculus – one semester (AP score of 4 or 5 will satisfy requirement) (HST applicants should take higher level math courses

Physics – one with with lab preferred (HST applicants should take calculus-based physics)

Writing – one year (humanities or social sciences)
Beat 6,917 applications and gain acceptance to HMS

Harvard Medical School Acceptance Rate 
The Harvard Medical School acceptance rate was 2.7% which reflects the most recent data available. This number does not vary much from year to year.
Here is the data broken down:
Harvard received 8,002 medical school applications.

Harvard conducted 851 medical school interviews.

Harvard accepted 222 applicants or 26% of applicants interviewed.

There were 164 medical school matriculants.

The overall Harvard Medical School acceptance rate is 2.7%.
Another set of data for the 2022 entering class is as follows:
Harvard received 9195 medical school applications.

Harvard conducted 851 medical school interviews.

There were 164 Harvard medical school matriculants.
Harvard accepts international and out of state students.
It may seem obvious, but, Harvard medical school values and expects academic excellence in applicants. Therefore, if Harvard is your goal, be sure to challenge yourself in your undergraduate coursework as much as possible.
When reviewing Harvard's acceptance data, realize that the numbers are averages! Not everyone who gets into Harvard has a perfect GPA and MCAT! Below is the data for accepted students.
Harvard Medical School Average MCAT 
Average MCAT Score – 520 (range 515-525)
RELATED ARTICLE: LEARN MORE ABOUT MCAT SCORES
Harvard Medical School Average GPA 
Average GPA – 3.9 (range 3.79 – 4.0)

Average BCPM GPA – 3.95 (range 3.74 – 4.0)
Related Video: Medical School Admissions Statistics – Tips to get into Medical School 2023-2024
Harvard Letters of Recommendation Requirement
Harvard allows applicants to submit up to six letters of reference with the following specifics from Harvard Medical School's website:
At least two (2) letters should be from professors in the sciences with whom they have taken classes.

At least one (1) letter should be written by a professor who is not in the sciences.

We should receive letters from all research supervisors for applicants to the MD-PhD program as well as applicants to the MD program.

Applicants may exceed the six (6)-letter maximum if the additional letters are from research supervisors.

If applicants wish to supplement a premedical advisory committee evaluation packet with additional letters of recommendation, they should count the packet as one (1) letter toward the six (6)-letter maximum.

We do not require letters of recommendation from employers, but if applicants have been out of school and working they should have a letter sent from their place of employment.
Harvard Medical School Curriculum
Harvard's more traditional and primary medical school curriculum is called the Pathways Program in which 135 students enroll annually. This is a case-based medical school curriculum with early clinical exposure that culminates in a scholarly project.
In addition, Harvard has a joint program with the Massachusetts Institute of Technology (MIT) called the Health Sciences and Technology (HST) program which is a rigorous curriculum designed specifically for students with an interest in quantitative science and enrolls 30 students per year.
Harvard Medical School Tuition
HMS Tuition = $67,610
72% of students receive financial aid.

Harvard Medical School Personal Statement
Harvard Medical School Work and Activities
Harvard Medical School does not ask you to submit a CV or resume. Instead, Harvard requires you to submit a centralized AMCAS application which requires you to write about your accomplishments in detail. These "work and activities entries" as they are called, are sent to Stanford as well as any other medical schools to which you apply through AMCAS.
Below are a few things you should know about the AMCAS work and activities.
AMCAS work & activities entries give you the chance to let medical schools know how much you've accomplished during your premed years.
This section of the AMCAS application offers the opportunity to write about up to 15 activity descriptions that are up to 700 characters in length

 You can then select three of those activities as most meaningful activities which gives you an additional 1325 characters to elaborate on the activity.
We encourage you to use this space to your advantage, elaborating as much as possible about your roles, responsibilities, the insights you gained, as well as what you have learned from the experience. You should also write in detail about the impact or "difference" you have made through the experience.
Click here to read more about AMCAS Work & Activities Section (With Examples): The Ultimate Guide.
Getting into Harvard Medical School
The key when trying to get into Harvard medical school or any extremely competitive medical schools is to have deep, long-standing, and meaningful involvements where you have made significant contributions and had exceptional levels of achievement. Ultimately, Harvard is looking for applicants who show tremendous promise to become leaders in medicine. So, assuming you have the stats to be considered for Harvard Medical School, in what activities should you excel to distinguish yourself in the admissions process?
Research
A whopping 99% of Harvard first year medical students had research experience which makes research a requirement for Harvard applicants. And, the more sophisticated your research the better chances you will have of standing out in the admissions process. Demonstrating national or world-wide recognition though publications or presentations, is a bonus.
Medical/Clinical Volunteer or Community Service Experience
By the same token, 93% of students had experiences in this category so, to be competitive, we suggest deep involvement in medically related community work, work with different populations, and work with underserved populations.
Clinical Experience/Physician Shadowing
88% of students had done physician shadowing. Therefore, gaining as much exposure to different specialists in different medical settings will help distinguish you. Even though Harvard is a research-focused school, they like to see exposure to primary care as well.
Community Service
Finally, 81% of students had other types of community service work.
Harvard Medical School Application and Timeline
So, what can you do to set yourself apart in the application process? Be sure you write a thoughtful AMCAS personal statement and work and activities section. You should also make composing your Harvard secondary essays a priority. Interestingly, Harvard's secondary essay prompts are not very specific and ask you to write about what you have done if you have already graduated and to explain any important aspects of you background and identity not addressed elsewhere in your application.
June: Submit AMCAS Application

July: Harvard starts sending out secondary applications. Click here to view Harvard Medical School secondary essay prompts.

September: Interviews Begin

October 15: Final AMCAS deadline

October 22: Final supplemental materials deadline

October 31: AMCAS transcript deadline

January: Interviews conclude

Early March: All admissions decisions released

April 30: Admitted students planning to enroll at HMS must select the "Plan to Enroll" option on the Choose your Medical School tool in their AMCAS application.*
Harvard Medical School Interviews
In addition to an orientation, lunch, and tour and class observation opportunities, applicant will have two traditional one on one interviews. Students applying for the HST and MD/PhD programs will have a total of four interviews. Based on our students' experiences, Harvard interviews are low pressure and conversational. Interviewers typically ask questions about your background, experiences, and motivations. In fact, one of our applicants who recently interview at Harvard said is was the most enjoyable experience he has had on the interview trail thus far.
Final Thoughts
Harvard Medical School obviously has the luxury of selecting students from an outstanding pool of applicants. If your MCAT and GPA are excellent (517 and 3.8 or higher) or there are other extenuating circumstances about your background that distinguish you, try applying. Many people in medicine consider HMS the best medical school in the country so do what is within your control to make yourself a competitive applicant!