How to get into UT Southwestern Medical School and Requirements (2022-2023)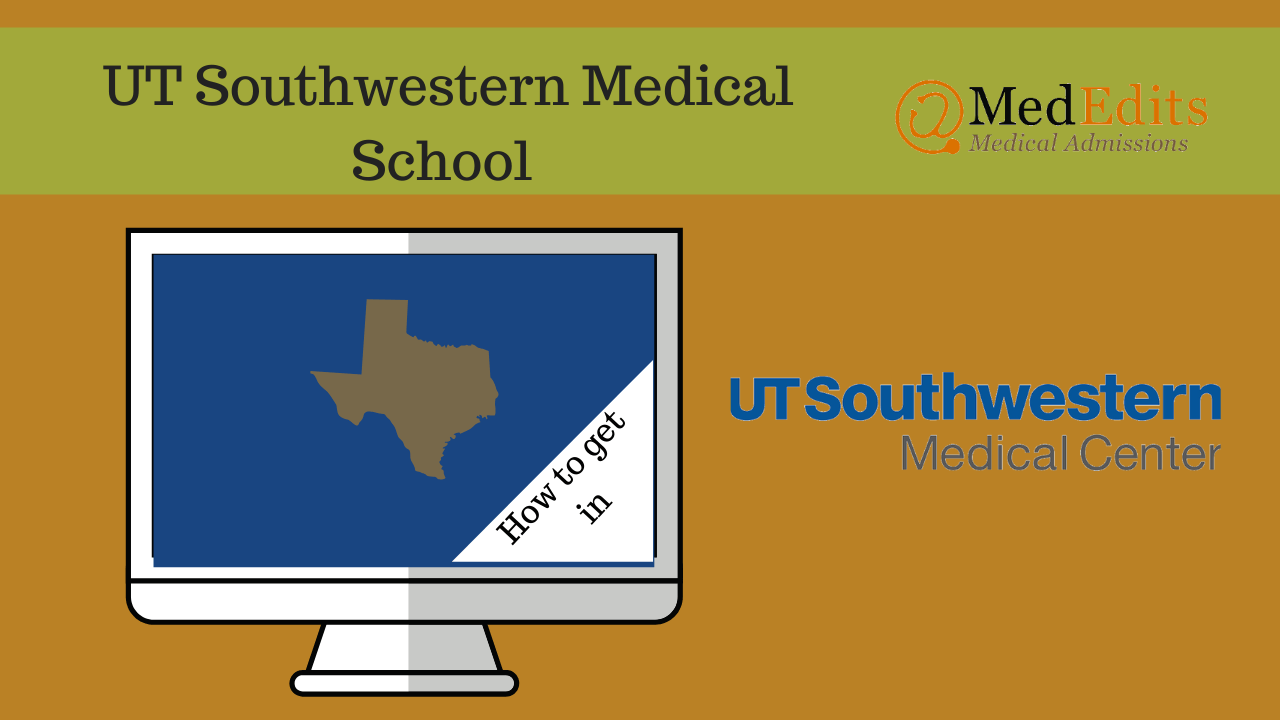 The University of Texas Southwestern Medical School (UT Southwestern) is one of the most popular medical schools in Texas for good reason. Located in Dallas, Texas, the medical school and affiliated hospitals serve a diverse population. As a major medical center, medical students also receive outstanding exposure to every specialty in medicine and have access to great medical education resources. Additionally, medical students have early clinical exposure, earn impressive residency matches, and tuition is one of the lowest of any medical school in the country especially for Texas residents. UT Southwestern is a relatively large school admitting 230 students each year. UT Southwestern uses the Texas Medical and Dental School Application Service (TMDSAS).
While UT Southwestern emphasizes the importance of clinical training and research, there are several degrees and pathways that the school offers:
Traditional MD Track 

MD/MBA

M.D./M.P.H.

M.D./Ph.D

Several Pathways (explained below)
Because UT Southwestern offers so many great options for medical students, it is a very competitive medical school. If getting in to UT Southwestern is a goal, never fear. There are many things you can do to improve your chances of acceptance. In this article we will review the following:
GPA Requirements

MCAT Requirements

Experience Requirements

Application

Deadlines and Secondary Essay Requirements
Let's discuss each of these items in greater detail.
UT Southwestern Medical School Ranking 2020
UT Southwestern is one of the best medical schools in Texas and is ranked #18 in primary care and #26 in research by U.S. News and World Report for 2020.
UT Southwestern Medical School Average GPA
Not surprisingly, the average GPAs for accepted students his impressive. 
Average GPAs for students accepted to UT Southwestern:
UT Southwestern

Medical School GPA

: 3.84
UT Southwestern

Medical School BCPM GPA

: 3.87
UT Southwestern Medical School Prerequisites
UT Southwestern has very conservative prerequisite requirements which include:
Biology

Biochemistry

English

Chemistry (inorganic and organic)

Mathematics

Physics
Even though not required, we recommend all applicants also enroll in upper level science and/or math classes to demonstrate academic excellence in higher level work.
UT Southwestern Curriculum Highlights
The UT Southwestern Medical School curriculum is flexible and distinct in several ways:
The preclinical education is only 18 months. Clerkships start in January of the second year. This allows for more clinical exposure and exploration before having to decide on a specialty.

There are small group academic colleges that meet regularly throughout the four years of medical school.

UT Southwestern offers clinical pathway options to explore interests in many disciplines including global and community health.

There are 12 weeks dedicated to a scholarly activity in the third and fourth years.

Students have a total of 18 weeks for electives which is very generous.

Students are given up to eight weeks to interview for residency positions.

Preclerkship grading is pass/fail.
UT Southwestern Medical School MCAT Requirements
As you might expect, students accepted to UT Southwestern earn very high MCAT scores. The average MCAT for enrolled students is 515 with a range of 508 – 524. In our experience, students should have an MCAT of 516 or higher to be competitive for an interview invitation. Of course there are circumstances that might influence an applicant's chances of earning an interview with a lower score.
UT Southwestern Medical School Experience Requirements
Below you can find out what categories of experiences UT Southwestern med students have had to give you an idea of what you may need in your extracurricular and scholarly background to be a competitive applicant.
Community Service/Volunteer work
The majority of students (85%)  have done community service or volunteer work.
Physician Shadowing/Observation
As a medical school that emphasizes a clinical education, it shouldn't surprise you that 92% of accepted students also have physician shadowing/observation experience. 
Medical/Clinical Community Service/Volunteer
85% of students have community service experience that is medical or clinical in nature. This is a separate entity from general community service work and typically involves serving in nursing homes, hospice, volunteer EMT work, or working in a medical clinic.
Research 
For a school that values research, it is expected that such a high percentage of students (92%) have research or lab experience. 
UT Southwestern Medical School Letters of Recommendation
Letter of recommendation requirements follow TMDSAS which allows for one Health Professions Committee Packet or three individual letters of reference. You are also allowed to send in one additional letter of reference via TMDSAS. Otherwise, only the UT Southwestern MD/Ph.D. program has specific requirements to send in letters directly to the program and be sure to include letters from any research mentors.
Related Article:
UT Southwestern Secondary Essays
UT Southwestern Medical School Personal Statement
UT Southwestern Medical School Work and Activities
UT Southwestern Medical School does not require you to submit a CV or resume directly to the medical school. Instead, UT Southwestern Medical School participates in the centralized TMDSAS application service which requires you to write about your accomplishments. This application is sent to UT Southwestern as well as any other medical schools to which you apply through TMDSAS.
Below are a few things you should know about the TMDSAS work and activities.
TMDSAS work & activities entries give you the chance to let medical schools know how much you've accomplished during your premed years.
For each experience entry you are only allowed 300 characters with spaces. The TMDSAS system list your activities in chronological order automatically. 

Additionally, TMDSAS asks you to identify

three top meaningful activities

for which you are allowed 500 characters each.
We encourage you to use this space to your advantage, elaborating as much as possible about your roles, responsibilities, the insights you gained, as well as what you have learned from the experience. You should also write in detail about the impact or "difference" you have made through the experience.
UT Southwestern Medical School Secondary Essay Requirements
Required Essays:
Describe a group project or activity that you are most proud of. Consider the following in your response: What aspect makes you most proud? How was it accomplished? How did you deal with disagreement or conflict in the group? How did you get fellow group members to embrace a position or view your perspective? (2,500 characters)
In this essay, you want to make the following clear:
You are a team player.

You can work well with others.

You can resolve conflict calmly and reasonably while considering others.

You are a good communicator.

You are humble.
When writing this essay, the activity or project can be from any aspect of your life whether than is an academic project, extracurricular activity, work activity, research, or something related to sports or the arts, for example. The activity you choose to focus on is not important; what matters is that you demonstrate you can resolve conflict and work well as a member of a team.
Describe a time that you have witnessed someone acting unethically or dishonestly, or an experienced behavior of harassment or discrimination. Consider the following in your response: What did you do? What made the situation difficult for you personally? Describe your reaction and what you might do differently now in retrospect. (2,500 characters)
In this essay, the reader wants to be convinced of the following:
You are ethical and honest.

You understand what unethical and/or dishonest behavior or harassment/discrimination is.

You can be an upstander (and not a bystander).

You can be an advocate for others.
As a medical student and physician you will always be in positions when you need to advocate for others. You will also be caring for a diverse group of patients from many different backgrounds. Therefore, the admissions committee wants to know that you have good values and ideals to offer unbiased care and that you can advocate for others.
Describe an example of a very difficult assignment, task, or situation that you did not think you could accomplish. Consider the following in your response: How did you approach it? If you were tempted to quit, why did or didn't you? What made you stay the course despite obstacles? What did you learn from the experience? (2,500 characters)
In this essay you want to demonstrate the following:
You can navigate your way through difficulties without crumbling.

You are thoughtful and creative.

You can persevere. 

You can learn from challenging experiences.
As a physician, you will encounter many difficult situations and challenges. In fact, there will be times when you won't know what to do and you may want to give up. The reader wants to understand that you can cope with challenge strategically and that you will do what is necessary to overcome obstacles that might seem insurmountable.
Optional Essays:
Have you engaged in any public service activities for a duration of one year or greater in length (examples: Military, Peace Corps, Teach for America, etc.). Yes or No? If so, please describe the experience and impact on your personal and professional development. (2,500 characters)
Please explain any academic discrepancies or extenuating circumstances that you feel the Admissions Committee should know. (2,500 characters)
For both of these essays, answer in a straightforward manner. 
UT Southwestern Medical School Application Timeline and Deadlines (2020-2021)
May
May 1: UT Southwestern starts accepting applications via TMDSAS
Secondary applications are sent out
July
Interview invitations

start to be extended
August
October 
October 1: Deadline to complete primary and secondary applications

October 15: All supporting materials must be received and rolling admissions offers can be extended

Interviews continue
November
Pre-match offers

Interviews continue
December
Interviews continue

December 31: Last day for pre-match offer
January 
January 1: Deadline to rank schools for TMDSAS match

Interview season ends
February
February 1: Match results released

Second look weekend
April
April 30th: Must select one medical school to attend
May
May 15th: After 5 p.m. CT on May 15, no medical school in Texas may offer a position to an applicant already accepted by another medical school in Texas.
UT Southwestern Medical School Acceptance Rate and Admissions Statistics for 2020-2021
The UT Southwestern MSTP (MD/Ph.D.) acceptance rate is approximately 15%.

90% of the UT Southwestern Medical School class are Texans! This is mandated by state law which allows only 10% of the class to be from out of state.

For the class of 2019-2020, UT Southwestern received 5164 applications and interviewed and 826 applicants were interviewed.  A total of 47% of applicants interviewed were accepted for a class size of 230.
UT Southwestern Medical School Interview
UT Southwestern has two 25-minute traditional faculty interviews. In our experience, students have had position interview experiences at the medical school.
UT Southwestern Medical School Tuition
UT Southwestern Medical School's tuition is very appealing for both in state and out of state students and is as follows:
In State: $21,034 (Total cost: $51,542)

Out of State: $34,134 (Total cost: $64,642)

75% of students receive financial aid and average student debt is $124,505.
UT Southwestern Residency Placement
A large percentage of UT Southwestern students (79%) pursue specialties in the top three primary care specialties (internal medicine, pediatrics, family medicine) :
Internal Medicine

Pediatrics

Family Medicine

Emergency Medicine

Obstetrics and Gynecology

Psychiatry
UT Southwestern Medical School is a desirable medical school for Texans and non-Texans alike. WIth a tremendous amount of curricular flexibility, opportunities to pursue clinical and nonclinical interests, and incredible clinical sites at which to train, you will be positioned well for any residency you hope to pursue.