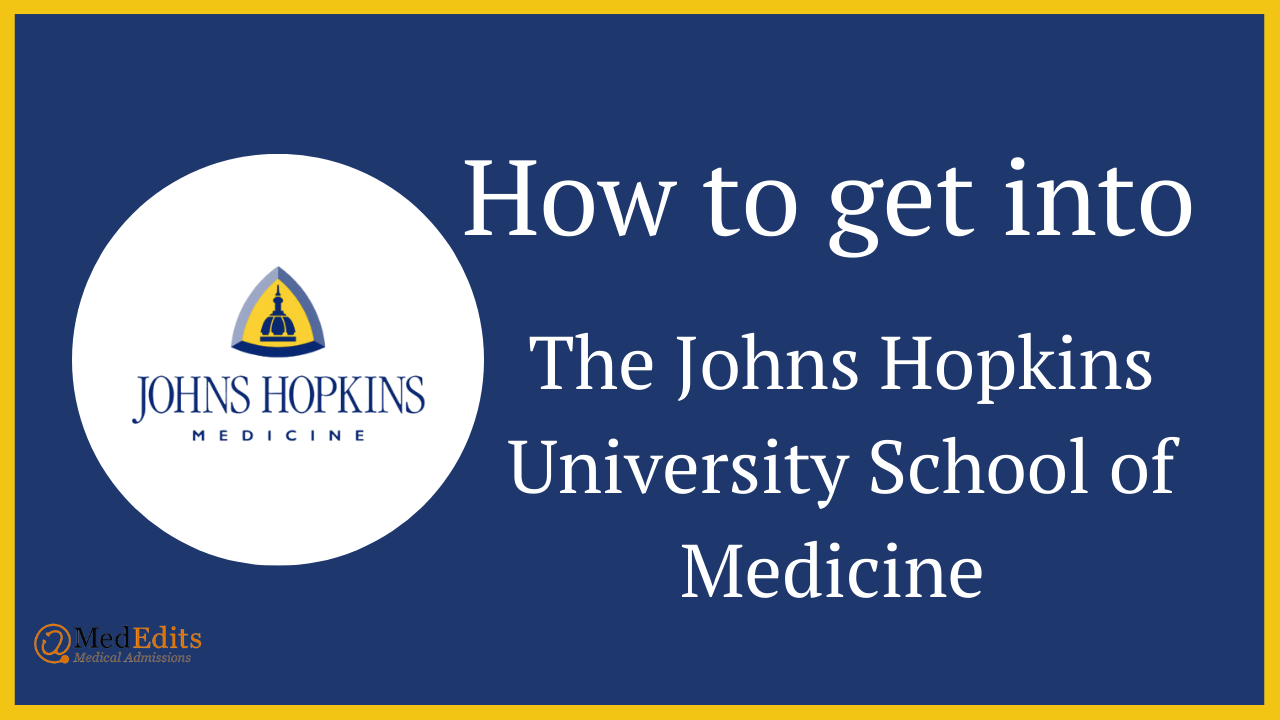 The Johns Hopkins Medical School is regarded as one of the best medical schools in the country. Founded in 1893, Hopkins is a stellar institution that values research and patient care equally. The medical school has a very flexible curriculum allowing students to pursue their distinct passions and interests. A leader is residency and fellowship and training as well, Johns Hopkins medical students have endless opportunities to learn from the best in all fields of medicine. 
There are several degrees and pathways that the Johns Hopkins medical school offers:
Traditional MD Track 

MD/MBA

M.D./M.P.H.

M.D./Ph.D

MD/Masters in Health Care Management

Joint degrees in the History of Medicine, Bioethics, Health Innovation and Technology
Getting into Johns Hopkins Medical School is competitive for even the best medical school applicant, but, by understanding the medical school's GPA, MCAT, experience, and application requirements, you can position yourself as well as possible to first receive an interview, and then, an acceptance!
GPA Requirements

MCAT Requirements

Experience Requirements

Application

Deadlines and Secondary Essay Requirements
How to Apply to Johns Hopkins Medical School, Dates, and Deadlines
Johns Hopkins participate in the American Medical Colleges Application Service (AMCAS). The primary application you submit through AMCAS will be sent to Johns Hopkins medical school once it is verified by AMCAS. Hopkins must receive your AMCAS application by October 15th. However, we recommend submitting your AMCAS by mid-June so you can verified by mid-July at the latest.After Johns Hopkins receives your verified d AMCAS application, you will be sent a link to their secondary application automatically. The secondary application submissions deadline is November 1st. Again, we prefer that your secondary be submitted by the end of August at the latest.
Johns Hopkins Medical School Ranking
Johns Hopkins is one of the best medical schools in the country and is ranked #2 in research and #26 in primary care by U.S. News and World Report.
Johns Hopkins Medical School Average GPA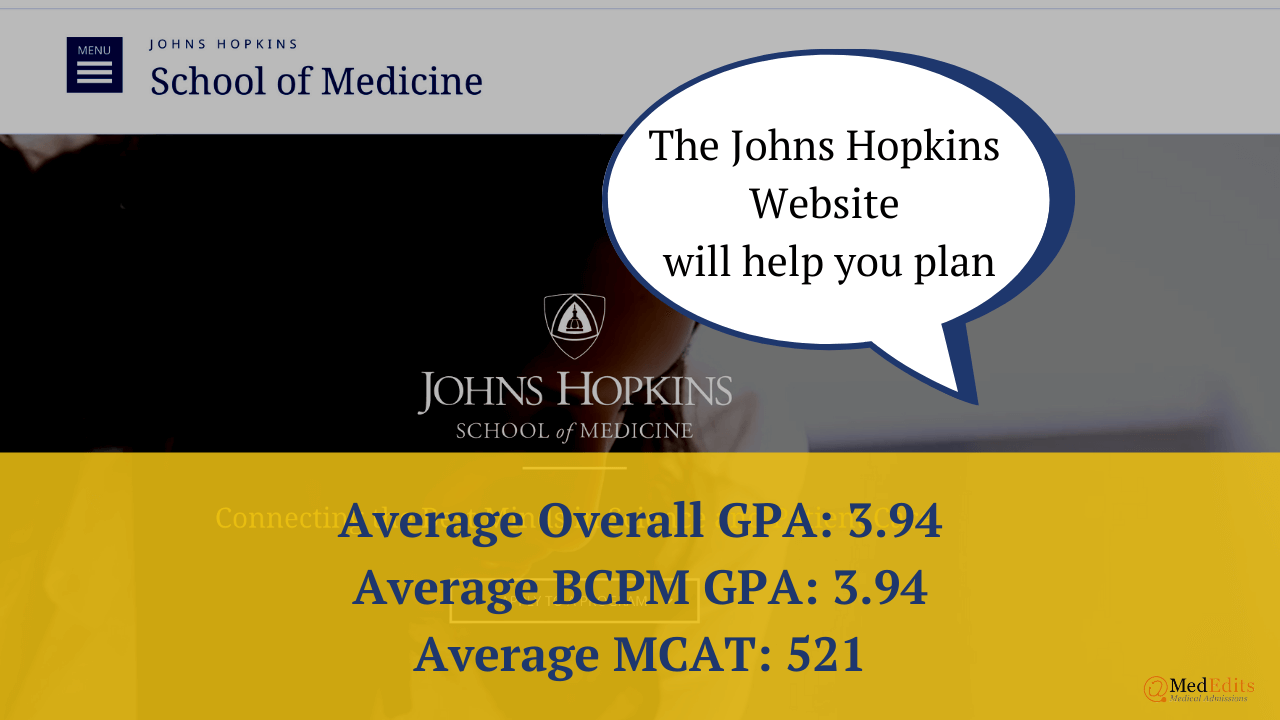 Not surprisingly, the average GPAs for students accepted to Johns Hopkins is very high. 
Average GPAs for students accepted to Johns Hopkins Medical School:
Average Overall GPA: 3.94

Average BCPM GPA: 3.94
Johns Hopkins Medical School MCAT Requirements
Similar to the average GPA for Johns Hopkins, the average MCAT is very high at 521. In our experience, students should have an MCAT of 516 or higher to be competitive for an interview invitation. However, there are circumstances that might influence an applicant's chances of earning an interview with a lower score.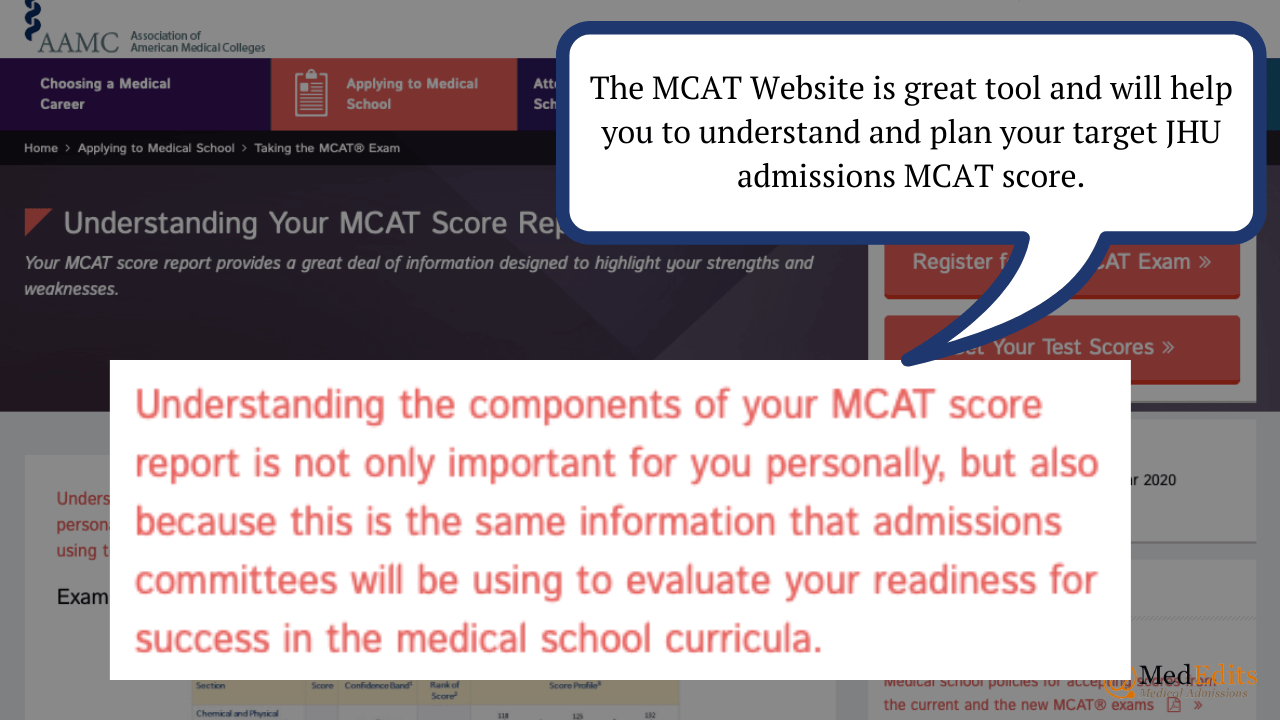 Johns Hopkins Medical School Prerequisites
Johns Hopkins has very conservative prerequisite requirements which include:
Biology

Biochemistry

English

Chemistry (inorganic and organic)

Calculus and/or Statistics

Physics

Humanities, Social and Behavioral Sciences
Even though not required, we recommend all applicants also enroll in upper level science and/or math classes to demonstrate academic excellence in higher level work.
Johns Hopkins Medical School Curriculum Highlights
The Johns Hopkins Medical School is proud of the curriculum it has developed called Genes to Society Curriculum which was instituted in 2009. The basis of the curriculum is to integrate everything that influences how patients present with disease from cellular to the outside influences to educate students how to offer a more holistic approach to patient care and improved societal outcomes. Below are some highlights of Hopkins' Genes to Society curriculum.
The preclinical education at Hopkins is about one and two thirds years allowing students to begin clinical rotations in the second year of medical school.

Students pursue scholarly concentrations through mentor-led projects during the first and second years of medical school allowing for a more individualized education and the opportunity to explore scholarly interests. Students can explore research interests, public health, or the history of medicine to name a few.

Hopkins also has a distinct Global Health Leadership Track to train future leaders.

Advanced clerkships are integrated in to the curriculum starting in the later third of second year which allows students to explore other specialties in medicine.

The TIME (Topics in Interdisciplinary Medicine) part of the curriculum explores interdisciplinary topics such as patient safety, palliative care and obesity making for a well-rounded medical education.
Johns Hopkins Medical School Experience Requirements
Below you can find out what types of experiences Johns Hopkins med students have had to give you an idea of what you may need in your extracurricular and scholarly background to be a competitive applicant.
Research 

For a school like Johns Hopkins, research is essentially required. A whopping 97% of students participated in research as premedical students.

Physician Shadowing/Observation 

As a medical school that emphasizes a clinical education, it is expected that 93% of students have physician shadowing or observation experience.

Medical/Clinical Community Service/Volunteer 

Not surprisingly, 91% of students had some type of clinically related service experience in their backgrounds.

Community Service/Volunteer

Work 

Most students (83%) have done community service or volunteer work.
Johns Hopkins Medical School Letters of Recommendation
Johns Hopkins is very specific about what letters of reference they accept. Hopkins requires a committee letter, and, if your school does not have one, then they request two science faculty letters and one non-science faculty letter. MD/PhD applicants are also expected to send in two additional letters ideally from research faculty.
Johns Hopkins allows additional letters beyond what is required, but, says that those additional letters will not impact your candidacy. 
Johns Hopkins Medical School Personal Statement
You will not write a medical school personal statement for Johns Hopkins, specifically. Instead, you will apply to Johns Hopkins through a centralized application service called AMCAS. The personal statement you write for AMCAS will be sent to JHU and all other AMCAS medical schools you apply to. Here are some basics about the AMCAS personal statement:
Johns Hopkins Medical School Work and Activities
Johns Hopkins Medical School
does not ask you to submit a CV or resume. Instead, JHU requires you to submit a centralized AMCAS application which requires you to write about your accomplishments in detail. These "work and activities entries" as they are called, are sent to NYU medical school as well as any other medical schools to which you apply through AMCAS.
Below are a few things you should know about the AMCAS work and activities.
AMCAS work & activities entries give you the chance to let medical schools know how much you've accomplished during your premed years.
This section of the AMCAS application offers the opportunity to write about up to 15 activity descriptions that are up to 700 characters in length
 You can then select three of those activities as most meaningful activities which gives you an additional 1325 characters to elaborate on the activity.
We encourage you to use this space to your advantage, elaborating as much as possible about your roles, responsibilities, the insights you gained, as well as what you have learned from the experience. You should also write in detail about the impact or "difference" you have made through the experience.
Click here to read more about AMCAS Work & Activities Section (With Examples): The Ultimate Guide.
Johns Hopkins Medical School Secondary Essay Requirements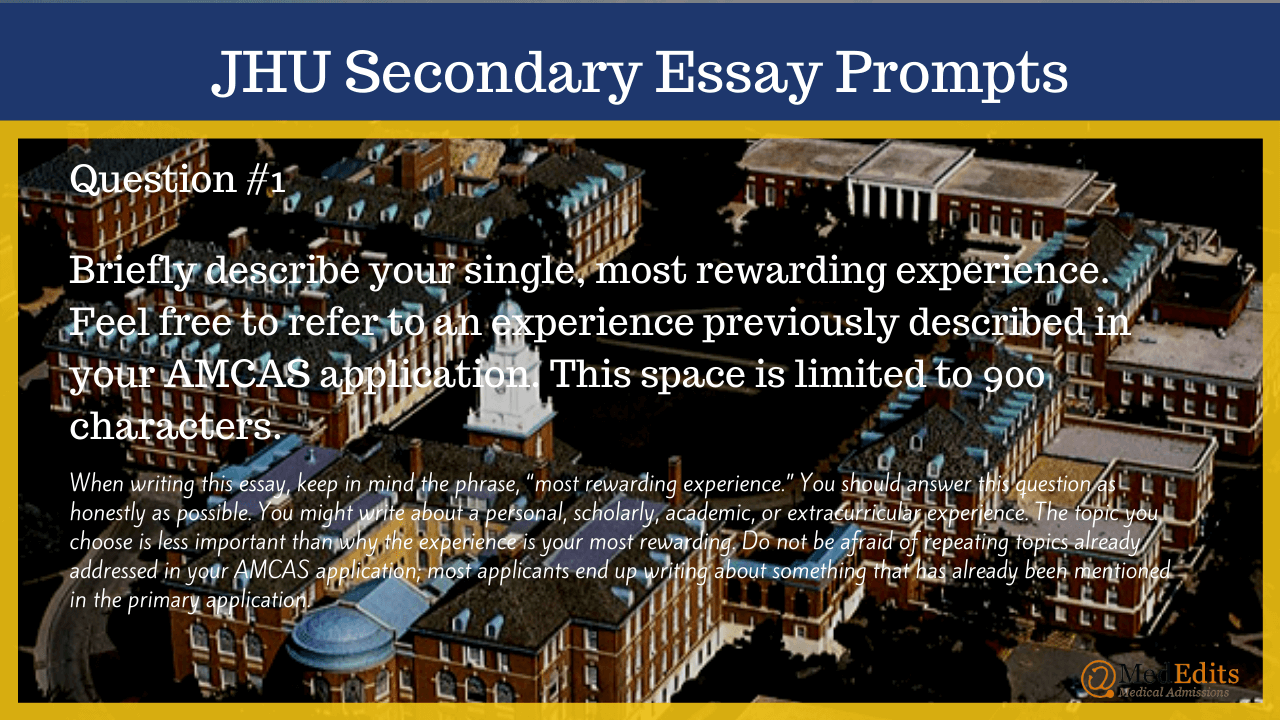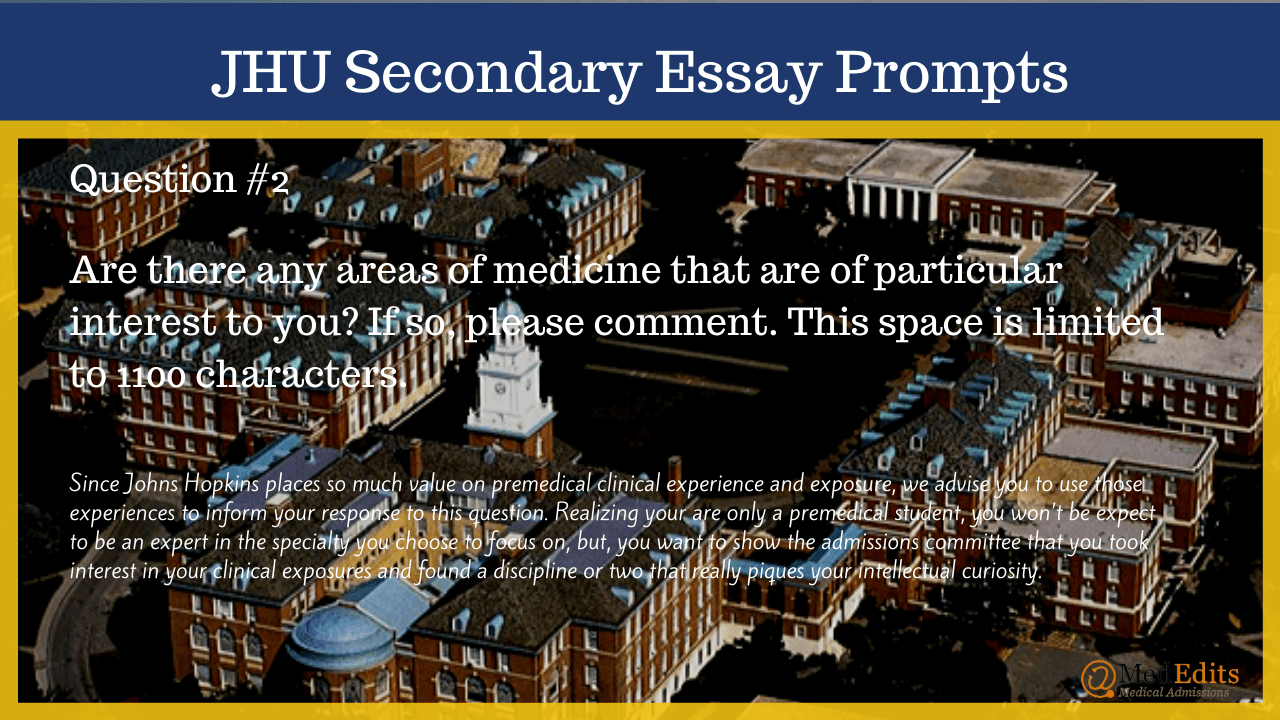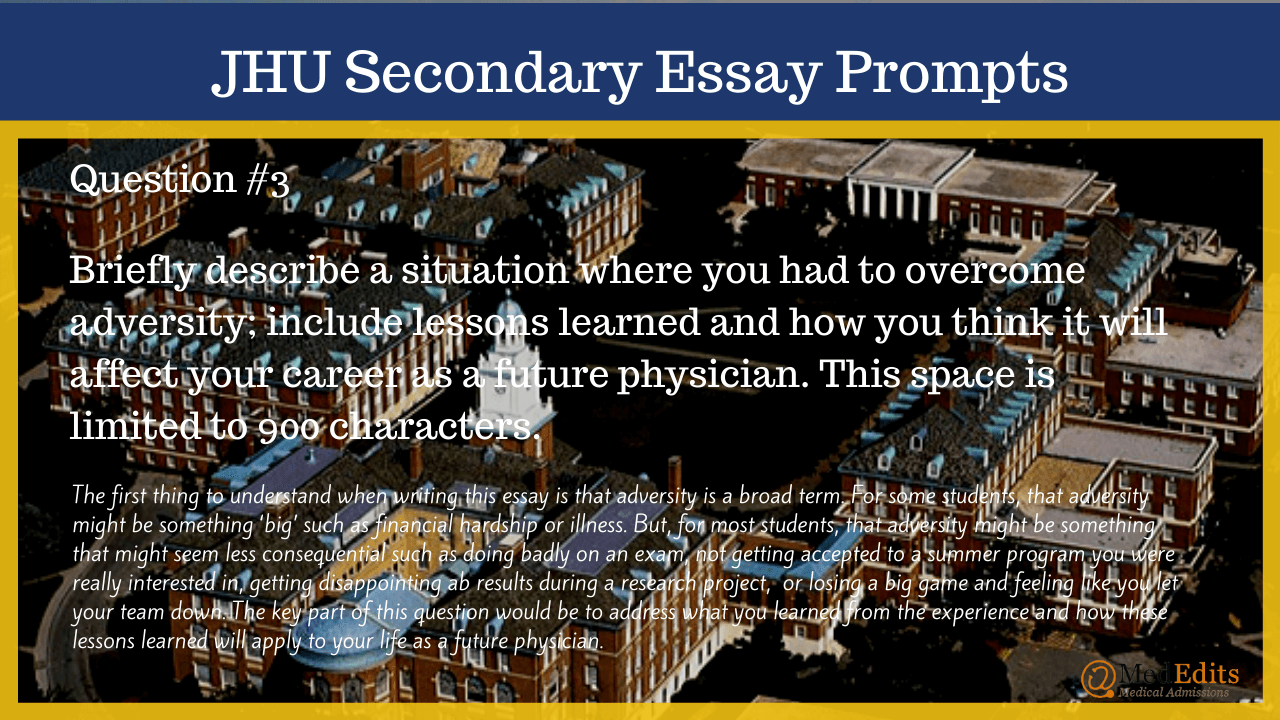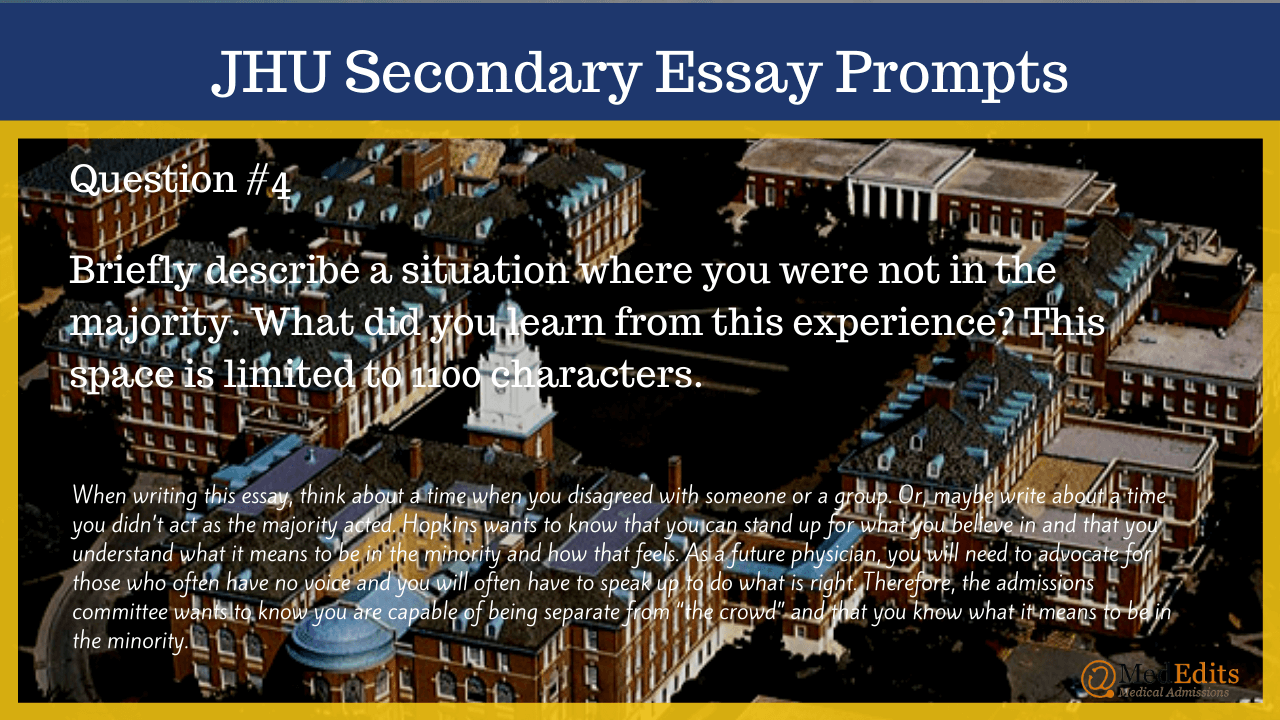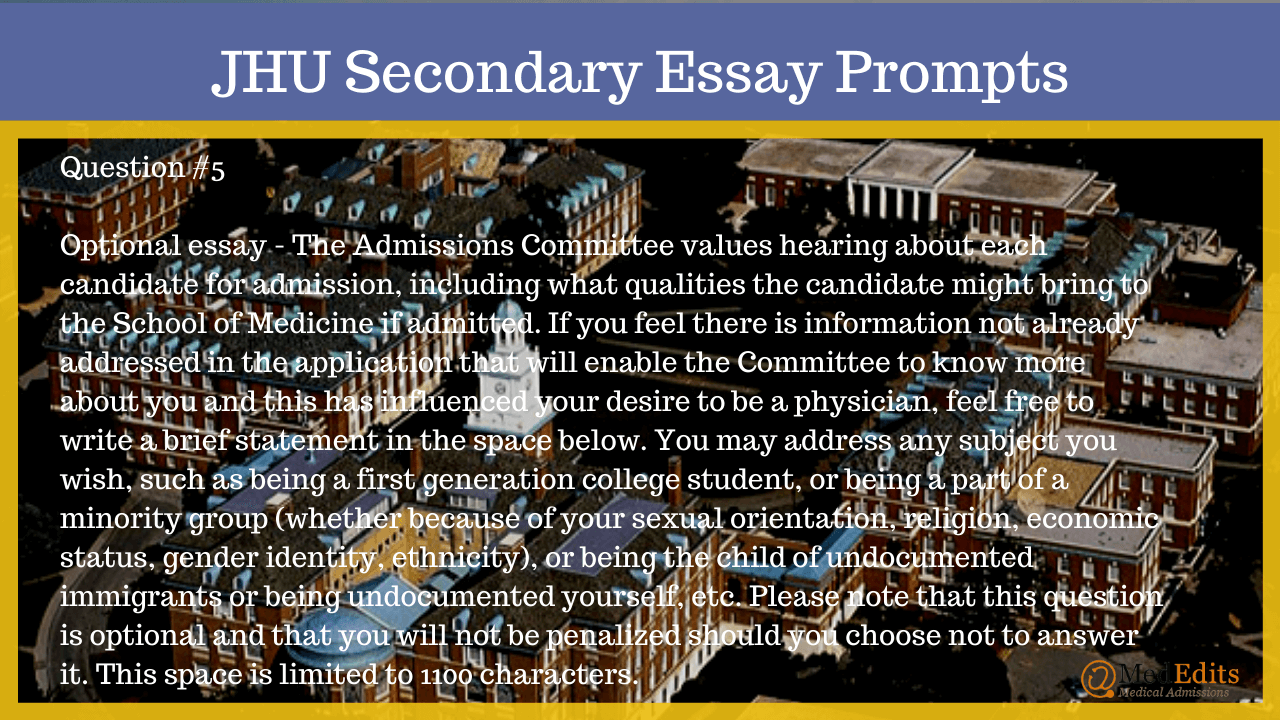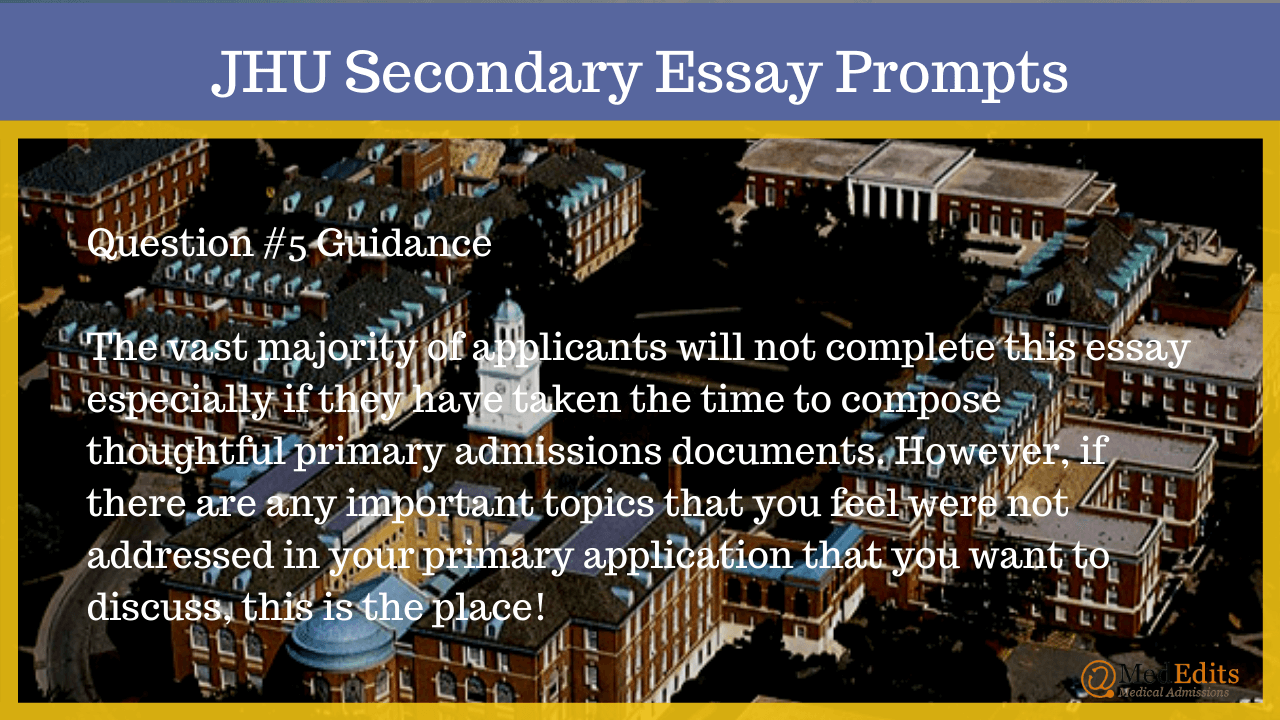 Johns Hopkins Medical School Application Timeline and Deadlines (2020-2021)
May/June
AMCAS opens and can be submitted

Late June: verified AMCAS applications sent to Johns Hopkins
July
Early July students with verified applications can access the secondary application

Admissions committee begins application review

August
Interviews begin in late August
October 
October 15: AMCAS receipt deadline

Interviews continue
November
November 1st: Secondary application receipt deadline

Interviews continue
December
mid-December: First round of admissions decisions extended to applicants

Interviews continue
January 
Interviews continue

Late January: Second round of admissions decisions extended
February
Review of applications ends

Late February: final interviews
April
Early April: Third round of admissions decisions extended

April 30th: Applicants with multiple acceptances must select one medical school to attend
Johns Hopkins Medical School Acceptance Rate and Admissions Statistics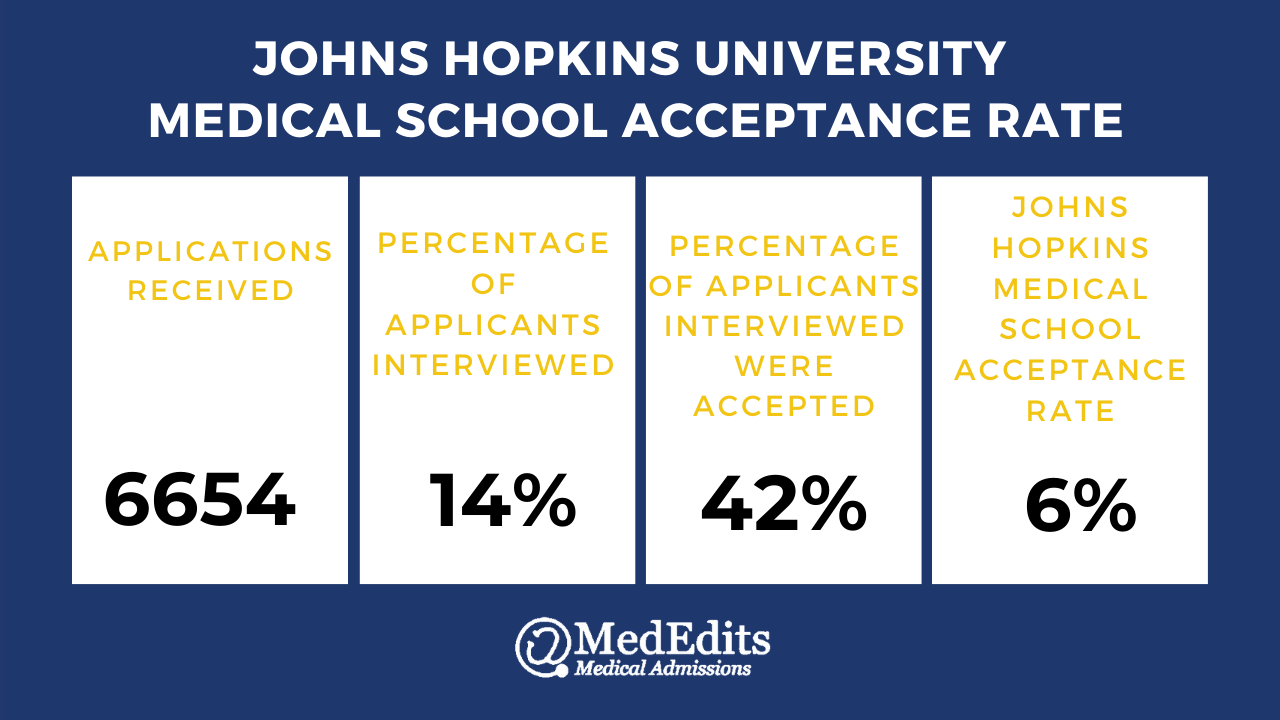 The Johns Hopkins Medical School acceptance rate is 6%.
Last year  Johns Hopkins received 4654 applications and interviewed 668 applicants.  A total of 42% of applicants interviewed were accepted for a class size of 118.
Johns Hopkins Medical School Interview
Johns Hopkins conducts two traditional interviews for each applicant. Our students have had good experiences at Hopkins and interviews have been conversational and low stress.
Johns Hopkins Medical School Tuition, Costs, and Debt
Johns Hopkins Medical School's tuition is the same for instate and out of state applicants. It is $53,400 with additional costs of approximately $25,000. A total of 76% of students receive financial aid and students graduate with an average debt of $104,016.
Johns Hopkins Medical School Residency Placement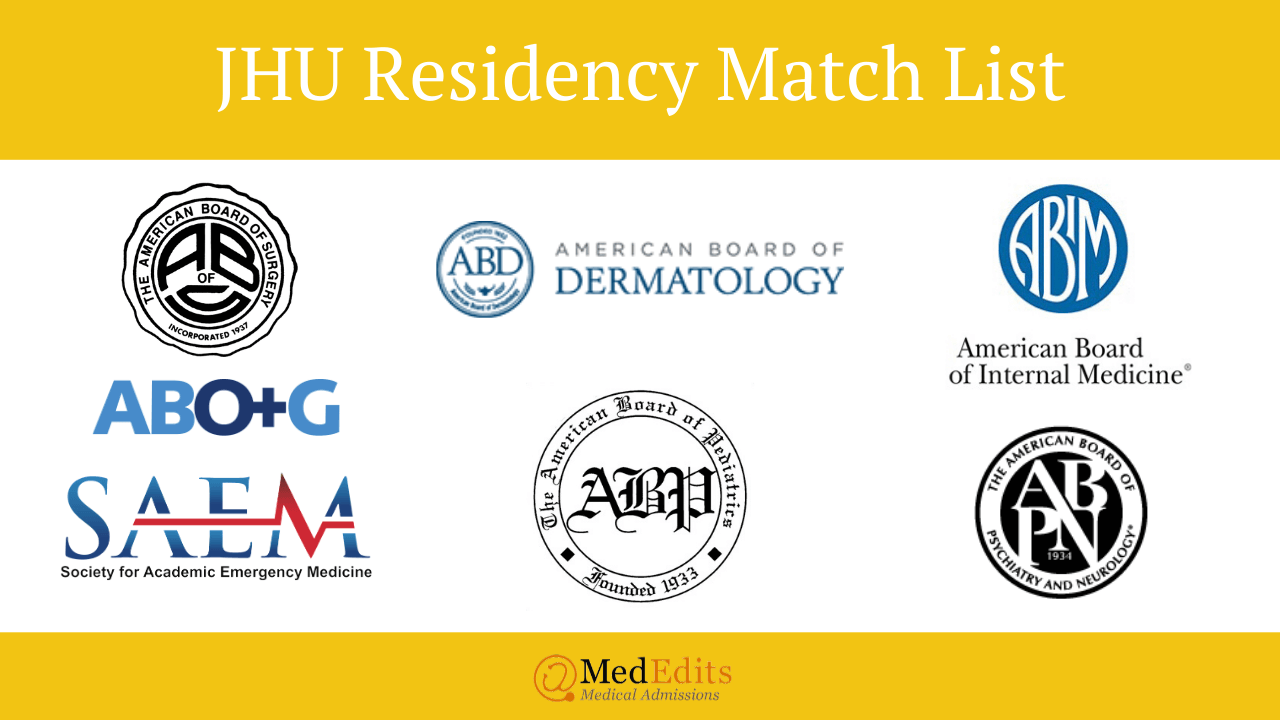 Below are the most popular specialties Johns Hopkins graduates pursue :
Internal Medicine

Pediatrics

General Surgery

Psychiatry

Orthopaedic Surgery
Johns Hopkins is a top-notch medical school where students will receive a great undergraduate medical education and have opportunities to explore whatever interests them. Students will then be positioned to earn any residency match they want!