How to Get Into UCSF Medical School

 (2020-2021)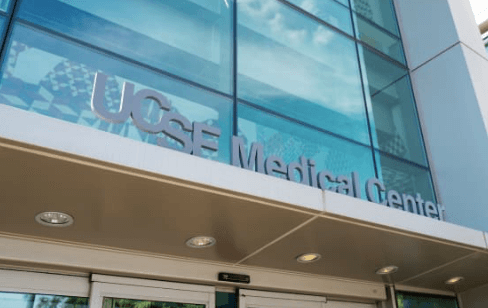 The University of California, San Francisco (UCSF) School of Medicine is the oldest medical school in California, founded in 1864. It is known for its stellar faculty, including Nobel Laureates and other distinguished medical professionals, and its identity as a top-ranking medical school in the United States. Currently, UCSF is ranked #6 in research and #2 in primary care by U.S. News and World Report.
"At UCSF, the purpose of medical education is to educate learners who will improve the health of our communities and alleviate suffering due to illness and disease in our patients. The UCSF School of Medicine Bridges Curriculum educates MD graduates to excel in the competencies needed by 21st-century physicians."
UCSF Medical School Programs
Along with the classic MD curriculum, UCSF offers a number of specialized programs for future physicians. Among others, they include:
UC Berkeley-UCSF Joint Medical Program
JMP is a five-year joint medical graduate program in which students spend two and a half years studying in a Problem Based Learning medical curriculum while earning a master's in Health and Medical Sciences at the UC Berkeley School of Public Health before completing their medical education and earning their MD at UCSF.  
Medical Scientist Training Program
Through MSTP, students prepare to become physician/scientists through training within the School of Medicine and one of UCSF's graduate programs. Participants receive full tuition and a stipend and ultimately earn an MD and PhD while working under faculty mentors.
Program in Medical Education for the Urban Underserved
A five-year track, PRIME-US is a program intended for students who want to work with underserved populations in urban environments. Eleven students are accepted: seven from the UCSF MD program and four from JMP. Experiences include the Core Seminar Series, Community Engagement Program, clinical clerkships, a mentorship, a fifth year to pursue a master's degree, and more
San Joaquin Valley Program in Medical Education
SJV PRIME is a program for students who seek to provide healthcare to diverse, underserved populations in the San Joaquin Valley in California. For the first 18 months of the program, students work and study on the main UCSF campus in San Francisco, before completing their education at the UCSF Fresno campus. 
UCSF Medical School Acceptance Rate
UCSF Medical School Acceptance Rate and 2019 Data
UCSF School of Medicine is one of the most selective medical schools in the country, with an acceptance rate between 3.5-4 percent. In 2019, 7,846 students applied, and just 468 received invitations to interview. Ultimately, 297 students were accepted, and 155 enrolled. 
Only 40 percent of students were from out of state. Fifty-five percent were women.
UCSF Medical School Average MCAT
For accepted students, the median MCAT score is 518. A score of 511 would put you in the 10th percentile, while a score of 524 would put you in the 90th percentile.
UCSF Medical School Average GPA
The average GPA for accepted students is 3.85. A 3.6 represents the 10th percentile and 3.99 represents the 90th percentile.
UCSF Medical School Undergraduate Majors
Seventy-eight percent of accepted students majored in a science or math discipline as an undergraduate.
UCSF Medical School Application Deadlines
Like most medical schools in the U.S., UCSF uses the American Medical College Application Service (AMCAS) for its primary application. This is made available in late May. While the deadline for submission is October 15th, you should complete your application as soon as possible and follow the timeline in my article title Best Medical School Application Timeline. This is also true of the UCSF-specific secondary application, which has no set due date.
UCSF begins extending interview applications starting September 1st.
UCSF Medical School Requirements
Coursework 
In order to matriculate at UCSF School of Medicine, students must have earned a bachelor's degree. You may have received up to 105 credits or units from a junior or community college.
Additionally, you should have completed the following courses as an undergraduate:
One year of biology or biochemistry (with lab)

One year of chemistry, including at least one semester of organic chemistry with lab

One course in biochemistry

One semester of physics
UCSF Medical School Tuition
Tuition varies according to the program, year, and California residency status. UCSF estimates that the average cost of attendance for non-residents in the first year of the Medicine program is $86,291, including tuition, supplies, services, and other fees, while the average cost for in-state students in their first year is $74,046. 
Ninety-one percent of UCSF School of Medicine students receive financial aid. According to the school, the average amount of debt graduates have after completing their education is $146,482.
UCSF Medical School Secondary Essays
In addition to the personal statement you are required to complete as part of your AMCAS application, you will need to respond to the following prompts on your UCSF secondary application.
Applicants are interviewed by invitation only. Please note that we do not conduct regional interviews. Interviews are scheduled from September to February (days vary). Please let us know if you will be out of the country during the interview season. (300 words)
Only a select portion of applicants are invited to interview for UCSF School of Medicine. You don't need to expand on your response to this if you won't be out of the country during interview season. If you will be, however, simply give the dates and the reason for your absence.
If you wish to update or expand upon your activities, you may provide additional information below. (500 words)
While you shouldn't repeat information from your primary application, you should use this space to explore how your activities will help you contribute to the medical field and community. Showcase how your achievements will help you become a leader in medicine.
If you are a 2019 or earlier college graduate, please use the space below to tell us what you have done since completing your undergraduate degree. (350 words)
Many students take time off between their undergraduate and graduate education. This space is an opportunity to describe why you took the time off, how you've grown from it, and what you've learned as it will apply to your career as a physician. Be as specific as possible.
UCSF Medical School Interview
Students who receive invitations to interview will have two interviews whenever possible, according to UCSF. On average, interviews last about 40 minutes each, and interviewers do not review the applicants' credentials or records prior to the discussions. They are conducted by at least one faculty member. On some occasions, the other interview will be conducted by a UCSF medical student, but applicants will also have other opportunities to speak with students outside of this.
UCSF graduates complete their residencies in many different specialties, including:
Internal Medicine

: 24%

Emergency Medicine

: 8%

General Surgery

: 7%

Anesthesiology

: 6%

Neurology: 6%

OB/Gyn: 6%
The medical school offers many opportunities for students to explore their specialties and find their calling.
About MedEdits
MedEdits helps students get admitted to medical school and residency programs. Our consultants have years of experience serving on medical school admissions committees, and as faculty members at the top medical schools in the country.
Need Help With Medical School Admissions Process?
Schedule a Free 15 Minute Consultation with a MedEdits expert.