How to Get Into Drexel University School of Medicine (2021-2022)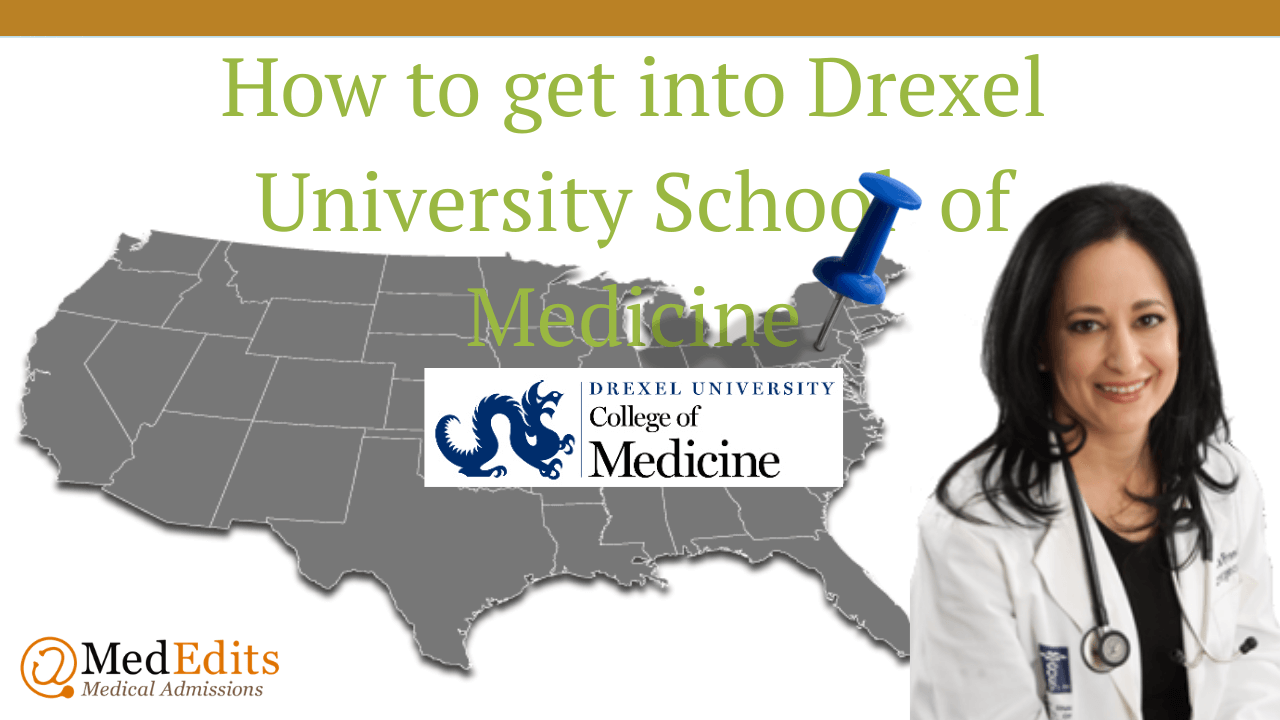 Introduction – How to Get Into Drexel University School of Medicine
Based in Berks County, PA, Drexel University College of Medicine prides itself on providing students with an education that marries research and innovation with compassionate care. Ranked No. 91 in Best Medical Schools: Research and Nos. 94-122 in Best Medical Schools: Primary Care by U.S. News & World Report, Drexel was formed from the consolidation of Hahnemann Medical College and Woman's Medical College of Pennsylvania, the latter of which was the first medical school for women worldwide. 
Drexel University College of Medicine is affiliated with Reading Hospital, which holds the distinction of being a Magnet Recognized acute care facility. Additionally, the school boasts partnerships with multiple training sites, so admitted students have access to a wide array of patients suffering from various illnesses and injuries. Keep reading to discover how to get into Drexel and find out if it's the right medical school for you.
How Difficult is it to get into Drexel?
Drexel University College of Medicine attracts a large number of applicants thanks to its cutting-edge curricula and highly esteemed educators. Additionally, admitted students appreciate the fact that they enjoy early clinical exposure and access to sophisticated technology.
Acceptance Rate: 7% (one of the highest acceptance rates for a private school)
A private medical school, Drexel University has an unusually high acceptance rate. Of the 11,717 students who applied to Drexel's College of Medicine last year, 1,506 were granted interviews, and 811 received acceptance offers. The number of accepted students who opted to attend Drexel last year was 254.
If you're considering applying to Drexel University College of Medicine, you should note that the school is passionate about enrolling a diverse student body. Because Drexel evolved out of the Woman's Medical College of Pennsylvania, the school is particularly committed to enrolling female medical students, with women currently comprising 53 percent of the student body. 
Additionally, Drexel welcomes applicants of different ethnic groups and sexualities, as well as those who are first-generation college students, veterans, and from economically disadvantaged backgrounds. Finally, the school invites students who have worked in industries outside the medical field to apply for admission. 
Average MCAT
Students must take the MCAT in order to be considered for admission at Drexel University College of Medicine. Currently, the average accepted student has an MCAT score of 512. Note that a score of 508 sits at the 10th percentile, while a score of 517 is in the 90th percentile.
Average GPA
The average GPA for students admitted to Drexel is 3.75. Note that a 3.39 grade point average puts applicants in the 10th percentile, while a GPA of 3.95 gives them a spot in the 90th percentile.
Undergraduate Majors
Drexel University College of Medicine does not require a specific major or course of study for applicants. However, the admissions committee does expect students to demonstrate competency in certain educational areas. Of the students who chose to attend Drexel last year, 72 percent pursued a math or science major as undergraduates.
Application Deadlines
Medical school admissions are highly competitive, and students need to submit all application materials on time to increase their odds of success. Here are the current application deadlines for Drexel University College of Medicine:
Primary application due February 1
First interview invitations sent August
First acceptance notices sent October 15
Last acceptance notices sent August 9 (following year)
Waitlist Information
If you don't receive an admissions offer when the first round of acceptance letters is sent, you may be placed on the Drexel waitlist. Of the approximately 300 waitlist positions in a given admissions cycle, around 60 students receive acceptance offers.
The Drexel admissions committee will rank waitlist students and determine which applicants receive acceptance letters. You will receive a call or email if you have been taken off the waitlist. Be prepared to reply to the offer as soon as possible upon being contacted.
Medical School Requirements
.
Unlike many medical schools, Drexel University School of Medicine doesn't require that students complete a certain undergraduate curriculum in order to be accepted. However, the institution does seek out applicants who possess both certain personal competencies and a solid scientific foundation. 
In terms of personal attributes, the admissions committee desires applicants who demonstrate the following traits and abilities:
Ethical responsibility to self and others

Reliability and dependability

Commitment to service

Strong social skills

Capacity for growth

Resilience and versatility

Cultural competence

Communication

Teamwork
Additionally, Drexel University students are expected to demonstrate certain scientific capacities. Developed by the HHMI (Howard Hughes Medical Institute) and AAMC (Association of American Medical Colleges), the following competencies are recommended for all medical school applicants:
"Apply quantitative reasoning and appropriate mathematics to describe or explain phenomena in the natural world."

"Demonstrate understanding of the process of scientific inquiry, and explain how scientific knowledge is discovered and validated."

"Demonstrate knowledge of basic physical principles and their applications to the understanding of living systems."

"Demonstrate knowledge of basic principles of chemistry and some of their applications to the understanding of living systems."

"Demonstrate knowledge of how biomolecules contribute to the structure and function of cells."

"Apply understanding of how molecular and cell assemblies, organs, and organisms develop structure and carry out function."

"Explain how organisms sense and control their internal environment and how they respond to external change."

"Demonstrate an understanding of how the organizing principle of evolution by natural selection explains the diversity of life on earth."
School Tuition 
Drexel University College of Medicine has a tuition that's on par with that of other private medical schools. If accepted to this institution, you can expect to pay the following to attend:
Tuition and fees $59,980
Other $21,345
Health insurance $2,496
Total cost of attendance $83,821
Although 78 percent of Drexel College of Medicine students receive some form of financial aid, most graduates leave the school with around $240,180 in debt.
Secondary Essays
Students applying to Drexel should expect to submit up to two secondary essays with their applications. Below are the secondary essay prompts for the current application cycle:
"If you are a recent graduate, please tell us what you have been doing since graduation. You may answer 'Not applicable'." (no limit)

"What else do you feel is important for us to know about you? You can use this space to highlight something not addressed in your application, including new experiences not in your AMCAS application. You can also talk about how COVID -19 impacted you. For example, it may have caused disruptions or changes in your plans. If there is something you would like to share regarding how this event impacted you, share that information here." (500 word limit)
Tips on Answering the Secondary Essays
You may be wondering how best to answer the Drexel University secondary essay questions. Because the first essay prompt lets you answer "not applicable," it's wise to consider whether or not you have something to say here before you start writing. For example, if you spent your summer vacation lying by a beach or enjoying some much-deserved relaxation time with pals, you might not want to write about that. On the other hand, if you had an internship or volunteered at a hospital over the summer, consider describing these experiences in the essay.
When answering the secondary essay questions, take care to avoid repeating yourself. If you wrote about a topic for your main essay, try to find a different subject matter or approach for your secondary essays. Finally, if you opt to write about your experiences with COVID-19, strive to be specific and avoid covering too broad of a topic range. For example, you could talk about how the pandemic affected your research experiences, academics, or internship rather than trying to discuss all three.
Medical School Interview 
Interviews are required to attend Drexel University College of Medicine. If the admissions committee wants to pursue you as a candidate, you can expect to participate in one open-file faculty interview and one closed-file group student interview.
Medical school interviews are conducted between September and April. Because of the COVID-19 pandemic, all interviews for the 2020-21 application cycle will be conducted virtually.
Residency Matches
After graduating from medical school, students enter into the Match process. A uniform system, this program matches residency candidates with programs around the country. Below are the match statistics for graduates of Drexel University College of Medicine:
Internal Medicine

25%

Pediatrics

12%

Anesthesiology

9%

Emergency Medicine

7%

OB/GYN

7%

Surgery General

7%
Contact MedEdits for Med School Admissions Help
Two renowned medical schools combined to form Drexel University, which holds the distinction of being one of Pennsylvania's top academic institutions. Boasting more than 1,000 medical students, the school is currently educating 1 in 83 medical students in the nation. 
If you think Drexel University College of Medicine may be right for you, don't hesitate to contact MedEdits for admissions help. Comprised of expert physicians and educators, our team offers a wide range of support services, including pre-med advising, essay consulting, test prep, and more. Call today or contact our experts online.
About MedEdits
MedEdits helps students get admitted to medical school and residency programs. Our consultants have years of experience serving on medical school admissions committees, and as faculty members at the top medical schools in the country.
Need help with getting into Drexel University School of Medicine?
Schedule a Free 15 Minute Consultation with a MedEdits expert.