How to Get Into Albert Einstein College of Medicine (2021-2022)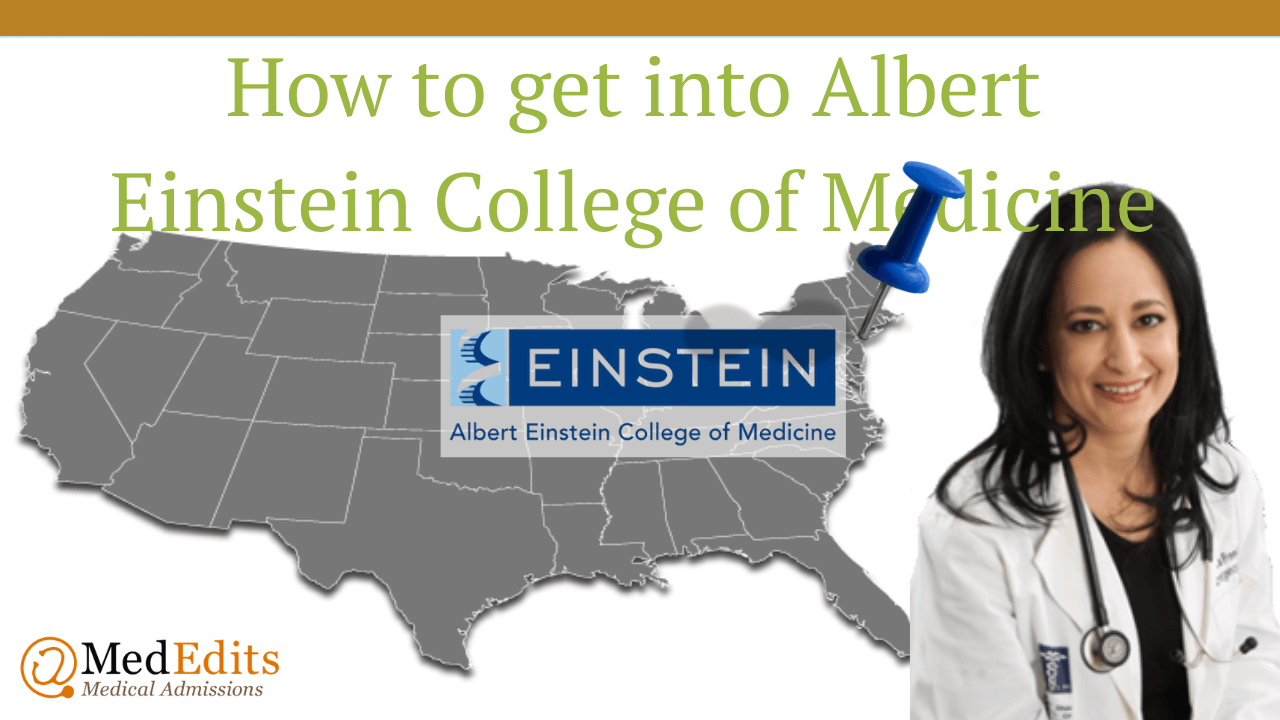 Introduction – How to Get Into Albert Einstein Medical School
Albert Einstein College of Medicine is a prestigious medical school located in the Bronx in New York City. Previously part of Yeshiva University, Einstein is still affiliated with the school and other well-known institutions. One of the newer medical schools in the United States, it was founded in 1953 and is currently ranked #40 in research and #43 in primary care in U.S. News and World Report.
What does it take to get into Einstein? Find out all about the admissions process and how you stack up against accepted students.
How Difficult is it to get into Albert Einstein Medical School?
Einstein Medical School Acceptance Rate: 4.3%
Einstein is very selective, with an acceptance rate of only 4.3%. Last year, 1,000 of 8,000 applicants received invitations to interview. Of these, 346 were accepted, and 183 chose to enroll in the medical school.
Women represent 54% of the students at Einstein.
Einstein Medical School Average MCAT
Accepted students at Einstein have an average MCAT score of 515. The 10th-90th percentile range is 508-519.
Einstein Medical School Average GPA
The average GPA for admitted students is 3.81. The undergraduate 10th-90th percentile GPA range is 3.53-3.97
Einstein Undergraduate Majors
A majority of students who matriculated — 62% — majored in a math or science discipline in their undergraduate colleges.
Application Deadlines
Your primary application to Einstein is due on October 15th, and the secondary application is due December 1st. However, first interview invitations are sent starting in August, so it's a good idea to submit your materials early. First acceptance notices are sent in February of the following year, and the final round will be sent on August 9th.
Einstein Medical School Requirements
Required Coursework 
To be considered for admission, you'll need to have completed the following coursework, in addition to fulfilling your major and institution requirements:
Behavioral sciences

Biology

Inorganic chemistry

Organic chemistry

Physics
School Tuition 
The estimated total cost of attendance at Einstein is $86,306. Broken down, the fees are as follow:
Tuition and fees: $57,020
Other: $24,000
Health insurance: $5,286
On average, Einstein graduates leave with $163,833 in debt. Approximately 68% of students receive some form of financial aid.
Einstein Secondary Essays
In addition to your primary application personal statement, Einstein has one optional essay to complete on your secondary application:
Is there anything at all that you would like to share with the Committee on Admissions that might not be apparent from your AMCAS application or from what you have already answered on this Secondary Application?
When responding to this question, be sure to include only information that is relevant to your candidacy. Perhaps there's something from your background that affected your education and impacted your coursework, for example. Because this question is optional, you should respond in a way that adds something to your candidacy, rather than repeating information the admissions committee can find on other parts of your application.
Einstein Medical School Interview 
Only a fraction of applicants receive an invitation to interview at Einstein. If you do, you will be interviewed by a clinician or scientist from the committee and can expect the meeting to last between 30 minutes and half an hour. 
The process is very subjective. You'll be asked to share your previous experiences and future goals and speak freely on topics of your choice.
Einstein Residency Matches
After finishing medical school, Einstein students at some of the most prestigious healthcare facilities in the U.S. across a wide range of specialties, including:
Internal Medicine: 23%

Pediatrics: 12%

Emergency Medicine: 11%

Radiology Diagnostic: 8%

Obstetrics/Gynecology: 6%
Albert Einstein Waitlist Information
Einstein does place some students on the waitlist during the admissions process. On average, around 275 students receive a position on the waitlist, and 75 of these students are ultimately accepted.
If you're hoping to be admitted to Albert Einstein School of Medicine or another highly selective medical school, we can help.
Contact MedEdits for Med School Admissions Guidance
About MedEdits
MedEdits helps students get admitted to medical school and residency programs. Our consultants have years of experience serving on medical school admissions committees, and as faculty members at the top medical schools in the country.
Need help with getting into Albert Einstein college of medicine?
Schedule a Free 15 Minute Consultation with a MedEdits expert.